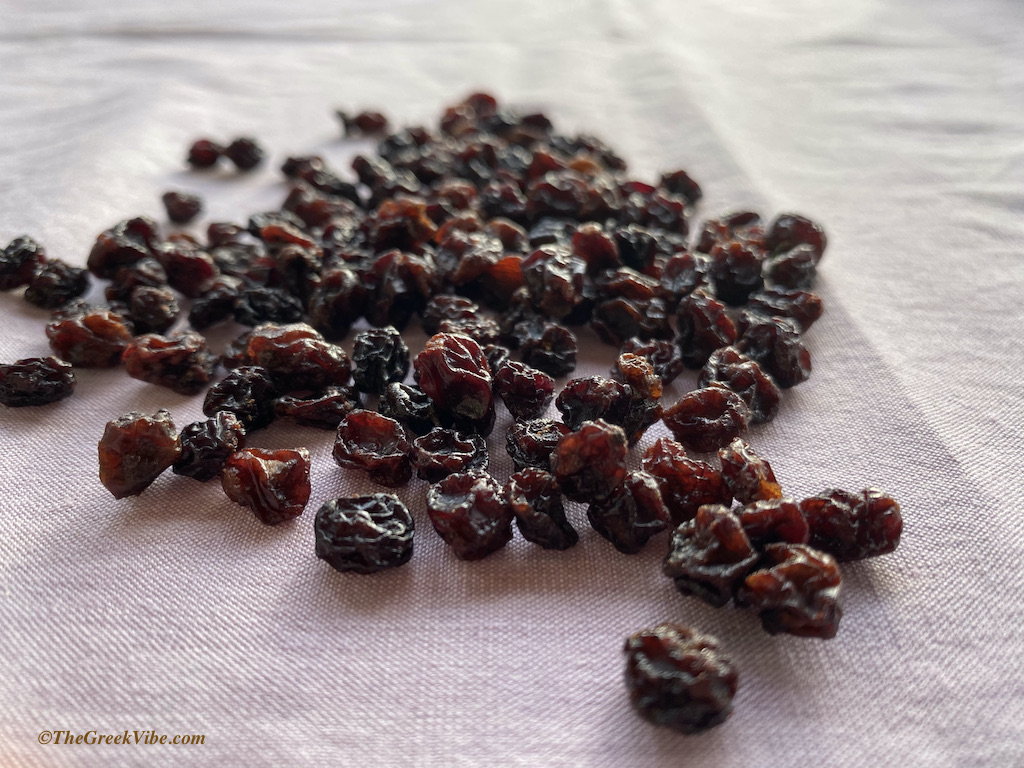 Juicy, tangy and sweet: Ladies and gentlemen, meet the naturally sun-dried Corinth raisin, which also goes by the name: Zante currant and is a tiny wonder unique to Greece.
They may be small to the eye, but these Greek marvels are not only packed with taste, they are excellent health boosters: packed with vitamins (B1, B2, B6 and C), minerals, dietary fiber, not to mention antioxidant, antibacterial and anti-cancer properties.
Zante currants or Corinth raisins – also known as "stafida" in Greek – are natural treats used fresh to make wines and dried to produce the small flavor-packed and highly sought after organic marvel that is exported worldwide.
The Zante currant is also a specialty food and a chef's delight due to its taste and as such considered and sold as a luxury delicacy.
These raisins have been cultivated in ancient Greece since the 4th century BC, produced from dark red seedless grapes.
Initially found only along the shores of Corinth, the currants were later in the 16th century also produced on the Ionian island of Zakynthos, where you can still find them today.
All of god's gifts are packed into these miniscule black fruits which are handpicked in August and let out to dry naturally under the sun. The full-flavor Corinth raisin 'loves' sweet or savoury dishes. It is also a great dairy-free vegan and vegetarian snack.
A Handful of Health – Corinth Raisins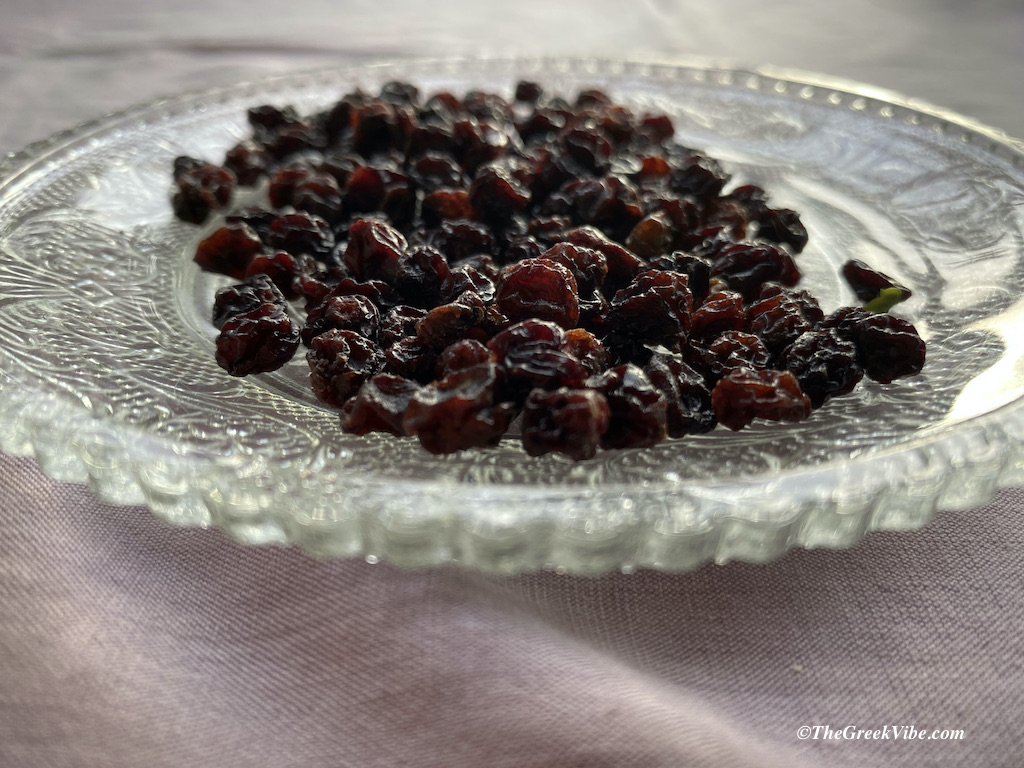 Greece is the only country in the world that boasts the largest production and highest quality of this raisin, which for decades was a major export for both Zakynthos and the Northern Peloponnese. Actually Greece accounted for more than 80 percent of the world's supply.
The unique-to-Greece product and particularly the Vostizza currant was granted PDO (Protected Designation of Origin) in 1993 for its exceptional quality and its distinctive aroma.
Vostizza is the Medieval name of the coastal town of Aigio in Achaia, Peloponnese. Thanks to the ideal conditions there: rich soil, sea breeze and sunshine – this gastronomic miracle is born.
In ancient Greece, raisins were not only natural sweeteners, they were "mezedes" to accompany wine as well as nutritional boosters during fasting periods ("nistia") before Easter (spring), Christmas (winter), Holy Apostles feast day (summer) and the Dormition of the Virgin Mary (autumn).
How to Make the Corinth Raisin Part of Your Diet?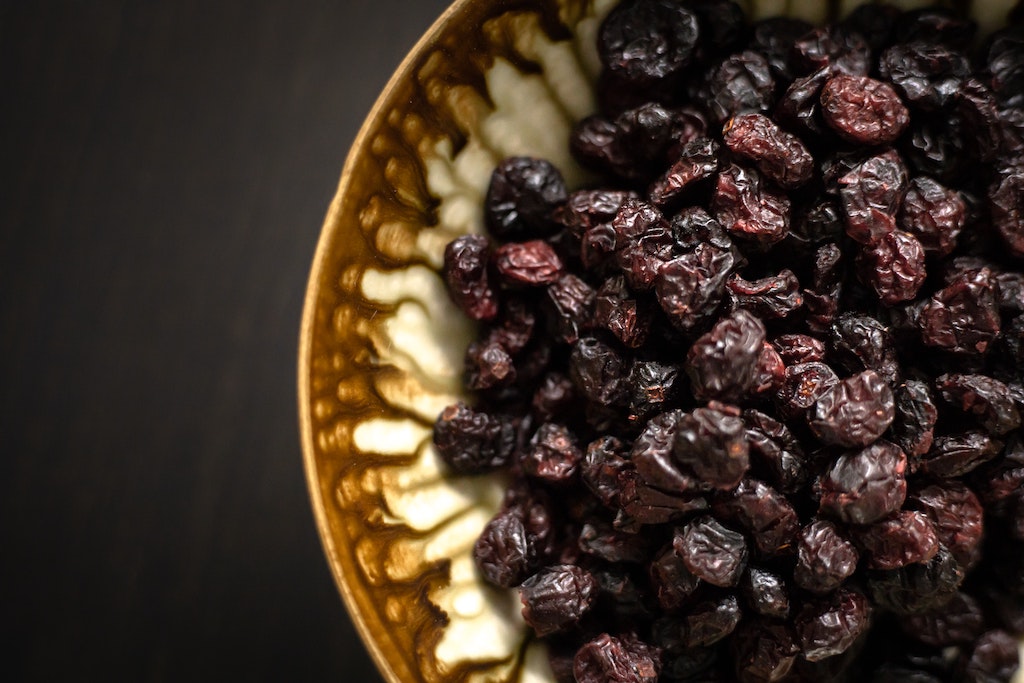 Add to salads
Spice up your oatmeal
Throw a handful into cornflakes or yogurt
Add to cakes
Enjoy a handful as a healthy snack between meals
You can also add to rice and pilaf dishes
Some regions in Greece add these raisins to Greek stuffed tomatoes (gemista)
My mother adds these fine treats to a traditional dish we make on March 25 – Greek Independence Day – called "bakaliaros plaki" which is baked dried and salted cod with potatoes, caramelized onions, tomato sauce and raisins
I also add to mean chili con carne.
Make these health boosters an integral part of your daily eating routine. Start today and enjoy the Greek goodies Mother Nature has to offer.
---