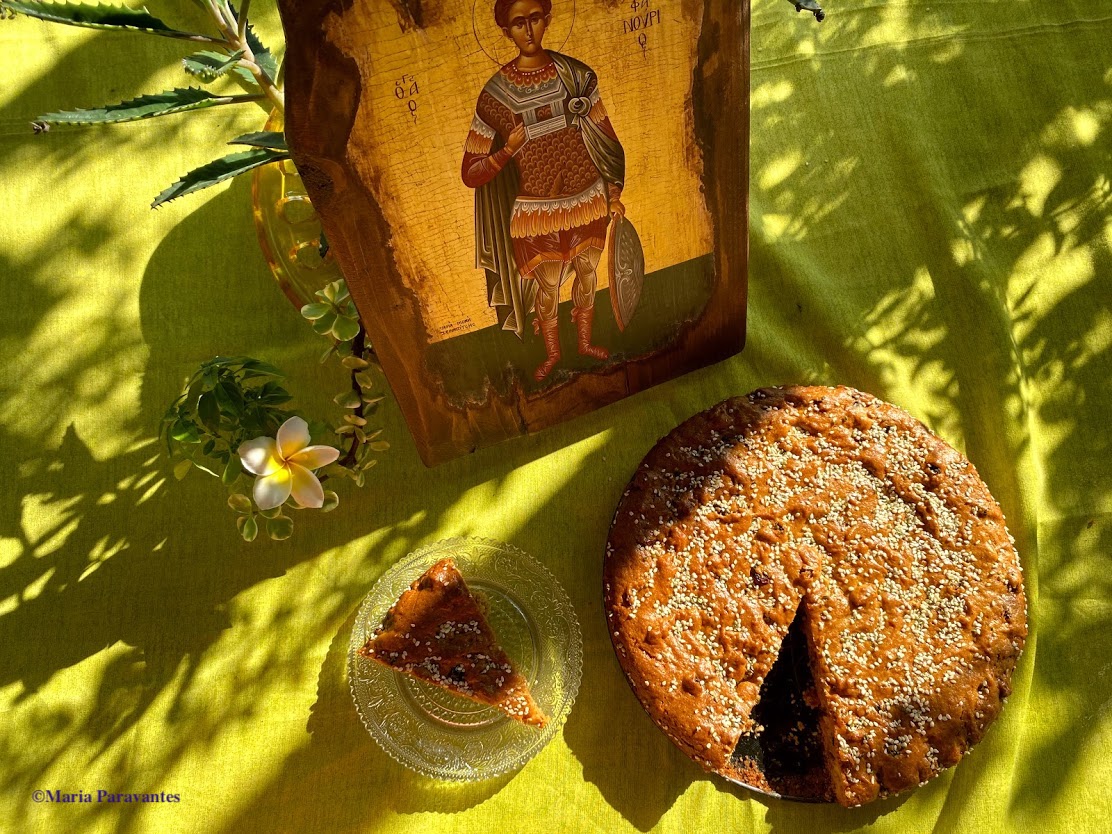 Fanouropita – literally meaning a "cake that makes things appear" – is a nine- or seven-ingredient Lenten – and vegan – cake made as an offering to Agios Fanourios, the youngest saint in the Orthodox Church and the protector of the island of Rhodes.
Every year on August 27, Greeks prepare a "fanouropita" in honor of the saint and take the special cake to church during the "esperinos" sunset service (or vespers) where it is blessed and then shared.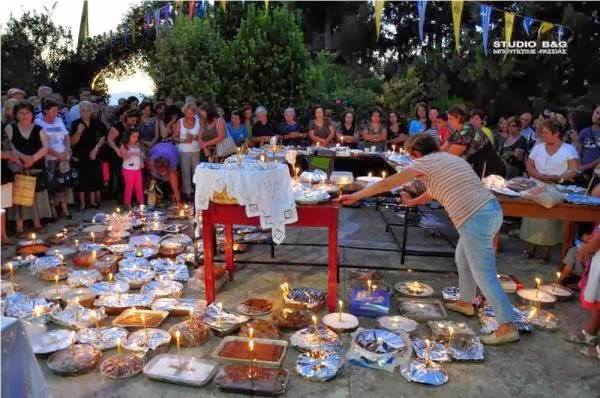 If you happen to be in Greece on August 27, 'follow your nose' to the main church where dozens of aromatic fanouropites will be waiting to be blessed and shared. On Rhodes, a massive procession takes place in honor of the island's patron saint. It's a wonderful experience that brings people together in the sweetest possible way. Don't forget to go to the tiny chapel of Agios Fanourios behind Dorios Square in the old town.
Agios Fanourios: A Young Greek Saint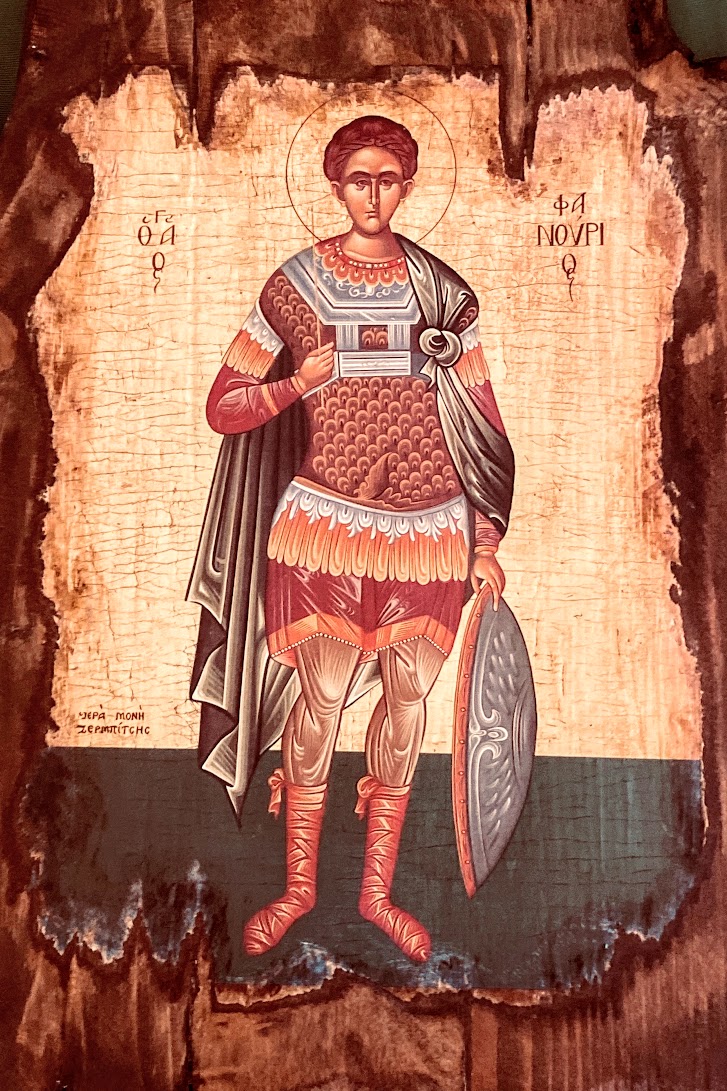 Agios Fanourios is always portrayed as a young soldier in uniform. The story of the saint comes to us from the island of Rhodes, where during the restoration of the city's walls in 1350 a perfectly preserved icon was discovered in church ruins depicting Fanourios, who was holding a candle and surrounded by 12 images portraying his trials.
The discovery of the "newly appeared" saint spread like wildfire across the country and so the youngest saint came to offer his miracles to those who either needed them or who asked.
His name, derived from the verb "faino" or "fanerono", means to reveal or to present. Fanourios' miracle work is said to have come out of Crete, where shepherds would call on him to find their stolen goat herds. Animal theft ("zoo klopi") has been a big thing on Crete for decades and that's why Agios Fanourios is the patron saint of the shepherds and their animals. The truth is that very little is known about this saint.
My Dearest Agios Fanourios, Please Show Me …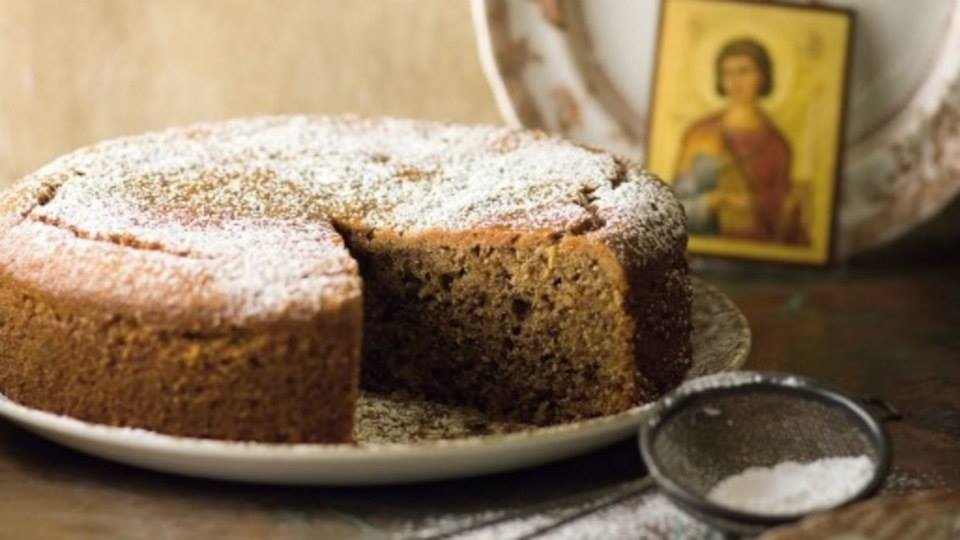 When we Greeks prepare the fanouropita, we call on the saint to bring to light lost items or "reveal" whatever it is we are seeking.
In the past, housewives would recite a prayer while making the cake. You can actually find a series of "updated" prayers to Agios Fanourios on everything from finding a boyfriend to finding a job.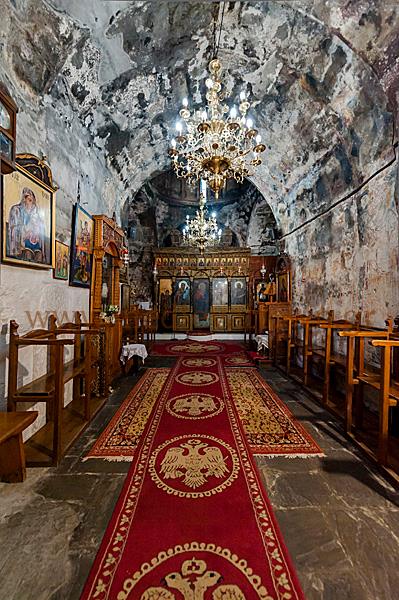 A modern version, which I use too, is simply to thank him for the blessing and ask him to find anything you've lost. This could be anything from a pair of glasses or your keys to something more complicated like having lost your way in life.
In the past, unwed girls living in Greek villages would ask the saint to "reveal" their husbands-to-be.
In modern day cities, all sorts of people seeking partners call on the saint to do his magic.
All you do is ask: "Agie Fanourie Please Bring to Light that which I wish to find".
From my experience, he usually makes do on his promise. But of course, there are always the sceptics among us who will simply laugh.
In any case, cultural traditions seen from a different perspective can reveal – as Fanourios does – much more than meets the eye.
A different perspective would see the Greek Orthodox tradition of Agios Fanourios' cake as a meditation of sorts during which you focus your energy on something positive.
The cake's preparation frees your mind and eventually once you put the fanouropita in the oven, you let go and watch the magic happen. It's so much like meditation, that I remember my grandmother preparing the cake with a lit candle and the fragrance of frankincense (livani) slowly being replaced by the sweetness of the Agios Fanourios' cake as it baked.
Escape to Greece with The Greek Vibe monthly Newsletter!
Fanouropita for a Mother's Sins
Why a cake? The dairy-free raisin and nut cake is meant to be offered and shared at church so that Fanourios' mother can be forgiven for her sins.
The saint's mother never shared a good word or a kind gesture. She was so mean and stingy, that even when her son tried to save her with the help of Archangel Michael, she showed no remorse.
Legend has it that the archangel extended an onion leaf to her to lift her out of hell, but when three other women reached for the leaf, she kicked them back into the darkness.
Ashamed, Fanourios decided to seek forgiveness for her undeniably evil ways. And as such, each year the fanouropita is shared with neighbors, friends, the needy and at church with the request that Agios Fanourios' mother be forgiven.
Fanouropita: The Symbolism Today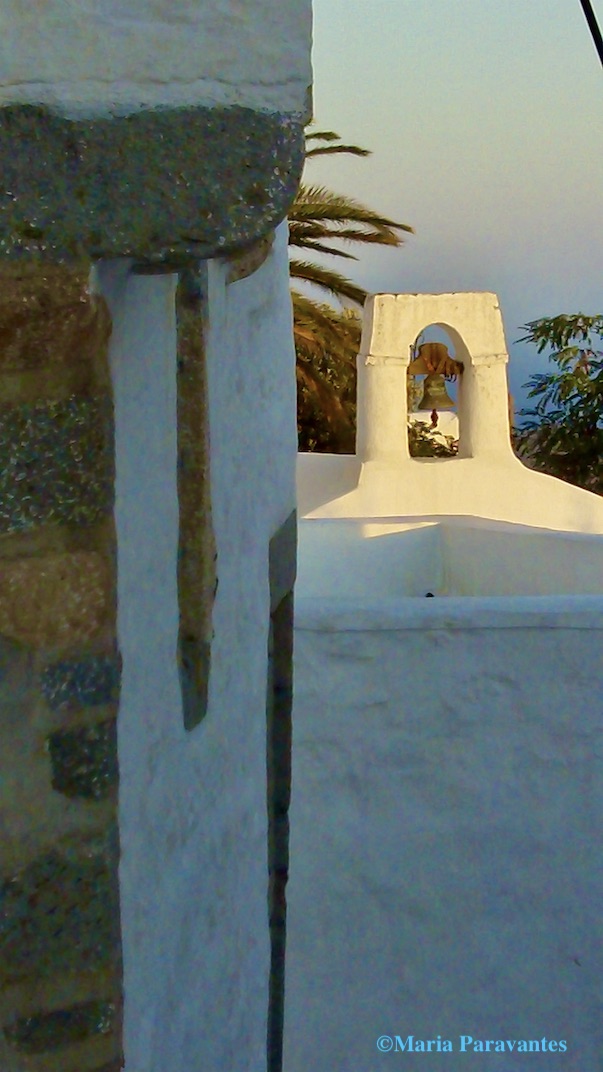 One can take the story of Agios Fanourios many different ways. Agios Fanourios is always depicted as holding a candle – a symbol of light, enlightenment, awareness, or of bringing into the light.
This said, it could mean that as much as we try to save a loved one, we simply cannot if they don't want to be 'saved'. We can however, with our actions set an example.
Another way of looking at it involves seeking guidance on how to improve our ways. We can perhaps ask him to show us where we need to change and how to become a better version of ourselves.
And lastly, the focus on sharing is all the more meaningful in this day and age. It is in this era that we've begun to realize the importance of our individual actions as stepping stones to a harmonious whole and our responsibility to do our part.
Fanouropita Ingredients in Sacred Numbers
The fanouropita cake is prepared on the eve of August 27 or on the same day and depending on the region is made with either seven (olive oil, flour, sugar, orange juice, walnuts, raisins, cinnamon) or nine ingredients which tradition has it symbolize the seven days of creation, the seven archangels or the league of angels. According to tradition, it should be shared with at least seven people.
Maria's Fanouropita: The Recipe
Handed down to me from my mother, I've added a few more ingredients to this wonderfully healthy, dairy-free cake.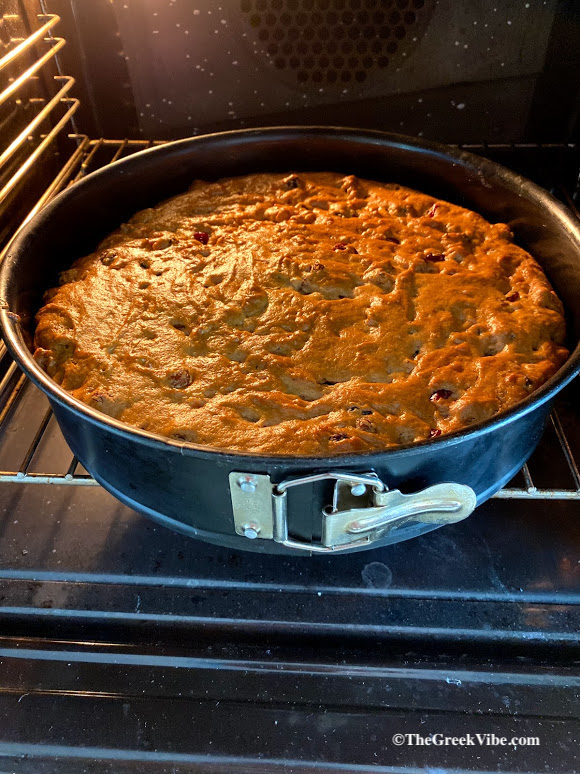 Ingredients
Making Your Fanouropita in Steps
Step 1: Pre-heat oven to 175 °C (345 °F)
Step 2: rub orange zest with your fingers into the sugar and let sit
Step 3: mix with a fork flour, cinnamon, baking powder and soda
Step 4: warm brandy (not to boil) and soak raisins (you can also use cranberries)
Step 5: use mixer and blend oil (you can use corn oil for a lighter version), sugar, and orange juice
Step 6: using mixer add flour mixture (step 2) to oil-orange-sugar mixture (step 5)
Step 7: stir in raisins and walnuts
Step 8: pour mixture into 26cm cake tin and let sit for 10 minutes
Step 9: make your wish, ask Agios Fanourios for some help or guidance, and seek forgiveness for all including yourself!
Bake in the middle to lower rack of the oven for about 45-50 minutes. When your kitchen starts smelling wonderfully, stick in a knife and if it comes out clear, it's ready! If you're baking in a convection oven (fan) bake for 45 minutes max.
Take out of the oven, place on a rack, and let cool.
Once it has cooled off, remove, place on a plate, and add confectioner's (powdered) sugar on top. I adorn with sesame and hemp seeds. I know for a fact that Agios Fanourios will turn a blind eye to the use of a few more ingredients and will actually be honored that you took the time to make his cake. Make sure to share this sweet gift!
Enjoy!