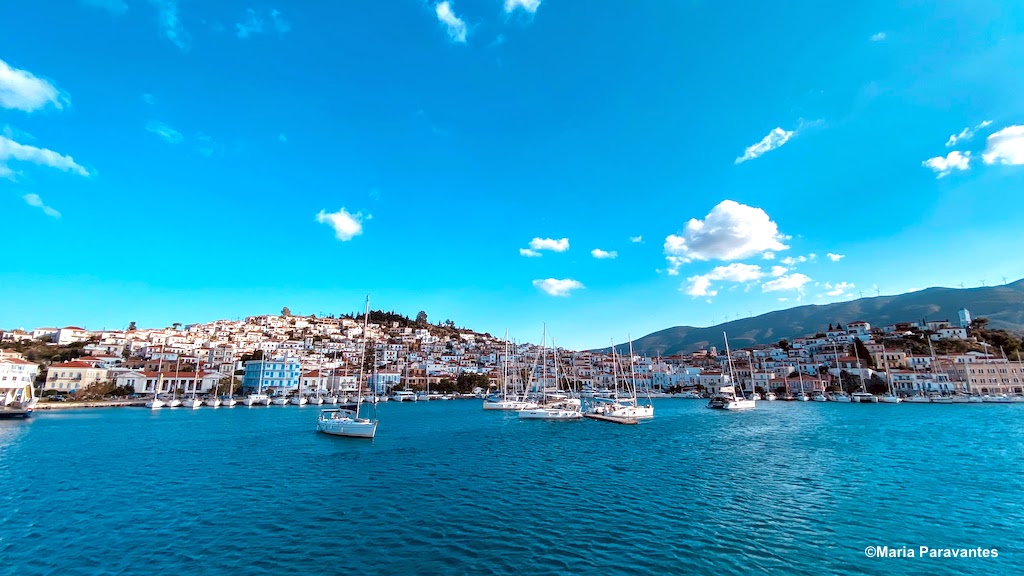 The shiny wooden deck feels soothingly warm to your bare feet. The gentle breeze brushing through your hair. And you, in your swimsuit (or not) taking in some sun and enjoying the infinite view of the great Greek Big Blue as the waves splash softly against the hull. If this isn't bliss, what is?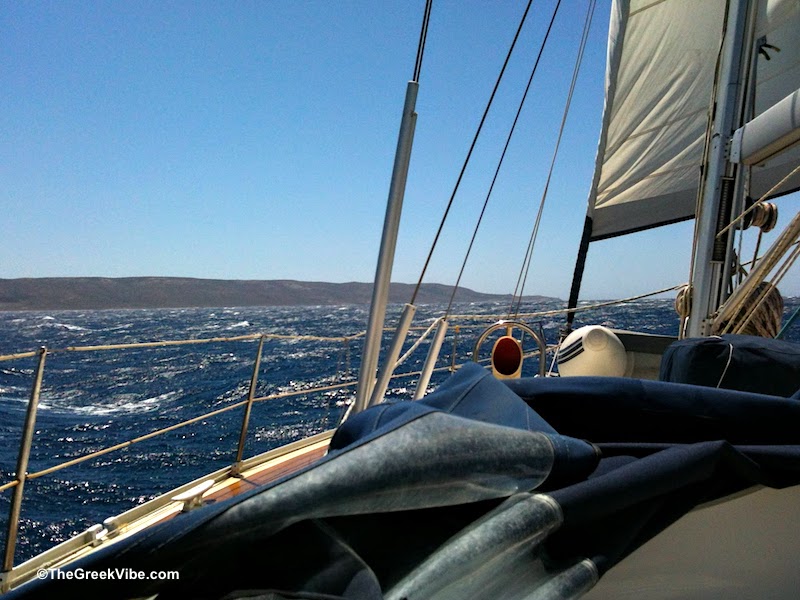 There's no doubt about it, sailing Greek waters whether on a small sailboat or a luxury yacht is the ultimate way to discover the best beaches in Greece and much more. It's also what dreams are made of and this dream vacation can easily come true in Greece.
From the hidden moon-like formations of Milos to the little-known caves of Folegandros, the smooth waters of the Ionian to the strong winds of the Cyclades, sailing the turquoise waters of the Aegean Sea is a once-in-a-life time experience that you should have. Why? Because besides the dozens of private beaches, sunkissed islands or charming fishing villages, a well-organized boat or yacht charter can also include fine dining and wining, hiking and sightseeing, swimming, partying, meeting new friends, and all this in comfort and safety.  
And this my friends explains why so many travelers come to Greece every year from far and wide to charter a boat and sail off into Greek paradise.  
Yes, I know, you're probably thinking: well yeah, if I had that much money. Well, guys the truth is, that's a myth. Of course, renting a luxury liner with deck boys, chef and masseur will be pricey, but there are other cheaper options that will actually cost you as much as a week at a good 3- or 4-star hotel. As long as there is a group of you – friends preferably that can get along together – but we'll talk about that later. 
Why charter a sailboat or catamaran in Greece?
Because…
1. Greece boasts some of the world's best skippers, who will take the helm while you and your friends, family, or loved ones sit back and relax.
2. Greece has hundreds of sailing charters available for every pocket and desire plus years of experience and local know-how.
3. Sailing Greece is the best way to island-hop. There are hundreds of islands to sail to and in near promximity to each other.
4. The weather conditions are ideal for sailing whether you're a hardcore pro looking for adrenalin or an amateur who isn't sure if you've got the stomach for it but still want to try (or practice).
5. Sailing or yachting offers exclusivity and privacy, which means it's you, your SO, or your pals and the Big Blue.
That said, let me go on and answer some of your questions about sailing in Greece and what you need to know to charter a boat and set off on #yournextgreeceadventure.
How much does it cost to rent a sailboat in Greece?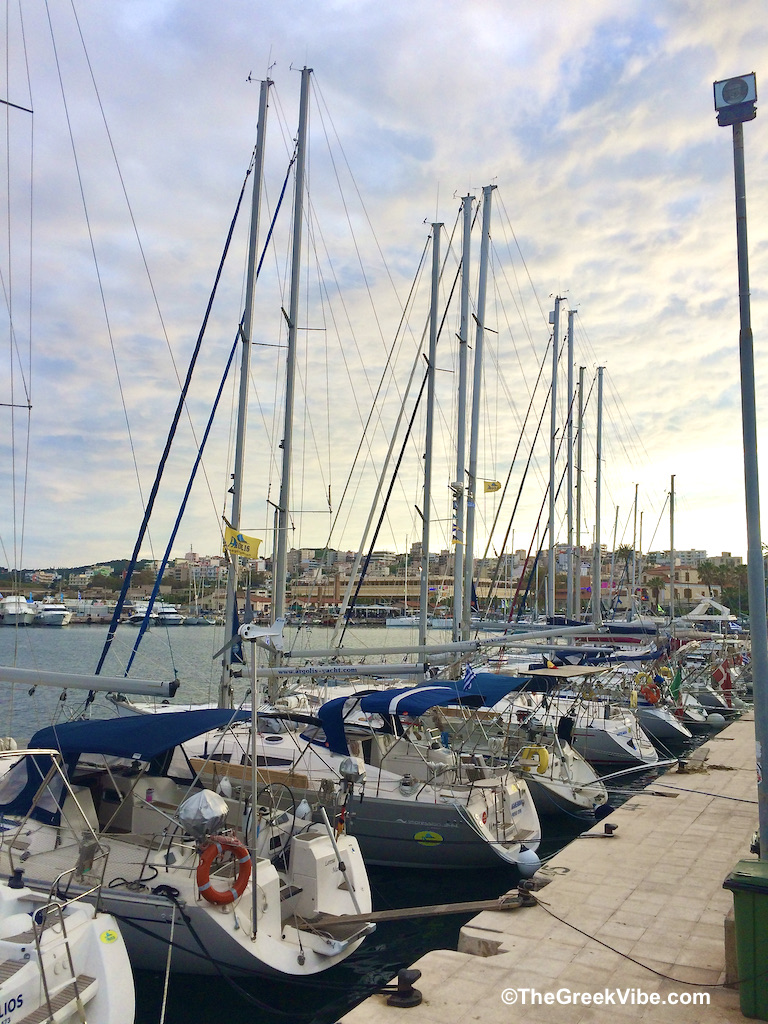 Like I said above, renting a sailboat or catamaran is not as expensive as some people might think. Rates depend on age, size and type of boat, number of passengers, number of days, if you're going to need a skipper, extras such as chef, full crew, travel guide etc, provisions and season.
It's also very very important to know what exactly it is you're looking for. Is it a sailing boat, a super luxury yacht, a catamaran, a motorsailer?
Rates usually start at around 72 euros per person per night, which is more or less what you would pay for a good hotel room right now.
Also know that you can rent a boat at Athens, Piraeus and Lavrio ports as well as from the Alimos and Faliro marinas, but you can also charter a boat for a day or two on most of the Greek islands or even seaside towns.
Chartering a boat from an island is better for those of you flying directly to Crete, Kos, Corfu, Lefkada or Rhodes, for instance.
Renting a yacht from Piraeus or other smaller Attica marinas is suggested for those of you who will be taking a long sailing trip and then returning to Athens to depart.
Escape to Greece with The Greek Vibe monthly Newsletter!
Which Greek islands should I sail to?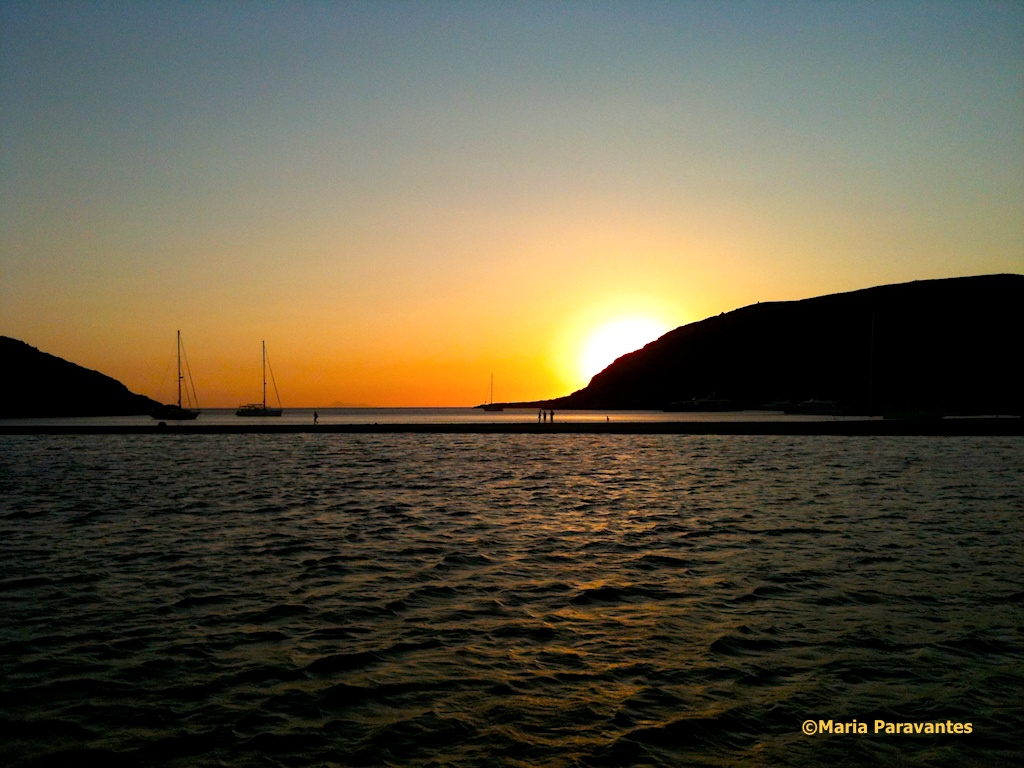 I have to admit Greece is the supreme 'playground' for sailboat and yachting lovers and this is not only due to its winds but also to the small distance between the islands which make it easy to visit many places in one go.
Now as to which ones you should visit? This all depends on what you're looking for. Before you decide, think about: 
are you planning to spend most of your trip to Greece sailing
are you a professional sailor interested in the experience
are you an amateur interested in a day trip in calm waters for practice
are you a group of friends or family and need to hire a skipper
Once you know what you're after, these are The Greek Vibe's tried and tested recommendations:
►For calm waters and smooth sailing…
The Ionian isles are the best all year round, little or no crazy winds, emerald waters and vibrant island backdrops.
*Favorites: Ithaki, Corfu to Paxi islands, Lefkada
►For adventure & adrenalin plus cosmopolitan appearances
The Cyclades islands are perfect for you, combining strong meltemi winds mainly in late June, July and August, and home to some of the most popular Greek isles like Mykonos, Milos and Paros. The Cyclades are those post-card perfect isles you see everywhere on Instagram: traditional white-washed villages, sparkling waters, hidden inlets, happy faces.
*Favorites: Lavrio to Milos-Kimolos-Kythnos, Athens-Serifos-Kythnos, Lavrio-Kea-Kythnos, Lavrio-Sifnos
►For the traveler who likes it short and sweet
This is why I always recommend you stay in Athens for a couple of days. Most people don't know that you can rent a boat and sail to the nearby Saronic Gulf islands, which are really undervalued in my opinion. I strongly recommend renting a sailboat for a day or two and sailing from Athens to Hydra, Aegina, Poros, and Spetses, not to mention perfect locations on the mainland like the town of Ancient Epidavros – you can even arrange to catch a performance at the ancient Theater of Epidavros – Methana and Nafplio, Greece's former capital and a beautiful town – and you can do all this over a weekend. 
*Favorites: Piraeus- Ancient Epidavros-Methana, Alimos marina-Aegina, Faliro marina-Poros- Spetses
►For the explorer
For those of you flying direct to Rhodes or Kos and with more days on your hands, I really recommend chartering a boat and sailing to the Dodecanese, a cluster of the remotest Greek islands which have fewer tourists and are much more genuine than the popular hotspots.
*Favorites: Tilos, Lipsi, Symi, Astypalaia, Kastellorizo
Beware of the notorious Greek Winds
It's no coincidence that the ancient Greeks had the god Aeolus, who 'kept' the winds in a sack. When asked by the king of the gods, Zeus, Aeolus would open his bag and release a certain wind depending on the occasion. You'll see for yourself if you decide to go sailing, particularly in the Cyclades. 
This notoriously strong northerly summer wind: known as the mighty "meltemi" is just right for sailing. It starts at around 11am and picks up through to dusk mostly from late June to early September.
The meltemi is great for the seasoned sailor or a Greek skipper who knows the ropes as it creates the perfect conditions for an invigorating sailing experience with winds reaching 7-8 on the Beaufort scale. It's not for the amateur.
Sailing in Greece – Maria's Tips
►If you can, avoid a sailboat trip during peak season. Instead, opt for low season which is early June, September and October and off days like Monday to Friday. Not only will it be cheaper, easier to find a berthing spot, fewer crowds, the weather is perfect: not too cold, not to hot, and meltemi winds have subsided.
► Renting a sail boat in summer may have you thinking it will be warm. And it will be, in the day and while anchored mid-sea or at the marina but at night or during the trip it may get chilly, so make sure to bring warm clothes, hats, shoes with a grip (decks can be slippery) and lots of sunscreen. It may be a good idea also to have sea sickness tablets just in case. They work!
► Always rent your boats through a Greek charter company. These people have grown up by the sea and have sailed the Greek waters throughout the year so they know their stuff like no other.
► It is very important to know before you book what you're interested in. Once you make up your mind, then make sure to ask the charter company on guidance, advice and suggestions. And please ask about services offered, safety and insurance.
Bon voyage!
---
♫ I end today's post with a 1970 oldie by favorite singer Giannis Poulopoulos, who sings about a tiny boat with sails that fits his sweetheart, five kisses and lots of happiness. "Eho Mia Varka" (I Have a Boat).
Enjoy!