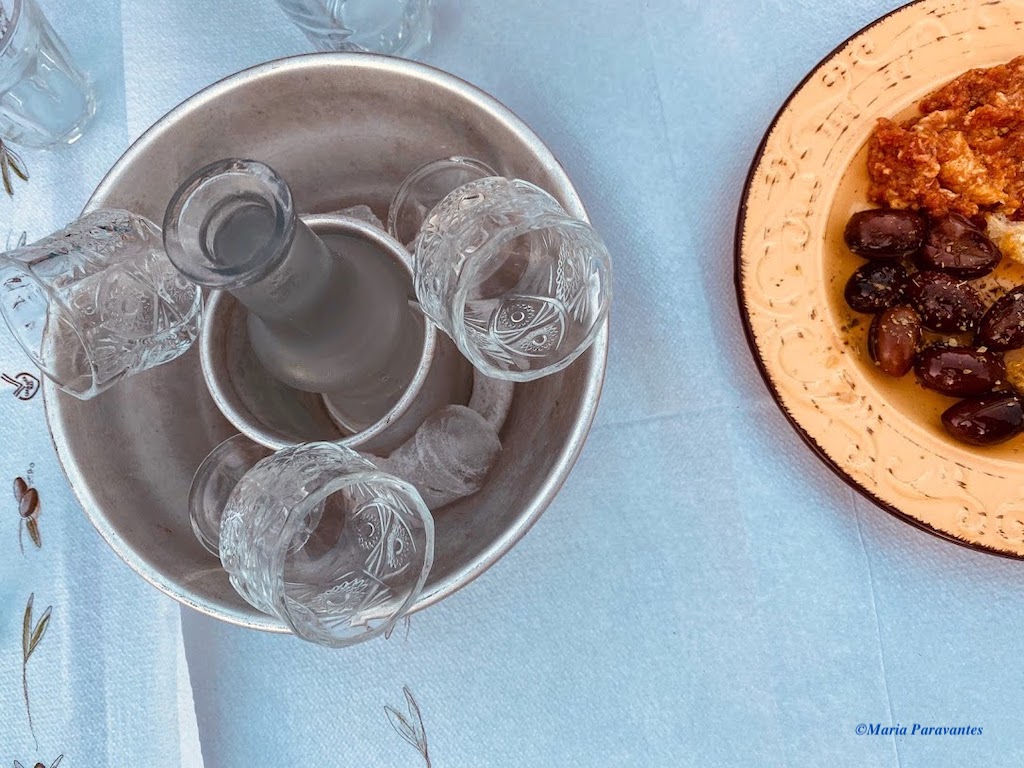 We may be stuck in our homes waiting for all the coronavirus madness and sadness to go away, but that doesn't mean we can't travel to Greece, or any other destination on our bucket lists for that matter.
How? Using our other senses, of course. That's why we have at least five of them and not one!
Virus or not, we can always visit the world virtually (for now) using one or more of our senses. Last month we took an audio and visual tour of Greece with the help of music and film.
This week, The Greek Vibe suggests traveling to Greece from your table …at home. How? Easy. All you need to do is go (carefully masked) to your supermarket, or better yet, order online some or all of the following Greek products and prepare yourself, your family, your partner, or your loved ones a big fat Greek meal.
"He who is not contented with what he has, would not be contented with what he would like to have," says Greek philosopher Socrates, so these strange times call for making do with what we've got. And remember… what comes, goes… so be patient, stay at home for now, so we can travel tomorrow.
Travel to Greece from Your Table
Let's begin with the Greek products you'll be needing for your virtual trip.
1) Dried Figs
Besides being an excellent source of fiber and vitamins, dried figs are a match made in heaven with Greek cheese and red wine. You can, of course, slice them into small bits and throw into your Greek yogurt or place on top of a Cretan rusk and add some Greek honey.
2) Feta Cheese
Anyone who has ever visited Greece or had lunch or dinner at a Greek restaurant has had feta. Yes, it's that rich white slab of cheese sitting proudly on top of the famous Greek salad. But Greek salad aside, feta cheese can be served alone with a bit of extra virgin olive oil, some oregano and black pepper and enjoyed with some Greek Assyrtiko wine or a sparkling variety. If you really want to take it further into gourmet territory, feta can be rolled and fried in phyllo dough and 'dressed' with Greek honey or rolled in batter and fried accompanied by your favorite marmalade.
3) Greek Yogurt
There's yogurt, and then there's Greek yogurt, and trust me, there's a big and important difference: everyone loves Greek yogurt for its rich and smooth taste right? Well that's because it's made of full fat sheep's milk which is either stored in terracotta containers – and you'll know because it has a wonderfully sinful layer of fat on top – or was strained (in bags in the past). Besides its rich taste and texture excellent for dips, Greek yogurt has many health benefits. Supermarkets outside Greece mostly carry the strained variety. So get yours, either add some to your Cretan rusks with a touch of honey or eat straight away with walnuts and a Greek spoon sweet.
4) Extra Virgin Olive Oil
All supermarkets abroad carry Greek olive oil. Make sure it's the extra virgin variety because it makes all the difference both in taste and nutritional value. Drizzle over your feta cheese, salad, or over plain homemade bread with a touch of oregano and sea salt.
5) Kalamata Olives
Yes, Kalamata olives have and continue to be the centerpiece of any ouzo-meze dish, which is a colourful variety of edible titbits accompanying your drink. They are full in taste, have a rich texture and are wonderfully fulfilling – plus they are a perfect accompaniment to ouzo or wine.
6) Cretan Barley Rusks
Also known as "paximadia", Cretan rusks are the solution to those days when you just can't be bothered to prepare a meal. All you have to do is add a bit of water so that they soften, grate a soft tomato, add some crumbled feta cheese and, of course, Greece's golden wonder: extra virgin olive oil – and you've made yourself the best Greek appetizer ever.
Escape to Greece with The Greek Vibe monthly Newsletter!
7) Greek Wines
Greece is one of the oldest wine-making countries in the world producing some of the finest wines and a selection of dessert wines that are extraordinary.
Wines from the islands and the mainland as well as the dessert wines of Samos, Kefalonia and Santorini are bound to win over the most demanding palates.
For a light meal, try a Malagousia or a Moschofilero. And the good news is that retsina is making a comeback. I love retsina wine and it goes wonderfully well with our meze. For dessert, make sure to get a Vinsanto and serve with some dark chocolate on the side. Absolute bliss.
8) Ouzo
 So you're inside. So what? Best way to get the party going is with some Greek ouzo. Make sure to use small or shot glasses. Add some ice and watch it cloud up. Ouzo is an anise-flavoured spirit best enjoyed at a slow pace always accompanied by titbits of food known as "meze" and plenty of water. Some of the best ouzos come from the Greek island of Lesvos, home to its own ouzo museum. Learn more about how to drink ouzo here.
Honey has been served at Greek table since ancient times and is a very important part of Greek culture and cuisine. So much so that the father of all gods, Zeus, was said to have been nursed by the nymph Melissa (bee). For me (and I am really trying to be objective here) Greek honey is the best in the world. Even Queen Elizabeth thinks so. So find some Greek honey, if it's from the island of Kythira, better yet, and start indulging. For our Greek meal at home, I suggest honey over Greek cheese and figs. (Also a perfect breakfast.)
10) Macedonian Halva
This edible wonder is nutritious, fulfilling and can go both ways: either enjoyed as a dessert or as an accompaniment to your meze dish. Halvas was brought to Greece by the Greeks of Asia Minor and is basically made from tahini (sesame paste). It was usually eaten with a few drops of lemon during Lent in Greece because it was nourishing. Today you can find a wide variety of halva with everything from nuts and berries to chocolate and honey.
11) Spoon Sweets
A Greek treat that can be found in every household and which in the far off past was a sign of a good housewife. Spoon sweets – known as "glyka tou koutaliou" – can be made with everything from cherries and lemon blossoms to the rarer rose petals and as of late olives.
They should be served for dessert after your Greek meal either alone on a small dish – one or two teaspoons at the most, over Greek yogurt or as topping over your favorite ice cream. I would suggest vanilla to keep the tastes.
12) Stuffed Dolmadaki
There can be no Greek meze without the famed "dolmadaki" or stuffed vine leaves with rice and herbs. There are of course other varieties of dolma made of rice, minced meat, pine nuts but the canned item you can find at your supermarket or online is made only with rice. Serve with lemon and some pepper on a small plate
And last but not least… everyone abroad knows Greece for its famous "flaming cheese" – the "saganaki". But did you know that it was actually invented by resourceful Greeks in my hometown Chicago as an attraction at their restaurant? So, our Greek meal wouldn't be complete without this fantastic edible delight fried and flambéed with brandy or ouzo. All you need to get from your market is a Greek hard cheese preferably kefalograviera, graviera or kefalotyri. You can also prepare the alternative Cypriot variety using haloumi cheese. Get the best recipe here.
---
? I conclude today's post with a breath of Aegean air straight from the Cyclades islands with one my favorite Greek singers Yiannis Parios in a popular island song from Ikaria called the "Ikariotiko".
Enjoy!