It's true, more and more people are thinking about visiting Greece in the low season but many have concerns – and rightfully so – about the weather and about swimming.
Let's face it, when you think of Greece, you probably fantasize about lazing under the sun and immersing yourself into crystal clear waters to wash off the stress and madness of this crazy world.
Well, here's the good news. Yes, you can swim and safely sit in the sun until early December. There are some tips of course and best beaches where the waters tend to be warmer late into the year.
So join me and let's discover the secrets of swimming and enjoying the beach in Greece in the fall and early winter, and for the daring ones or those of you used to the cold – talking to The Greek Vibe's friends in Northern Europe – trying your luck after January through to April.
Want to Visit Greece in the Fall but Can I Swim?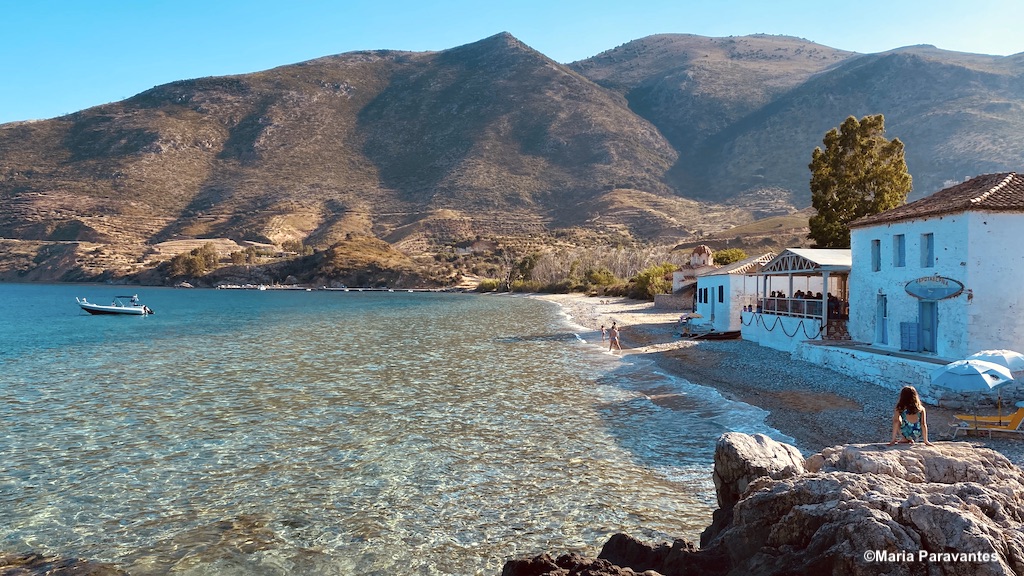 Yes you can. For the most part the waters at Greek beaches begin to get cold after January. That doesn't mean you'll be hitting the beach and doing what you would do in the summer. Each season has its offerings, beauty and secrets so keep note.
Swimming in September is pretty much like August minus the crazy "meltemi winds" that 'visit' us every year at the end of June and keep us cool in the summer heat waves through to the end of August.
Swimming in October and November is a whole different story. Remember the day has gotten shorter, the temperature outdoors has dropped from 35-38 οC (95-100F) in July and August, to 30-25 οC (86-77F) in September, 20-25 οC (68-77F) in October, 15-19 οC (59-66F) in November and around 15-12 οC (59-53F) in December.
At the same time, the water temperatures have also dropped from 28 οC (82F) in July and August, to 22 οC (71) in October, down to 16-18 οC (around 60F) in November, December and January and around 12-14 οC (around 53F) in February and March.
But bear in mind that water temperatures drop at a slower pace. I actually remember one year hitting the beach on January 1 under the snow-filled mountains in Arcadia and the water was lovely.
Winter Swims in Greece: Maria's Tips
If you're visiting Greece in the shoulder season and want to enjoy the beautiful beaches this is what you need to know. I too learned these tricks from older winter swimmers known as "heimerini kolymvites".
1) Hit the beach later in the day when it is the warmest. In the fall, this would be anywhere from 1.30pm to 3pm not after that. As the sun begins to dip the colder it gets fast.
2) Do NOT sit in the sun and tan for hours before you go for a swim. Do it the other way around. Swim first and then sit on the beach. If you sit in the sun first, the water temperature will seem much colder than it actually is.
3) As you enter the sea slowly, rub some water under your arm pits, around your neck and heart area. One, two, three and in you go. Keep moving as fast as you can until you feel your heart beat slow down and return to normal. Yes, you can hear it. Trust me!
4) Stay in the water for the same duration as the water temperature. Which means that if the water is 15C, swim for about 15 minutes and then out you go (even if you feel great – which you will).
5) Dry yourself immediately. You can even have a bottle of tap water with you to wash off the salt and bring your body back to normal temperature faster.
6) Dry your hair. This is the most important part especially for guys or gals with long hair. To be honest, the best option would be to wear a swim cap.
7) There are two things I always bring with me when I swim in the winter.
✓ First, a lightweight but very absorbent beach towel which dries quickly and can later be used to sit on. Make sure to always bring with you a big towel that is easy to carry. This one packs easy, comes in so many beautiful colors and designs, and doesn't feel like a microfiber towel at all.
✓ If you have room in your suitcase, you won't regret bringing a quick-dry hooded surf poncho. Believe me you'll be using this all year round. I love it. Surfers and winter swimmers in Greece all have one. You just throw it on when you come out of the water, cover your head and easily change into your clothes right there on the beach.
✓ I also suggest that you have a good quality swim cap with you. This is a lightweight item so no worries about bringing along in your suitcase. A swim cap keeps your hair dry, your head warm and protects your ears. I use this one especially if I swim in December onwards. Plus it comes in great colors and designs.
8) Get dressed, lounge in the sun and enjoy being on this earth, in Greece, on this beach alive.
Escape to Greece with The Greek Vibe monthly Newsletter!
After swimming in colder water you'll feel brand new. I can only describe it as a natural high that leaves you unaffected (in a good way) by anything or anyone around you. A state of bliss and I can say this from personal experience.
Lastly, if you're thinking of becoming a winter swimmer, the experienced folk say it's a good idea to never stop swimming all year round. They say that a dip a day is enough to keep your body in tune with the changing seasons.
The Best Beaches to Swim in Greece Fall and Winter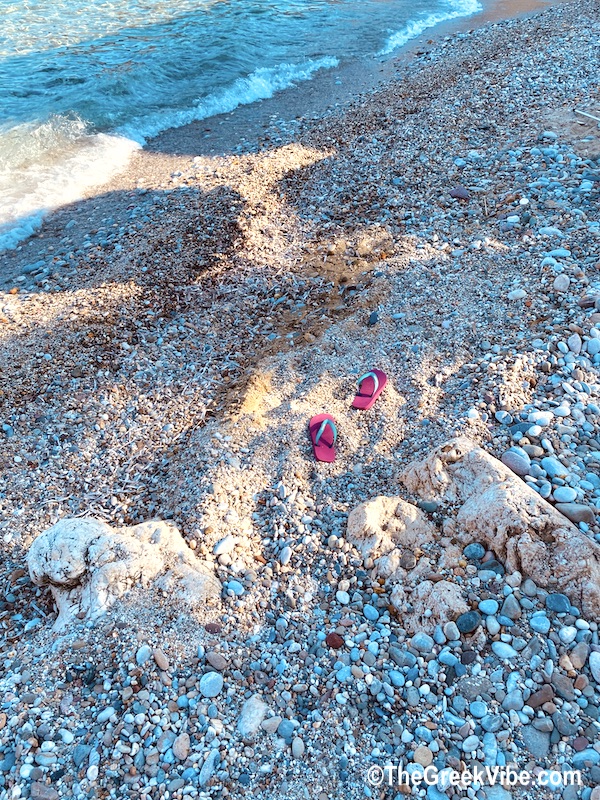 The best and warmest beaches whether island or mainland are the so-called "noties paralies" or southern beaches. These are usually not affected as much by the cold, northerly winds. They are also much calmer.
1) The beaches of southern Crete: Agia Galini, Frangokastelo, Matala, Paliochora, Vai, Tsoutsouros, just to name a few
2) The beaches of the Eastern, Southern and Western Peloponnese: the eastern coastline Kyparisia, Kaifas, Amaliada, Zacharo. To the south: Pylos, Koroni, Kalamata, Stoupa. On the west, Astros, Kyveri, Drepano, Tolo and Porto Heli, Corinth, Porto Germeno, Psatha, Loutraki, Limni Vouliagmeni and the islands of Spetses and Poros.
3) Yes, you could find beaches near Athens to swim in the winter. Attica: the beaches on the Athenian Riviera: from Faliro all the way to Vouliagmeni, Kavouri, to the northeast Dilesi, Chalkoutsi, Artemida and Porto Rafti. 
4) Greek islands: Rhodes, Kastellorizo, Lesvos, Chios, Samos, Kalymnos.
5) Mainland: Central Greece: Theologos, Livanates, Arkitsa, Agios Kostantnos, Skala.
6) Evia: Limni, Rovies, Aidipsos, Chryssi Akti, Agios Georgio, Lichadonissia islands, Marmari and Karystos.
I know, you're wondering about the all-time favorite Cyclades. For the most part the waters get colder faster on the Cyclades, which actually already have cold waters even in the summer, but there is always a beach or two on each island that has warmer waters. How do you find out? Just ask a local swimmer. They usually know.
Last but not least: if you're not the swimming type, then you'll have a chance to enjoy – like Robinson Crusoe – some of Greece's best beaches, the ones you see shared all over Instagram and TikTok all to yourself, in peace and quiet.
---
Useful Tools to Plan the Best Trip to Greece
These are some of the trusted partners I use when I travel in Greece and abroad.
.*The Greek Vibe may receive commissions on purchases made through affiliates and partner links. Clicking affiliate or partner links comes at no additional cost to you but goes a long way in supporting our work.
---
♫ I end today's post with a vintage tune from 1982: "Thalassa, Thalassa" (Sea) by Nikos Nomikos about the sea and its luring touch.
Enjoy!