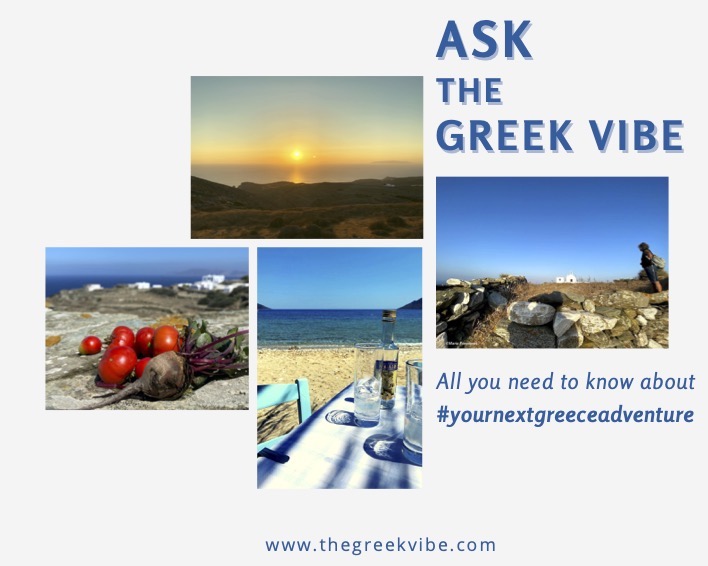 Your Questions
Thinking about or already planning your trip to Greece and have questions? Then you've come to the right place. Welcome to The Greek Vibe FAQ page. Here you will find answers to all sorts of questions travelers like you have sent over. Let's begin!
---

►Are credit cards accepted in Greece. What should I know?

Overall, credit cards (mainly MasterCard and Visa) are accepted in most places in Greece, but you should first make sure yours are valid abroad. 
 
So first thing before your trip, notify your card company that you will be using the card abroad. However, that said, I wouldn't suggest using credit cards because some companies charge an extreme conversion fee from dollars to euros. 
 
Make sure to ask your credit card issuer if there is a foreign transaction fee with use abroad and instead use a card that waives this. 
 
Do not use your credit card at an ATM to get cash and not a good idea to use your debit card to buy things abroad (3% on transaction).
 
If you clarify with your company what the extra charges will be for use of card abroad then it's ok. I suggest you always have some cash with you because if you travel to smaller off-the-beaten track places or small islands, they most likely will not accept cards. 
 
Also check to see if your card offers travel-related rewards likes points for flights and hotel stays. Another idea would be using a pre-paid travel card.
 
One more thing, you're more likely to get a better price at shops if you pay in cash. 

►Which Greek islands are the quietest and have the lowest temperature in August? I know this is the busiest time when all the Greeks also go on holiday and it is the hottest month but this is the only time I have to travel solo. I do not tolerate the extreme heat very well and by choice I would never go away in August but I do not want to waste this free time. I love the beach, so I'm hoping that somewhere by the sea will help keep the temperature down. I want local and friendly, the sea and Greek food, I have no interest in party islands or tourists.


First of all, I would suggest the Cyclades. Mainly for the "meltemi" wind which keeps things cool. Naxos is a good idea if you're looking for a large island with lots of things to do. Plus it has Apeiranthos, which is a traditional (and beautiful) mountain village and is pretty cool in August. However, Naxos is also usually packed in August. It does have great food, customs and beaches, however. And maybe because it's big, the crowds don't feel so ominous.
 
For the solo traveler, I would suggest Donousa. It's a tiny island with great beaches and hiking paths. My personal favorite. Small, one supermarket, decent weather, not too hot due to the meltemi, and can't really get very crowded. Folegandros is also a good bet, but beaches are wild, not sandy. Plenty of wind though.
 
Lastly, I would also recommend Lesvos or Chios, a bit cooler than the other islands or Crete of course, mainly because it is so big you can find everything, peace and quiet on the the north side of the island. Avoid the Ionian isles – although I absolutely love these islands, they are too humid and very hot in August.
 
►Is Greece a good place to work from?

Greece is an all-time favorite destination for digital nomads or for those looking to combine remote work and travel. The weather is great all year round and living here is affordable. Plus the beach is always somewhere nearby. You can get a digital nomad visa, and there are dozens of co-living and co-working spaces in Athens, Thessaloniki and on the islands. Check out flexible online job opportunities on Jooble.
 
►Is travel to Greece safe? 

Absolutely. Travel to Greece is safe for two very important reasons: first of all, Greece is among the few countries in the world to have managed to keep Covid-19 infection rates and deaths down. Secondly, Greece introduced very stringent precautionary measures for hotels last summer when the country welcomed thousands of travelers who vacationed in safety and returned to their homes in good health. With a year of experience, they are well equipped to meet the new demands and needs.
►Which Greek island is gay friendly?
Having for more than half a century been a leading destination for travelers, Greece and its islands welcome all tourists. It is after all Greek hospitality that has made the country a top choice for travelers from across the globe. Islands that are more LGBTQ-oriented include Mykonos, Folegandros, Santorini, Antiparos, Lesvos, Rhodes, Zakynthos, Skiathos, Crete, Astypalaia, and Tinos. This, of course, doesn't mean that you can't visit other islands or mainland destinations and feel at ease. Learn more about LGBTQ travel to Greece here.

►How to go/do island hopping in Greece?

One thing that makes Greece a great vacation choice is that you can visit several islands in a short period of time. The Cyclades are the ideal place to start your "a Greek island a day" holiday. You can start from any island in the Cyclades and then hop to the next on the passing ferry. Go to Folegandros and from there to Sikinos, Milos and Kimolos. Or to Ios and from there to Santorini and Anafi. Or to Naxos and from there to Donoussa, Koufonissi, and Amorgos. There are dozens of choices depending on the ferry routes. But you can also arrange for local boats to take you to the next island. Or even rent a sail boat.

►Should I book my trip to Greece with a travel agent?

I strongly believe that now – post-Covid – is the best time to book with a travel agent or advisor. Local agents know the ropes, know the rules and regulations, and know where your needs will best be met. If you are among the older crowds, a travel agent will ensure stress-free holidays, plus you have a go-to person at all times for questions and guidance. 

►Can I travel Greece without a car?

Definitely. There is no need for a car in Greece unless you want to take a road trip, in which case you can rent a car for a fairly decent price. Small islands like Donoussa, Symi, Kalymnos, Serifos, Sifnos, Kimolos are perfect choices for those of you who love to walk. And I should add that larger islands or mainland destinations usually have good public transport services. 

►What are the best months to travel to Greece?

The best months to travel to Greece this year are end of July, August, September, and October. I believe that by July, travel worldwide – which means flights – will be restored. Most governments having vaccinated large parts of their populations are also expected to ease travel restrictions.

►Is Greece family friendly?

Greece is a wonderful destination for families and this is in large part due to the sense of safety offered in the small island or village communities. Kids still play outdoors in Greece. Most destinations are child-friendly with many hotels offering besides child care services, kiddies' playgrounds and pools. Additionally, there are hundreds of long, sandy, car-free beaches to be found across the country. Top destinations include Rhodes, Crete, Halkidiki, Pyrgos, Messinia (Gialova), Naxos, and Tinos.

►I am a senior citizen and I want to visit Greece. Can I?

Greece is an ideal destination for senior travelers. So if you have your vaccinations and follow precautions (hand-washing, mask-wearing, social distancing), you can enjoy a great holiday in Greece. Make sure to ask your hotelier anything that may concern you before your trip. Chose a larger island like Crete or Rhodes or mainland like Halkidiki. Learn more here about five perfect places to visit in Greece for the traveling senior.
►I'm getting remarried next year sometime and we want to honeymoon in Greece. We're looking for some place less of a 'tourist' experience and hoping for more of an authentic Greek experience. I wondered if you could recommend a time of year and itinerary ideas for a two week(ish) trip?

First of all, congrats! The best of love to you. Greece is becoming one of the world's most sought-after wedding and/or honeymoon destinations. The best time of the year to plan your wedding or honeymoon in Greece would be fall or spring, when the weather is just right. A great quiet place would be Sikinos – read about it here or Folegandros, where I saw at least three weddings take place last year in my two-week stay. Read more here. Naxos would be a great idea too because it combines the best of Greece, plus the finest Greek food and its famous island music and dancing. If you're not keen on an island, getting married in Meteora and combining it with a road trip honeymoon across western Macedonia would be a fantastic experience. Get an idea of that here and here. You can also check out my post on weddings and honeymoons in Greece here.
►Are ouzo and raki the same thing?
No. Ouzo and raki are two very different Greek spirits. Ouzo can be anise or mastic-flavored or without any flavoring. It is distilled several times to reach a 37.5 to 50% alcohol content. Ouzo is usually mixed with water and ice and becomes cloudy white. If you visit Lesvos, leading ouzo-makers, go to the ouzo museum in Plomari.

Raki – aka tsikoudia – is made on the Greek island of Crete and is a pomace brandy made of twice-distilled grapes which contains 40% to 65% alcohol by volume. A similar strong distilled spirit is made in mainland Greece known as tsipouro. All three Greek drinks areProtected Designation of Origin (PDO) products.

►I am a traveler with disabilities can I visit Greece?

In some instances, Greece may be more disability-friendly than other leading destinations. For instance, the Athens Acropolis and Parthenon as well as the Acropolis Museum and other main museums are accessible to people with disabilities. Many large hotels and resorts also have disability access and wheel-chair adapted rooms or suites. My suggestion is visiting larger islands such as Crete, Rhodes, Zakynthos, or mainland destinations such as Halkidiki, Messinia, and Athens. Make sure to book at larger hotels which have the capacity to meet your needs and ask to see photos of the rooms before you book. Greece still has a long way to go but efforts are being made to create an inclusive travel experience.

►Is Greece dangerous for tourists?

Definitely not. Greece is one of the safest countries in the world. This, of course, does not mean you can do anything you wouldn't do in New York, Paris, or London.    
---
►What is a typical Greek lunch?

Greeks usually have lunch at around 1.30 to 2.30pm (in the past this was the main meal of the day). A typical Greek lunch may consist of a "ladero" (vegetables cooked in extra virgin olive oil) dish, Greek cheese, and bread. A lighter version may include a tyropita (cheese pie) or spanakopita (spinach pie). 
►What Greek food should I order?
Unlike other cultures, Greeks like to have all dishes on the table and rarely do course meals. Instead, they order a wide variety of dishes and eat together with friends. You can order appetisers such as Greek salad, eggplant dip, tzatziki (garlic-yogurt dip), and a "ladero" (vegetable in olive oil and tomato sauce) dish, and a meat-based dish such as chicken with potatoes, moussaka, pastichio, pork with greens. 
►What Greek food is vegan?
For the most part Greek cuisine is vegan and/or vegetarian. These dishes are called "ladera" and are usually fresh vegetables cooked in extra virgin olive oil and tomato sauce. There are literally dozens of options and a vegetarian or vegan will never go hungry in Greece. There are also many sweets made with olive oil such as Lenten halvas, baklavas, or fruit and vegetable spoon sweets.