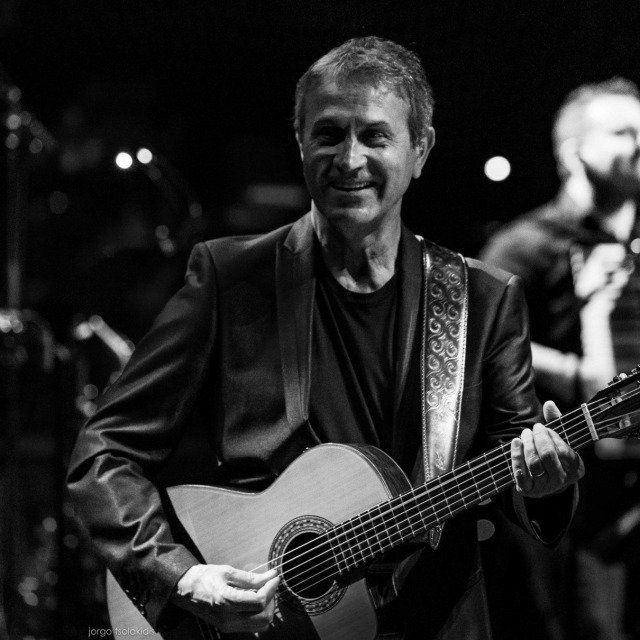 George Dalaras may have filled the Athens Olympic Stadium twice (150,000 fans) back in the '80s and had them all hanging from his vocal acrobatics but today it only took a handful of dimwitted trouble-makers to ruin a free concert and demonstrate yet again that democracy and anarchy go hand-in-hand and that Greece and SOME Greeks have a long way before they fully understand that respect is the what gives meaning to both.
Dalaras is one of the few Greek performers to have given Greece a good name worldwide. For the past four decades he has travelled the globe leaving a reputation behind him for his professionalism – a trait absent in many of our compatriots who come today to accuse him and of what a whole nation is being accused of in the international press.
Dalaras: Dedicated to his Art
He has sung everything from political song, popular song, art song, laika and rebetika (his father, Loukas Daralas, was a major rebetis of the time), and has collaborated with internationally acclaimed musicians bringing them closer to Greece and its musical culture. He is humble and hard working. Dedicated to his art.
Dalaras has also for these 40 years been the voice of Greece for those who today we lovingly call "Greeks abroad" but back then were merely immigrants facing the hardships of isolation, racism and nostalgia for the homeland.
The first songs I remember hearing as a child (in the States) were "Pagose I Tsiminiera" (The Smokestack Froze) and "To Dentro" (The Tree) both deeply political songs. And the haunting voice of Nikos Xylouris off Kapnismeno Tsoukali (The Smoking Pot) album.
I have been to almost all of Dalaras' concerts, in Athens and in Chicago, and only recently stopped going because I felt he has turned his talent and his art into a finely-tuned profession – something I believe cannot be applicable when it comes to any form of art because true art by definition cannot be tweaked, preset or manipulated in a way to benefit the artist, a company or any entity for that matter.
When this happens, it becomes obvious, and can be felt at least to those who were once touched. In Greece, when this happens we call it "arpachti" – which means an artist will get big bucks (or is it euros still?) for doing a one-off. I have been to many "arpachtes" by some of the country's most popular and highly respected artists, who should have been ashamed for treating their fans with such ingratitude. Dalaras has never given me this impression, however "flat" and purely professional his concerts may have been.
The event last week by a group of supposed (thinking) protesters who tossed yogurts at Dalaras – who was singing during a free series of concerts around Athens, which he planned for his fans due to the difficult economic times – shames Greece and its people. Not only because it validates such behavior, but because once again it demonstrates backwardness, ignorance and lack of focus.
If we feel angry and frustrated at our politicians for getting us in this predicament then perhaps we should do something about them. But they are always accompanied by a large entourage of bodyguards. A concert is always easier – the singer is right there exposed center stage. Perhaps we shouldn't vote for them again? Now that's a thought isn't it?
I have been a fan of Dalaras and will continue to be not for what he is now, nor for what he is in his personal life, but for managing to make me think through his songs, for touching me with his voice and for making me a proud Greek.
We often make the mistake of thinking singers are something special – well, they are not. First we give them super powers and then we judge them based on that. They too are people like us. They too make mistakes. And they too are human with all the passions and weaknesses humans have. No one has the right to treat an artist with such contempt. If you don't like him, go to another concert. That's is after all the true greatness of art – the freedom to choose.
---
Escape to Greece with The Greek Vibe monthly Newsletter!