So you're in Athens, been to the Acropolis, the museums, done the foodies round, visited the Stavros Niarchos Foundation Cultural Center and want to get away for a few days or the weekend. Where to go? Loutraki, a picturesque coastal town just an hour's drive from Athens. A place that was once the playground of the rich and famous. Kings, queens, movie stars and well-off families frequented this town which right next to Corinth and the Isthmus in the Peloponnese.
I'll do my best to recreate for you here the atmosphere of Loutraki in the '60s and '70s, when it was in its heyday. Imagine grand hotels at a time when luxury was not a thing, restaurants serving delicacies for demanding palates, evening strolls along the main promenade watching the sun set and greeting famous friends.
Why is Loutraki still so popular? Because it's a year-round destination that combines the best of all worlds and has something for every taste and every generation: sea, sun, adventure, food, night life, history, myth, thermal spas, and plenty to see and do nearby.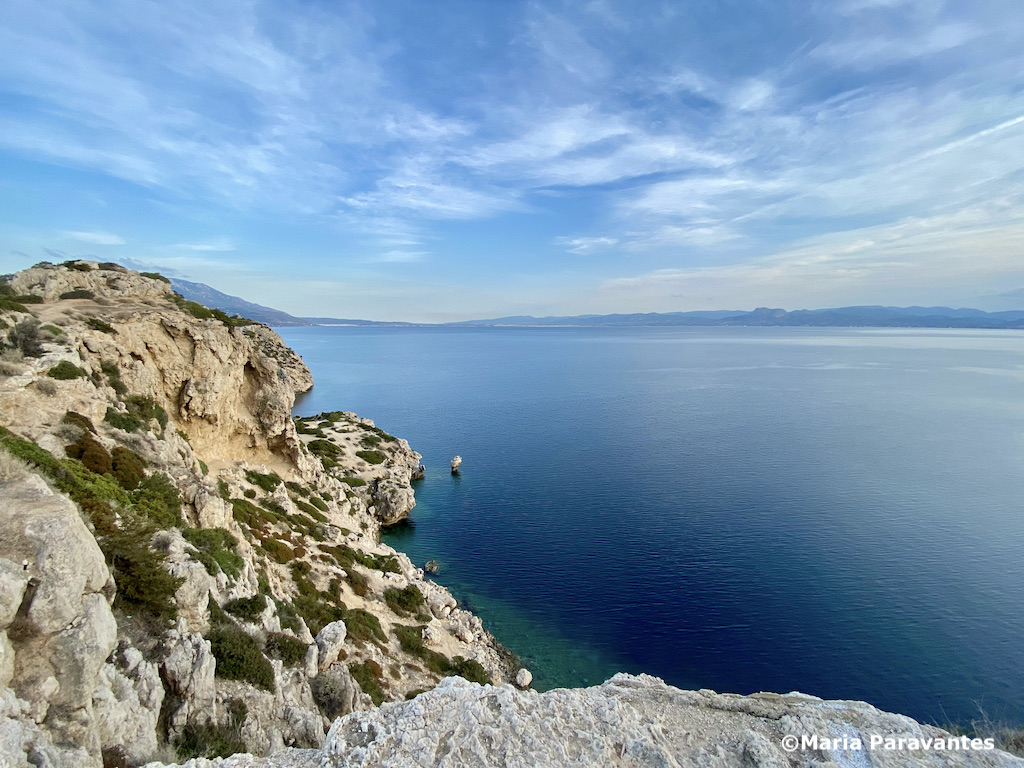 A Bit About Loutraki: The History
Very few people know that Loutraki is one of the oldest if not the oldest spa towns in Greece thanks to its natural springs. The area was known in Ancient Greece as "Thermai", which means "warm" and was protected by the goddess Thermia Artemis.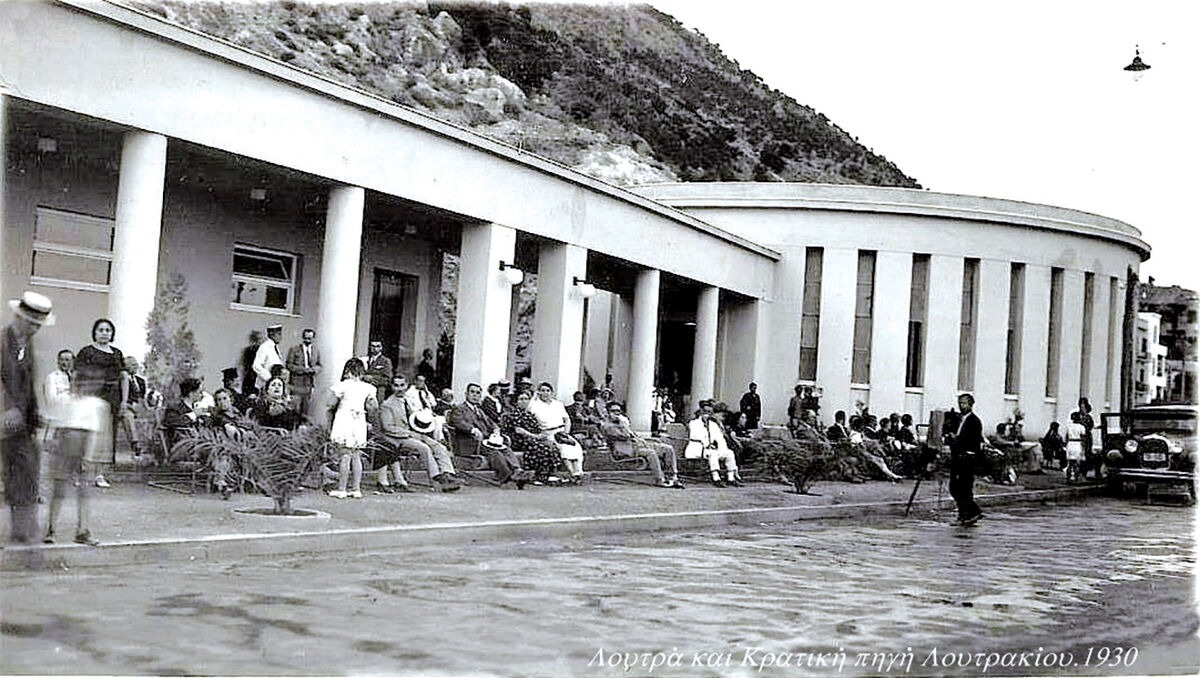 Loutraki is located on the Corinthian Gulf, and it became a resort town thanks to its calm and warm waters and to these springs. Actually the name "Loutraki" comes from the Greek word "loutro" which means "bath".
People from Greece and abroad have been visiting Loutraki for decades, and its renovated thermal spa center is now one of the oldest in Europe and a member of the European Historic Thermal Towns Association.
As I've explained in my post on Asclepius, the Greek god of healing, ancient Greek cities were never built by chance, especially those that continue to this day to have a special energy about them. These special places are revealed to us today by the temples dedicated to Apollo the god of light and Hera and one such town is Loutraki. A couple of days there will prove it to you.
So yes to Loutraki for its light and positive energy, but the ancient Greek gods chose Loutraki for its wondrous water. The importance of thermal springs goes far back to ancient times. Some 2,500 years ago, Herodotus spoke of the healing properties for humans. Hippocrates, the Greek father of modern medicine, explored the minerals and their effects on human health. Even historian Xenfon refers to the town of Thermai and its water in his writings in 431-351 BC.
The organized therapeutic use of hot-water springs first began in Loutraki in the early 1900s but the town's waters had already attracted the interest of scientists as far back as 1847. After that, other Greek spa towns emerged, including Edipsos on Evia island and Kammena Vourla in central Greece.
Things weren't always easy for Loutraki. In 1928, it suffered a massive earthquake, and then again in 1958 and in 1981! In that time, one of the country's first modern hotels, the Grand Hotel Palmyra was built (1960), the first casino in Greece opened its doors: the Casino Loutrakiou, the Loutraki sparkling water company started production and the town's famous orange juice produced by Greek company Ivi all made the seaside town famous and wealthy.
For several years, Loutraki lost its glamor and popularity as more places in Greece entered the tourist scene. In the last few years, however, Loutraki is regaining much of its charm attracting both local and international travelers who come for its healing waters, spa treatments and for its drinking water. Not to mention the food and the activities.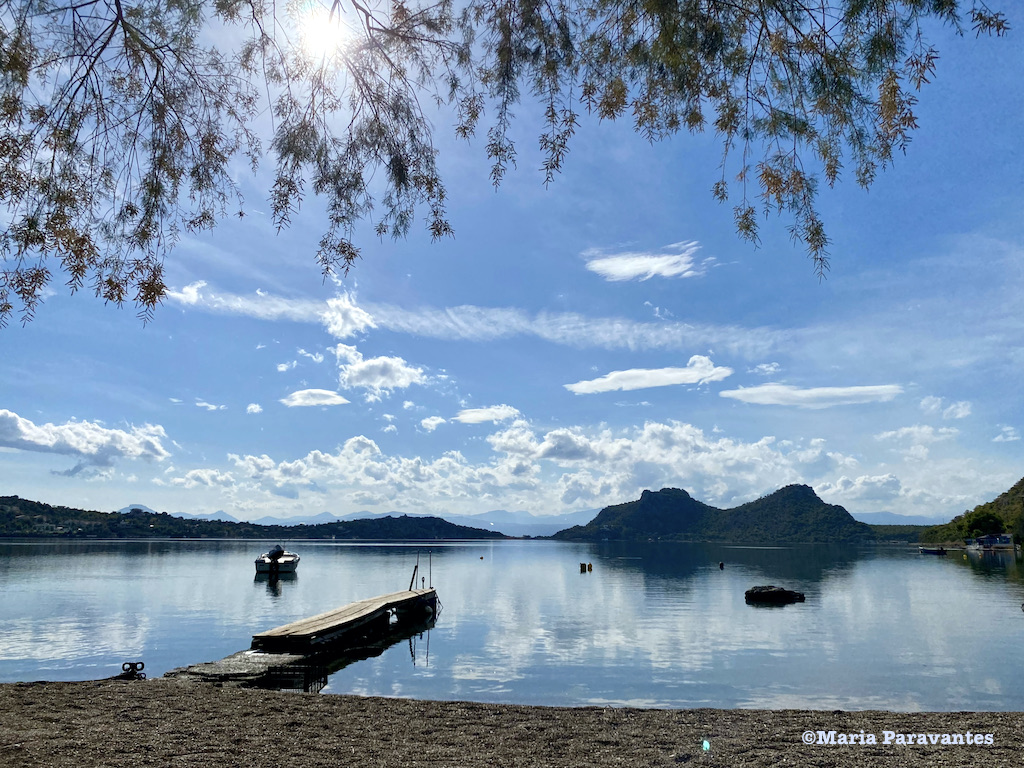 Let The Loutraki Adventure Begin
I used to visit Loutraki when I was a child with my mother when we would come from the US. I remember the long promenade and the bright lights. Summer in Loutraki was about sitting on the beach, swimming, fine dining and enjoying an ice cream cone while we strolled in the evening! What more could a child ask for?
Today, I would suggest you do exactly that. That's why I recommend Loutraki as a relaxing getaway because it gives you the chance to slow down, sit back and simply relish the moment. Plus it's perfect for everyone. And that is what the good life is all about after all.
What Can I Do in Loutraki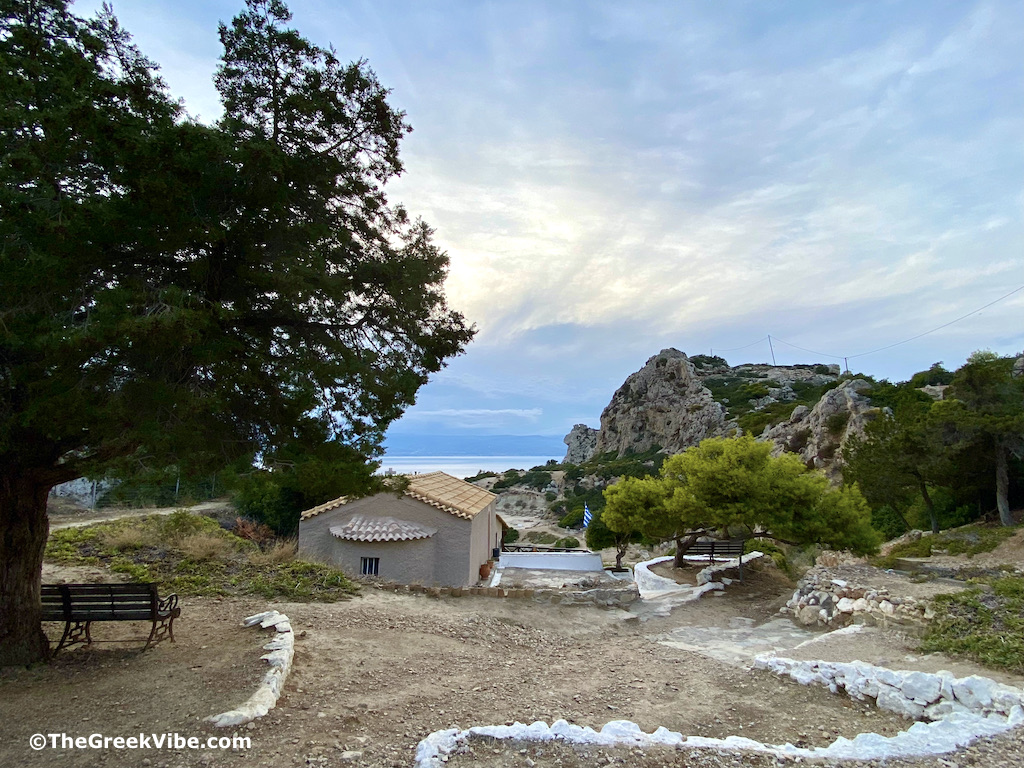 ● Loutraki Spa and its Healing Waters
Loutraki's thermal springs are famous for their healing properties. So make sure to first visit the Loutraki Thermal Spa – the round Belle Époque building constructed in 1935 with mosaics inside inspired by Ancient Greek myth. Located opposite the city park – where you can pamper yourself with a range of wellness and massage treatments and therapies that will leave you feeling refreshed and revitalized. Take a dip in the mineral-rich waters and let the warmth soothe your body and soul. For about 10 euros you can get a 20-minute hydromassage, sauna or steam bath.
For the Greeks of yesteryear, getting a spa treatment was a very important part of their holidays. And why shouldn't it be? Vacation is all about spoiling ourselves.
💡Tip | Did you know that the water from the showers along the beach is also rich in minerals?
Escape to Greece with The Greek Vibe monthly Newsletter!
● Try Your Luck at the Loutraki Casino
Loutraki's Casino "Beau Rivage" was the first to open in Greece, in the 1920s attracting all types of travelers – gamblers or not. Today, it is a cultural center. The action has moved to the Club Hotel Casino Loutraki, which includes a 5-star hotel. It an exciting place to visit forthose of you seeking a bit of excitement or to try your luck.
● Take a Stroll Along the Loutraki Boardwalk
Undeniably for me the wide boardwalk is Loutraki's main feature past and present. You can see it in vintage postcards from the 1900s and rightfully so. This is where all the fun took place, the flirting, the sharing, the socialising, the politics, and life, in general. So do take a stroll, breathe in the fresh sea air and leave behind your worries and concerns. Today, you'll find dozens of restaurants, tavernas, and ouzo spots serving everything from traditional Greek fare to fine dining, colorful cafes and bars for a nightcap.
● Go On An Adventure to the Geraneia Mountains
Yes, those peaks towering over Loutraki are the Geraneia Mountains, where you can do everything from hiking and mountain biking to simply enjoying a wonderful picnic.
● Explore Ancient Greek History
Loutraki is very close to some of Greece's most fascinating archaeological sites. Do visit the ancient city of Corinth and its acropolis known as "Akrocorinthos", just a short drive away. And to Hraiao (see below) for the remnants of two seaside temples built in 800 BC in honor of the goddess Hera. And for archaeology buffs, head to the Archaeological Museum of Isthmia on the premisis of the Sanctuary of Poseidon.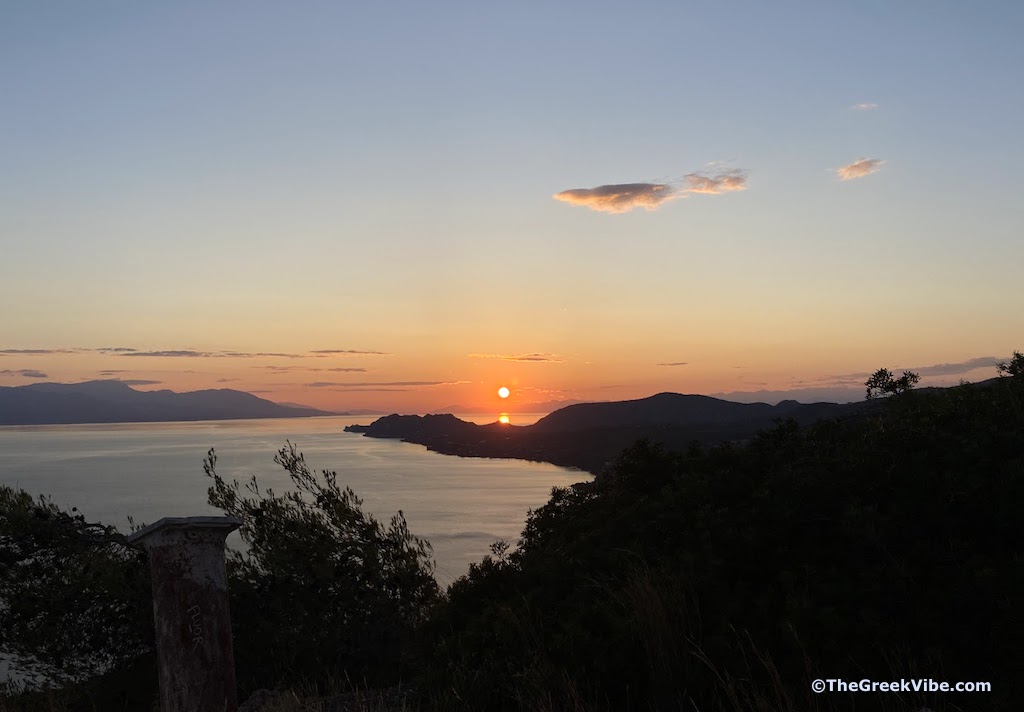 ● Loutraki and its Food Scene
A very important part of the genuine Greek travel experience is indulging in Greek food culture. In Loutraki, you'll find all sorts of traditional tavernas along the beachfront. My favorite is Taverna Filippas which serves Greek dishes. Grab a table and order some mezedes – an assortment of small appetizer style dishes – and a Greek beer or some ouzo and just watch the boats bobbing in the water. I would definitely suggest eating like a "xenos" (a foreigner) at around 6pm or 7pm, when it's less crowded (Greeks usually at after 10pm) and you can watch the sun dip into the water. Dishes to order? Marida (small fried fish), keftedes (meatballs), "ladera" vegetable stews, Greek salad and grilled meats. In the winters open only on the weekends.
Every summer, Loutraki holds the "Taste of Loutraki" – a foodies festival offering visitors to town a taste of local cuisine with different menus and discounts at restaurants around town for three days plus dozens of delicious happenings.
● Day Trips from Loutraki
Loutraki is the ideal base for day trips to the Corinth Canal (Isthmus), Limni Vouliagmenis, the Heraion and the Lighthouse, and of course, the exquisite Fokias (seal) Cave beach accessible by boat. Leaving Loutraki towards the village of Perahora, you'll see artificial waterfalls where the healing springs were once located.
A 20-minute drive past Perahora will take you to a well-hidden natural wonder: Limni Vouliagmenis – an UNESCO-protected lagoon that connects to the Gulf of Corinth via a narrow channel. This is where you park your car and just walk around the lagoon. Listen to the sounds. Relax, breathe in. This is the life. On the end of the beach you can grab something to eat. They actually place tables on the sand sea front.
Hop into your car and head to Heraion, where you will find the remnants of two temples built in 800 BC in honor of the goddess Hera. It is believed that people lived here some 3,000 years ago.
A bit further below, past the church and the temple is a tiny private beach (if you go in the spring of fall). Take water and an umbrella there is no shade.
On your way back up, take the footpath to the towering Melagavi Lighthouse which belongs to the Greek Navy (Perahora). Catch some Instagram shots during sunset. You can go inside the lighthouse on August 18 when it opens for World Lighthouse Day.
You can also visit Vouliagmeni Lagoon and the Alkyonides islets on a boat trip from the port of Loutraki.
One thing's for sure: Loutraki will grow on you. Most of the people who visit once, come back for more year after year. And there is always something to surprise you. I've been doing it for most of life.
Lastly, even if you're not the religious type – and can climb 300 steps, visit the Monastery of Osios Patapios at the top of the Gerania Mountains for a bird's-eye views of Loutraki and Perahora.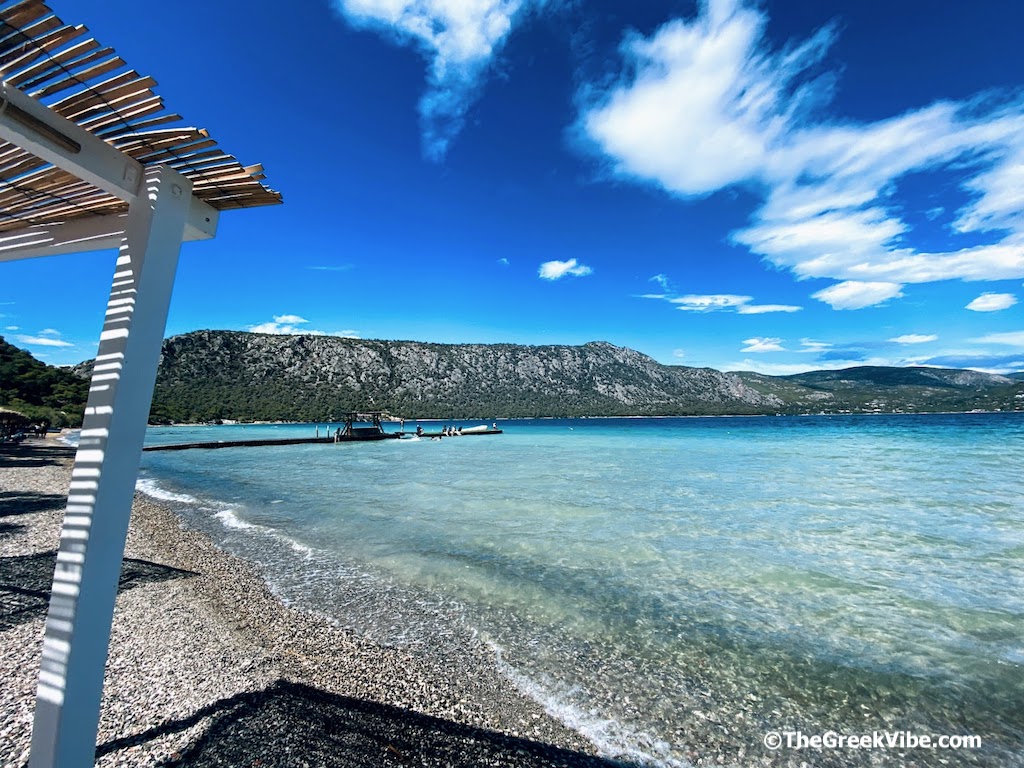 Enjoying Loutraki: Maria's Tips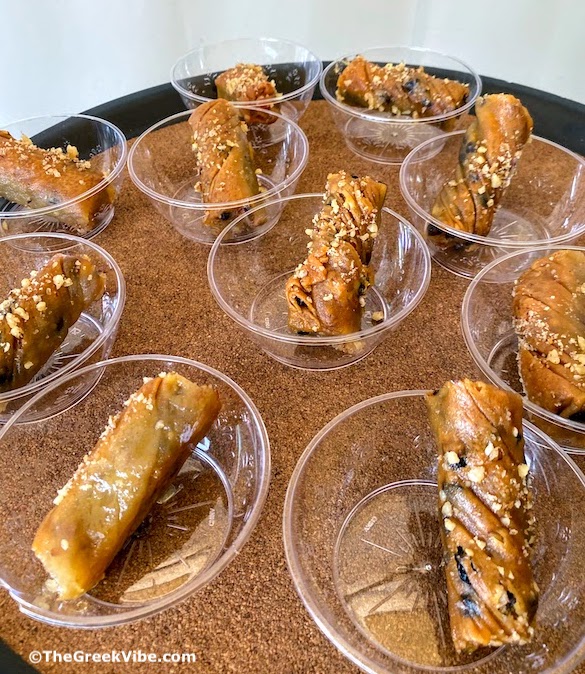 ✓ You can get to Loutraki by car or by bus from the KTEL intercity service. It takes about an hour from Athens or Athens Airport.
✓ Buy Corinthian raisins, traditional Greek trachana pasta (used in soups or made as risoto), loukoumi sweets, extra virgin olive oil. All tried and tasted products I recommend here, you can order online. Make sure to ask around for "drethoures" or "strifta" – mouthwatering sweets made with honey, sesame, and Corinth raisins during the holidays.
✓ Do treat yourself to a "therino cinema" at the Cine Electra screnning films since 1937 right on the beach or the Cine Galaxias. Summer cinema outdoors is a favourite Greek pastime. Only here you're watching a movie on the beach.
✓ If you're in town in September 8, don't miss the open-air panegyri at the Church of the Virgin Healer (Panagia Giatrissa).
✓ Find time to visit the Gerania loukoumi-makers. A beautiful family who have been making homemade loukoumia sweets for 65 years!
✓ Learn about extra virgin Greek olive oil from the experts, the family who own Markellos, which has been in the olive and olive oil business since 1932. Offers tours and tastings.
✓ For your stay, I totally recommend Theoxenia Loutraki, a wonderful vintage hotel in the heart of Loutraki, with Amalfi-style breakfast views and the warmest Greek hospitality by Sophia and her family.
✓ If you love exploring and road trips, head to Loutraki from Athens along the Old Highway or "Palia Ethniki" (toll-free) through Elefsina for breath-taking sea views and towns. Make a stop at Kokkinis Hotel for some coffee or even lunch with even more stunning views, or a drink at the wonderful Isla Brown Corinthias spectacular rooftop or by the pool. You'll want to stay the night!
---
Quick Links for Your Trip to Loutraki
🛎 Find a great place to stay in Loutraki. Booking.com is my favorite when I want to find the best hotels and affordable accommodation.
🚘 Discover Greece in comfort with a car. DiscoverCars is a great place to compare prices and find the best deal that suits your needs. Plus they offer info on local and international companies
📞 Don't pay exorbitant prices for your phone. Instead, stay connected using a local SIM card at affordable prices with Airalo
---
♫ I end today's post with Greek songsmith Penny Baltatzi and her "Exotiko Harmani" about an 'exotic blend' of person and place. Loutraki is exactly that… an exotic blend of everything.
Enjoy!
Enjoy this Post? Share and Pin it!