So you made your way to Greece, you enjoyed the sea and sun, indulged in the wines and the foods, and now you're ready to pack your bags and head on home. Before you pull that zipper, don't forget to pack a bit of Greece for the road … These are just some of the Greek treats that will bring back fond memories.
1. Sour cherry drink – or "Vissiniada" in Greek is a concentrated syrup made from sour cherry preserves and is best enjoyed dissolved in a glass of super cold water on a hot summer day. It usually comes with the spoon sweet vissino and is made together. You can also drizzle this sweet and tangy delight (also fat free) over ice cream, Greek yogurt or even on your favorite cake. Vissinada was the "in" drink of the '60s and '70s and can still be found in Greek village cafes and homes. Greeks always want to be ready to offer some genuine hospitality just in case a guest arrives. For sour cherry preserves (a great vegan option for those with a sweet tooth) this one is one the best and this one also a traditional producer of vyssino.
2. Greek strained yogurt – Very, very popular in Europe and the US, this delicious creamy treat is really strained yogurt with the whey removed. Mix in Greek honey and walnuts, and you've got the perfect dessert: rich in calcium and vitamins. And if you're watching your fat intake, don't worry; there are low-fat and fat-free versions available but not as tasty and fulfilling. You can also add some of that vissino spoon sweet you bought for a refreshing change. This one is a very good choice and for a cheaper but very consistent Greek honey you can order one of my childhood favorites.
3. A spicy Cyclades island cream cheese – "Kopanisti" (which means "whipped" in Greek) is a Protected Designation of Origin (PDO) cheese that is only produced on the Cyclades islands. Most people know the Mykonos variety, which is sharp and savory, but each Cyclades island has its own versions (and names). Made from cow or goat's milk, this racy cream cheese is a delight with crackers or better yet, Cretan rusks, in sandwiches or even as a dip and always topped with fresh tomato.
4. Chios Masticha – Mastic gum, derived from the white resin of masticha trees exclusively grown on the island of Chios, is also a PDO product. Studies have shown that chewing masticha can be a good way to treat ulcers and other stomach ailments. You can find masticha unprocessed, in small pieces that become soft and chewy when eaten, or in the form of the traditional gum. Masticha is the healthiest chewable treat on the market. The traditional (and tedious) harvesting and cultivation of mastiha was included by UNESCO in 2014 on its list of Intangible Cultural Heritage and recognized as significant universal expression of heritage. Which means that it should be protected at all costs!
5. Greek saffron – Considered by chefs and foodies as one of the best in the world, Greek-produced saffron has a coloring strength of 256 – that's 45 points higher than the minimum international standard. The use of saffron dates back to ancient times and was (and still is) praised for its pharmaceutical and aphrodisiac properties so much so that Cleopatra used it in her daily beauty routine. You'll find stories about saffron and its wonders in the Old Testament and in the tales of Homer. Look for it in the spices department under the name "Krokos" and make sure it's a product of the Saffron Cooperative of Kozani, like this one and which also makes saffron-infused herbal teas like the one I love especially in winter. The town of Kozani in northern Greece is renowned for its high quality saffron.
6. Greek Olive Oil – Boasting the highest consumption of olive oil per capita in the world (40 kilos a year), it's no wonder that Greeks know their oil. It's actually a science, not to mention a very important part of our lives. We even use olive oil to bless babies during their Christening! Not only does it have a great taste, it also has lots of health benefits: it lowers the risk of cardiovascular disease and some types of cancer. Greek olive oils are available for all tastes: mild, sharp, smooth, or buttery. Make sure to buy extra virgin olive oil. I can't stress this enough: when buying olive oil make sure it's from one producer and not mixed. It's also a good idea – more healthy – to get the cold pressed variety. Where will you use it? Salads, foods, and you can even make sweets. Find out more here. Once you've been initiated, you'll never want to eat anything else. Make sure to buy only extra virgin and cold pressed like this one which is chemical and preservative free from Kalamata.
Escape to Greece with The Greek Vibe monthly Newsletter!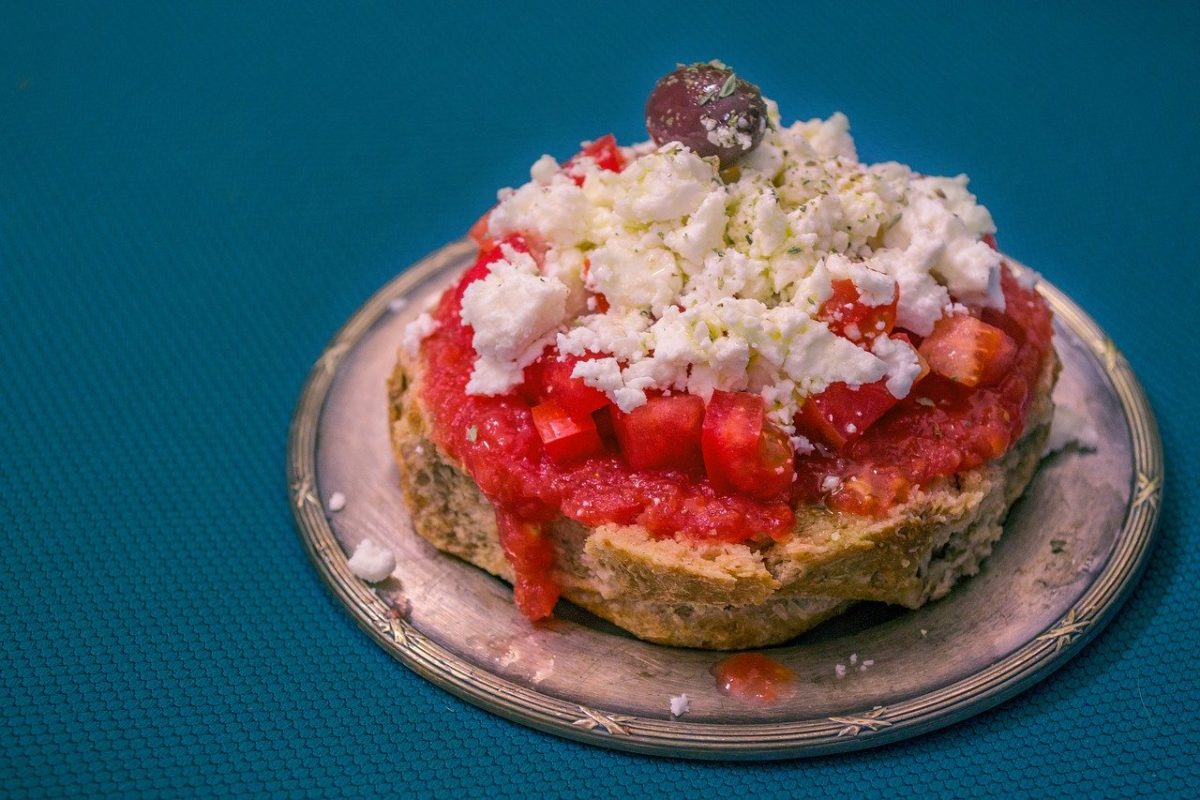 7. Cretan rusks – "Paximadia" have been consumed and produced on the isle of Crete since ancient times. Made from barley, paximadia are super healthy due their high fiber content. They also have a very long shelf life and are easy to store. The best way to enjoy these health boosters is to moisten with some water (my mother and grandmother used wine instead!), add your favorite toppings and dig in. In Greece we love the famous Cretan "koukouvayia" made by adding some extra virgin olive oil, chopped tomatoes, olives, oregano and feta or any soft white cheese. This treat is also known as a "dakos", a Greek-style bruschetta and the perfect meze to accompany your Greek drinks. I prefer these – no preservatives and crispy.
8. Aegina pistachio nuts – This variety of Aegina pistachios (main photo above) is world-renowned. So this is your chance to jump on the ferry and head to the isle of Aegina (just 30 minutes away from the port of Piraeus), where you can indulge in these natural wonders straight off the tree. You can also try pistachio ice cream, spoon sweet, and pasteli (nut bar). These nuts are so sought after that each year Aegina hosts a pistachio festival, the Aegina Fystiki Fest – featuring (and selling) all things pistachio. I should add that the "fystiki Aeginis" as it is known in Greek is also a very healthy snack thanks to its high fiber content, vitamins, minerals and antioxidants. So you'll be doing yourself some good with a handful of Greek pistachios a day. Make sure to order only authentic Aegina pistachios produce on the island. These are great.
9. Submarine – Ypovrichio. A sub sandwich? Wrong. Ypovrichio – concentrated vanilla or sometimes mastic packed in jars – is a sweet enjoyed all over Greece, especially in the summer months. To serve, just scoop it out with a huge spoon, sink it into a glass of cold water and enjoy. That's why we call it the "submarine". Low in calories and fat, it's bound to satisfy your sweet tooth.  Read more about this favorite Greek sweet here and order this one if you want to try it.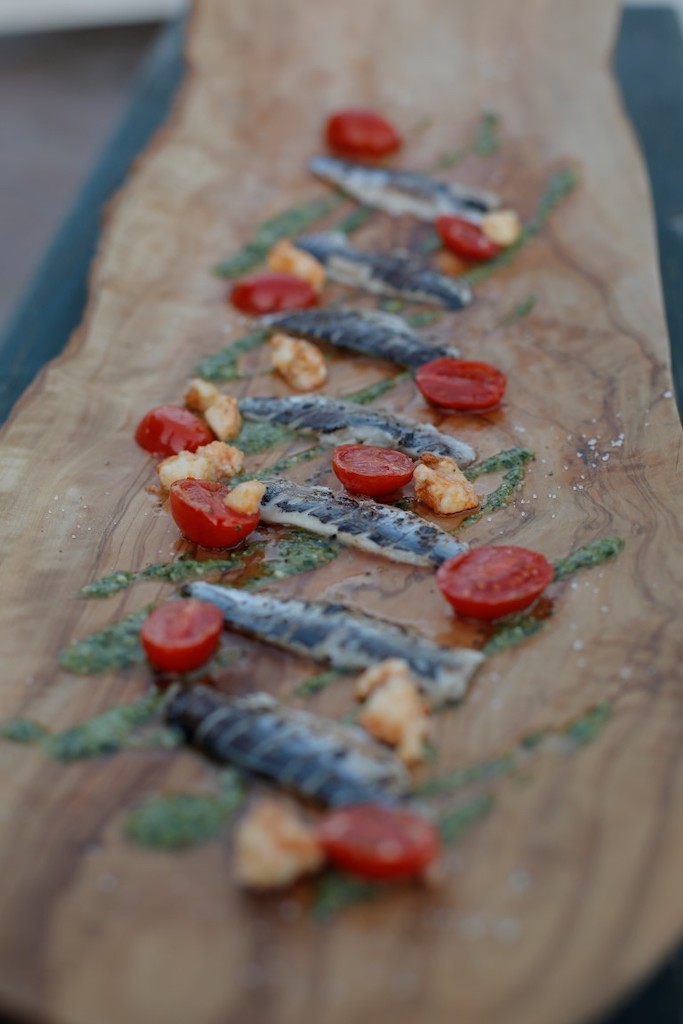 10. Lesvos sardines – Nicely packed in a can with salt, these Mediterranean Sea delights are an excellent "meze" – accompaniment to ouzo. Wash off the extra salt, add olive oil, lemon, parsley and some onion and enjoy. An excellent source of Omega-3 fatty acids – wealth for your health! The island of Lesvos has lots to offer the foodie travelers among us starting with its famed ouzo, its sardines, and of course, it delicious tidbits including the wonderful stuffed zucchini flowers.
---
🎶 I end today's post with one of Greece's greatest clarinet soloists, Vassilis Soukas in a solo named "Masticha" from his album "The Art of the Klarino (Clarinet).
Be well!