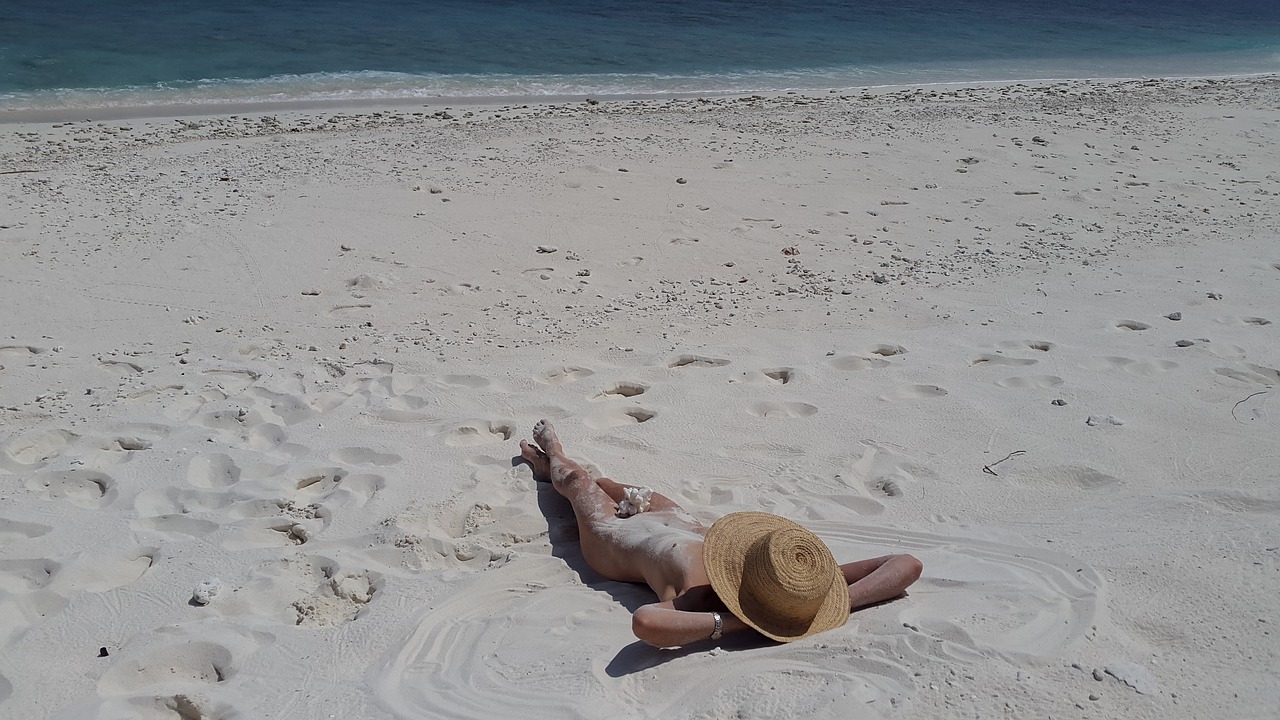 It's true! Wearing only a smile is enough to make anyone happy. Especially in this day and age when all forms of "weight" seem to be thrown at us from everywhere.
What a relief it is to just throw it all off, bare down to the "bare essentials" and dive into the most alluring of waters at dream beaches. The sheer freedom, the caress of the refreshing water on the skin, the sun's soothing touch – all this and more can be found in Greece, where beaches for the "au naturel" crowd are the closest thing to paradise … here on Earth.
Until recently, most of these beaches were secluded and hard to find. Usually locating a bare-all beach was (and still is to some respect) done by word of mouth. That way only those who really needed and wanted to know knew where to go. Plus it offered some privacy as the unaccustomed villagers often looked down on the foreign to them habit.
Today things have changed. Still, don't expect to find massive signs showing the way. That's what we're here for. And to be honest, that's what experiential tourism is all about. It's about immersing yourself in the local way. Getting to know what the locals know. And that's exactly where we bloggers and come in.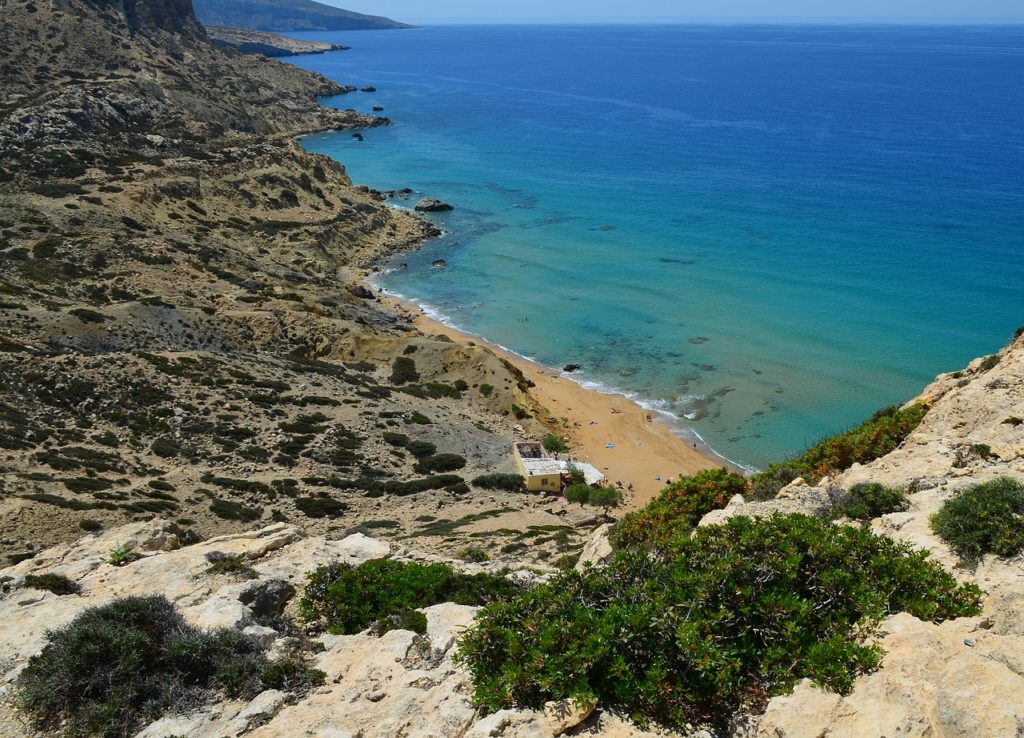 Did you know that Greece is among the top destinations for nudists? What's more, the recently released Keenano app can now help you find the nudist (or any interest-based) beach nearest you. Besides providing info and directions to over 80 official and unofficial nudist beaches across Greece, the app features user photos and reviews, and provides weather, jellyfish, and occupancy alerts. You can also check out nudistcompass.com . So yes, we've come a long way since the days of well-kept secrets among the "birthday-suit" crowd.
That said, let's check out the 10 + 1 best nudist beaches in Greece:
1. Antiparos island
What a place! Besides attracting actors, artists and the creative types, this little Cycladic island next to Paros is a favorite for returning travelers, many of whom choose the sandy-ish Camping Antiparos beach with its turquoise waters where it's all happening, plus there's plenty of peace and quiet, if that's what you're after.
2. Crete
This island is a naturist's haven. Why? Because there are literally so many isolated beaches on Crete, particularly on the southern side, that you'll be spoiled for choice. Whether you have a soft spot for pebbles or fine powder-like sand, southern Crete has it all. And you won't be disappointed. For starters, the wind-protected Kokkini Ammos (Red Sand beach) near Matala, is a good place to let loose… and one of the best in the world according to Sky Travel. But explore further. Did you know that the Neolithic caves above Matala beach once housed Joni Mitchell. The US folk singer, who was one of many stars who found grace in Matala, composed her "Carey" inspired by the "Matala moon".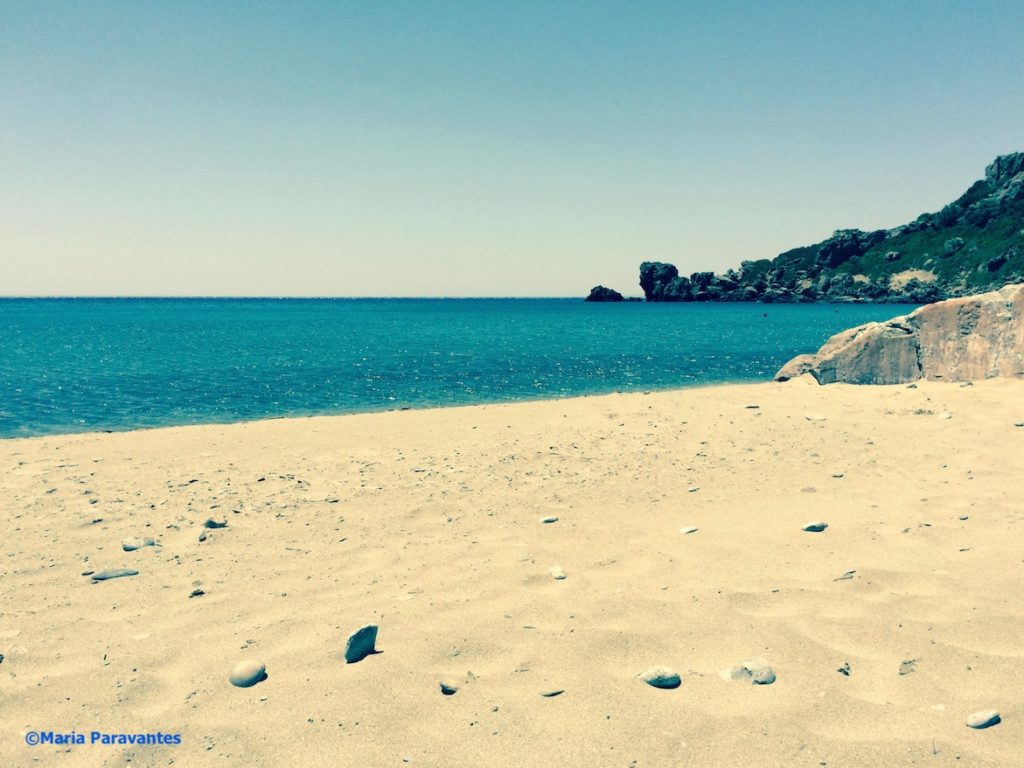 3. Super Paradise, Mykonos
The first beach in Greece that offered a safe haven to anyone who did not conform. Super Paradise was in this way the first "official" nude (and all else, for that matter) beach in Greece, where the need to be free to be yourself was the only thing you needed (to wear). The cosmopolitan beach on Mykonos is now more about partying, seeing and being seen, but its crystal clear and cold waters are more than welcoming to the naturist seeking a "louder" experience.
4. Kalotaritissa, Donousa
It's you and the goats on this beach with a personality. Pebbles and sand, energizing waters, lots of sun (bring your own shade if you're not up to it), and perfect peace and quiet make this a favorite for naturists. This island has a more laid back feel thanks to the large camping crowd. And there are plenty of beaches like the remote Livadi, where you can go bare. If only words could explain the aura. But as with all things, magic is just magic. No explanations needed.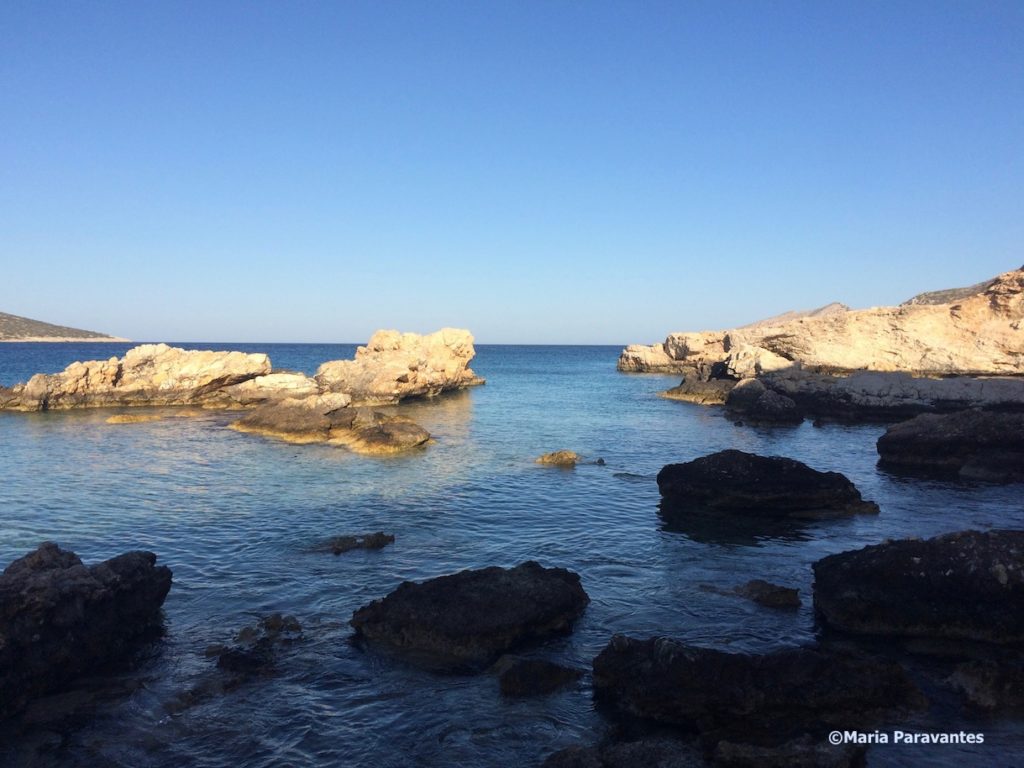 5. Hiliadou, Evia
Another campers' favorite, Hiliadou has managed through the years to remain relatively untouched mainly due to the "long and winding – but breathtaking – road" to get there. Don't expect amenities like 5G internet and sunchairs. Again, this is a wild beach for the wild at heart with trees as a backdrop, pebbles and thick grain sand. Textiles and sporties on the south, nudies on the northern side of the beach past the boulder.
6. Mikri Banana, Skiathos
This sandy Skiathos beach (next to Megali Banana) was once a famed nudist hotspot. Today it still is albeit with umbrellas, sunbeds, beach bar + music and rest rooms – run by the Nudist Club of Greece. There are quite a few swim-suit loving visitors (textiles) and overall this is golden beach is for the crowd-loving.
7. Gipsi Afiarti, Karpathos
Far off and a tad traditional, popular as of late, Karpathos has its own nudist beach since 2015 – remote, sandy and quiet with blue-green waters and privacy some 500 meters from Damatria beach via narrow stone path.
8. Velanio, Skopelos
A stone's throw away from Skopelos Hora (or town), through popular (and populated) Stafilos beach and past Velanio suit-wearing beach behind the rocks you'll discover Velanio the nudist beach.
9. Myrtiotissa, Corfu
One of the most famous well-kept secrets among naturists and "perhaps the world's loveliest beach" according to Lawrence Durrell, who describes the sand as having the consistency of tapioca in Prospero's Cell, Myrtiotissa was hard to get to in the '60s. Still is a bit of a hike and by car keep in mind almost no parking space and testing roads. Today, this nudie's haven bordering with popular Glyfada beach, appears to have been washed away due to the weather. Despite this, the beach remains a nudist travelers' favorite – with plenty of textiles at its center (at peak summer season) leaving the left and right sides of the beach to the bare-alls.
10. Galifos, Folegandros
All you need to do is swim or walk past popular Angali beach and you'll come across the pebbly Galifos. Secluded and nestled in the embrace of spectacular wind-formed cliffs, this tiny cove is ideal for the naturist seeking tranquility. Rocky, transparent waters and peacefulness. Many of Folegandros' other beaches are also "open" to nudism, particularly those you have access to only on foot or by boat and off season including the famed Katergo, Agios Giorgios, and Ligaria..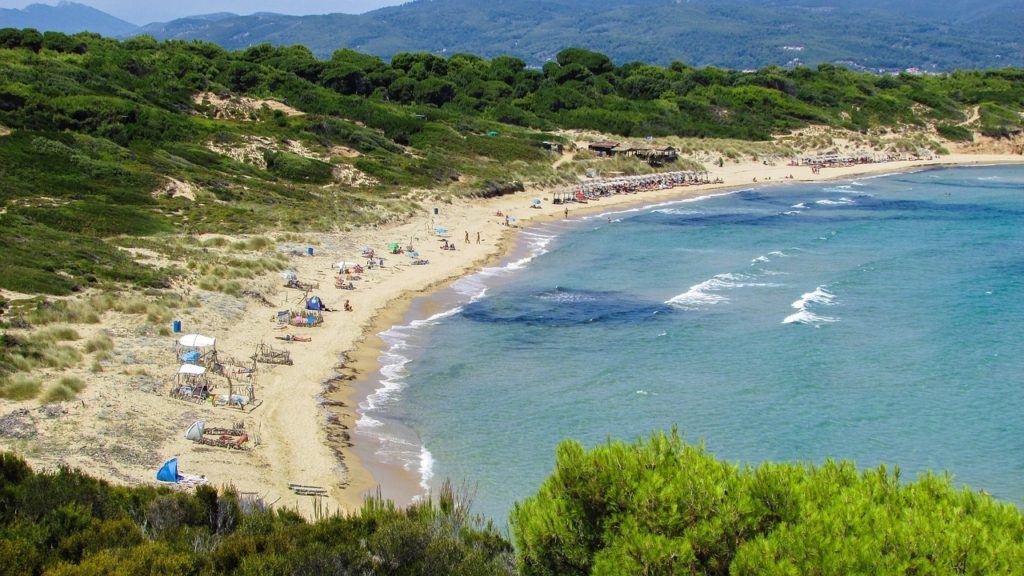 And the 11thbeach is for those on a city break in Athens.
Yes, there's a welcoming shore for you too. Some 25 minutes away (by car) from the Greek capital you'll find Limanakia beach. Take the dirt path from the main road to the cove flanked by smooth flat rocks.
For the naturist who's not keen on camping, Rhodes' Naturist Angel Club, Crete's Vritomartis Naturist Resort in Sfakia, southern Crete, and Vassaliki Naturist Club are among some of the accommodation options available for the naturist visiting Greece.
I will also throw in a few more skinny dipper beaches for the city-breakers: Mavro Lithari beach is located between the coastal towns of Saronida and Anavyssos, definetly the pebble stone beach on the left of Cape Sounio under the imposing Temple of Poseidon, and Ramounta beach, a bit over an hour's drive from Athens towards Grammatiko, which is exclusive and very close to the far-off island experience complete with colorful pebbles and clear waters.
---
Traveling to Greece: Maria's Tips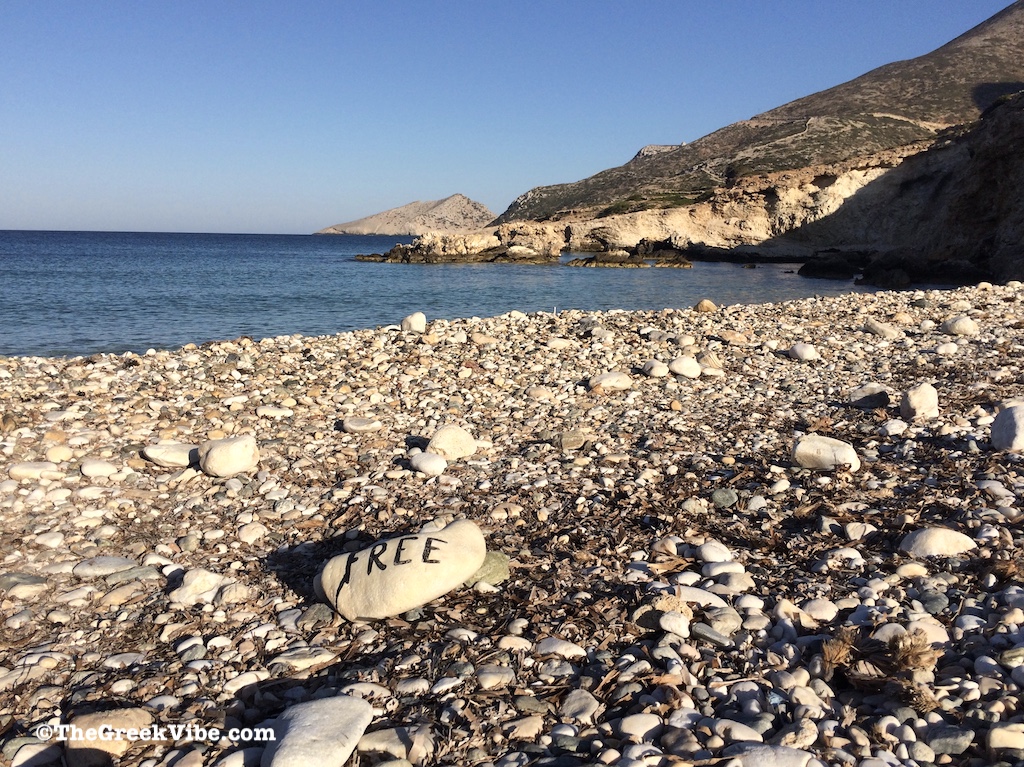 ✓ Best time to travel…
If you really want to get the best out of your naturist trip to Greece, then I would definitely recommend planning your trip in May and June or mid-September early October. This way you will most likely have the whole beach to yourself.
Ships to most of these islands depart daily from the port of Piraeus. After mid-September, ferry schedules change so make sure to call or check the internet for new times and days.
✓ To sun or not…
Most beaches attracting nudists in Greece are not "organized" – which means they usually need some walking to get to and have no facilities (sunbeds, umbrellas, cafes, rest rooms), so plan accordingly.
I should note once again, there are very few "official" naturist beaches in Greece. However, depending on the season – usually off-season and on weekends (with the exception of July and August) – most remote beaches are clothing-optional. For most popular beaches frequented by families, nudism is not usually practiced.
✓ Don't forget to …
…bring a towel, sunscreen, water, (some form of shade for those not up to the sun), something to munch on (fruit would be ideal and locally-made rusks), a hat, and your best self… Don't forget to turn off phones, that's what naturism is all about – in harmony with nature.
✓ Truth or dare…
make sure you veer off the beaten path, take that turn off the main road down to the spectacularly blue beach you can see from above. That's perhaps the best way to discover the best beach for you depending, of course, on your needs: cosmopolitan and organized or free and isolated. I would also suggest going to the harbor and asking for a professional boat owner who can take you to more secluded beaches for small price.
► Useful Tools to Plan Your Trip to Greece
These are some of the trusted partners I use when I travel in Greece and abroad.
🏩 Find a great place to stay and the best deals with Booking.com
🛫 Book the cheapest flights and get the best airline ticket deals to Greece with WayAway
⛴ Eager to book your ferry tickets for the Greek islands? The easiest way is with Ferryscanner
🏕 Find the best campgrounds in Greece with Campsaround
🚘 Discover Greece in comfort with a car. Rent a car with the folks who do it best: DiscoverCars
🏛 Go deeper into Greek culture with exciting sightseeing tours & activities with Viator
🤿 Plan fun things to do & exciting adventures in Greece with the experts at GetYourGuide
🛎 Find a cheap hostel and connect 🍻 with travelers like yourself visiting Greece with HostelWorld
🛵 Explore Greece on bike, moped or motorbike: rent from with BikesBooking
💵 Make sure to get help or compensation for flight delays & cancellations. Just ask the experts at AirHelp
---
♫ And off we go… a musical taste of Greek summer by Saveria Margiola singing "Se Poia Thalassa Armenizeis" (What Sea are You Sailing on).
Enjoy!