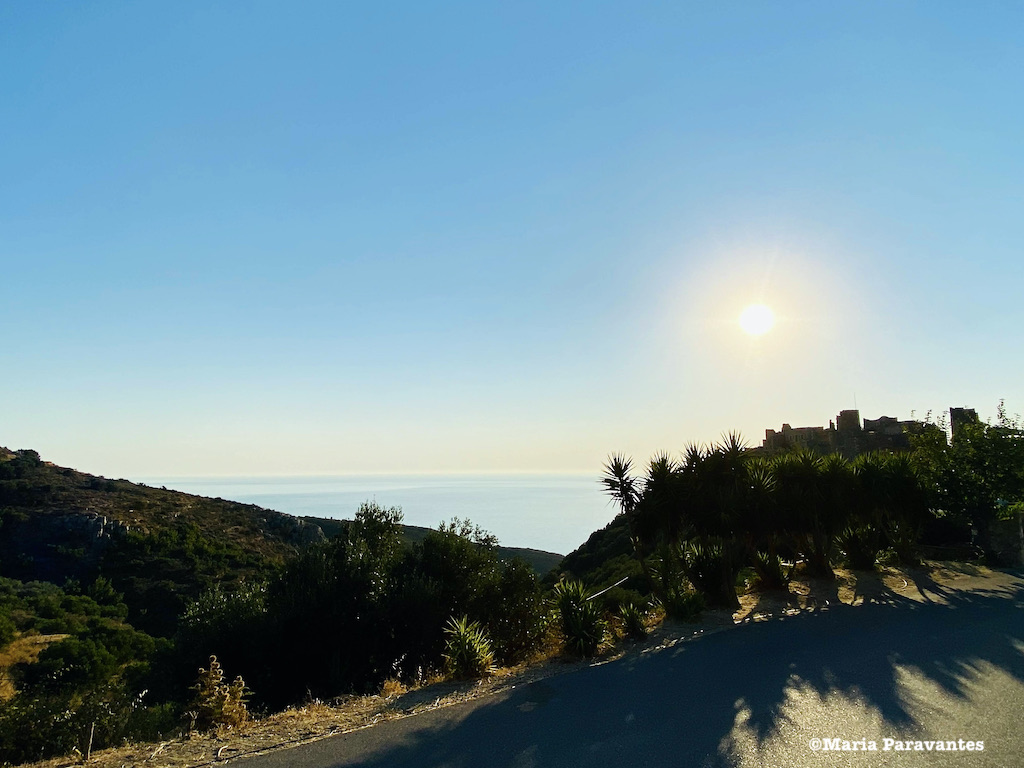 Mesa Mani or Inner Mani is a side of Greece you never knew existed. Think Clint Eastwood roaming around in the deserted Far West complete with howling winds, floating dust, abandonment, and an eerie stillness.
Add to this a dry, barren terrain, the relentless Greek sun, the deepest hues of blue, lofty stone towers with tiny openings for windows and you have Mesa Mani ("mesa" in Greek means inner) – an ultimate road trip experience of Greece for those of you seeking adventure.
Yes, there are a few handpicked luxury abodes in Mesa Mani for those who prefer to sleep in a bed, but for me, the best way to discover Mesa Mani is on the road, with a tent, your sleeping bags and your childhood sense of adventure.
In the words of the locals…
"As a passerby you need three days to see Mani, as a traveler three months, and to see her soul you need three lifetimes: one for its sea, one for its mountains, and one for its people."
Enough said… let your Mani adventure begin!
Mesa Mani Greece – Welcome to No Man's Land
Mani, a peninsula in Southern Greece and the middle outcrop of the Peloponnese, is divided into the Exo Mani (Outer Mani) to the northwest, the Kato Mani (Lower Mani) to the east, and the Mesa Mani to the southwest, which is what our post is about today.
For many decades, this region could be reached only by sea. It was in the late '70s and early '80s that twisting roads made it possible for the daring to drive Greek roads there but still even today access is difficult. All three regions are very different preserving however the key Mani characteristic: ruggedness of both man and land.
This rugged area, which locals cherish, was once home to 30,000 inhabitants. Today, despite the many difficulties, there are 21,800 residents with many young people choosing to make Mani their home.
Cape Matapan: The End of Greece

The region runs from the towering Mt Taygetus all the way to Cape Tainaron, aka Cape Matapan, the southernmost point of mainland Greece; a rugged landscape of cliffs and treacherous waters.
It is also here that the dead in Ancient Greece were believed to pass into the underworld, a realm ruled by Hades. And there's more, on this cape the Ancient Spartans built temples to the gods, their favorite being of course the god of the sea Poseidon. And it makes absolute sense. Once you get there you'll realize why. Sailors and travelers sought his good will to get them to their destinations safe and sound.
The Mani Frame of Mind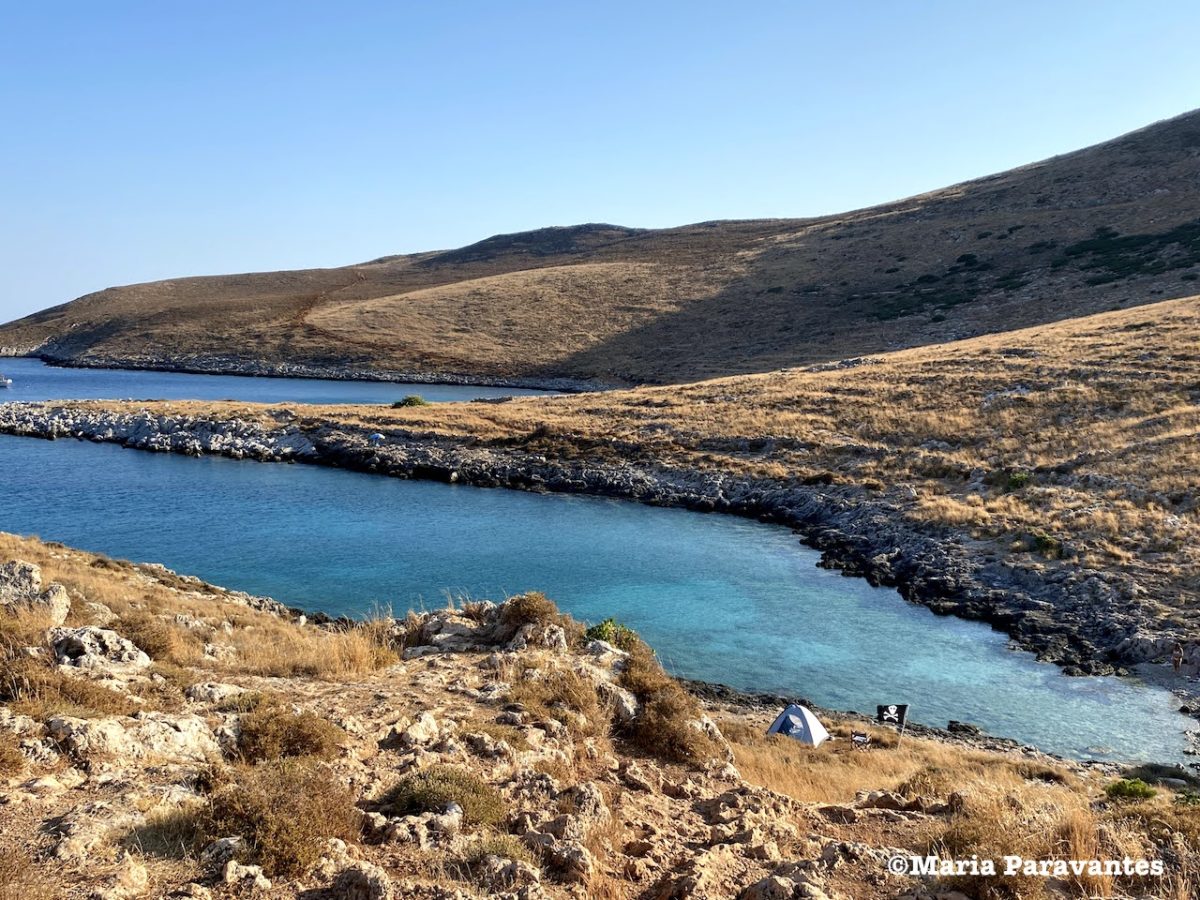 The central ridge of the Mani peninsula is also known as the "Aposkeri Mani" or the Mani that is "untouched by the sun" mainly in the early hours of the day. And that is very true. But midday however, the sun in Mani is unrelenting!
To get a feel of the Maniot mind frame, think Ancient Spartans and warrior Leonidas – you know, the guy who risked it all against the mad Persian King Xerxes and his massive army and basically told him to shove it… in just two words "Molon Lave" several thousand years ago (480 BCE). The Spartans are believed to be descendants of Mani.
The Maniates (or Maniots) are as tough and rough as the landscape that surrounds them. Don't expect to find trees, shade, running waters and a sense of ease. Instead, Mani makes you wonder at the perseverance of the people who made it their home. Do expect blinding sunlight, stones, crags, cliffs, prickly pears and ancient olive trees.
The Mani Vendettas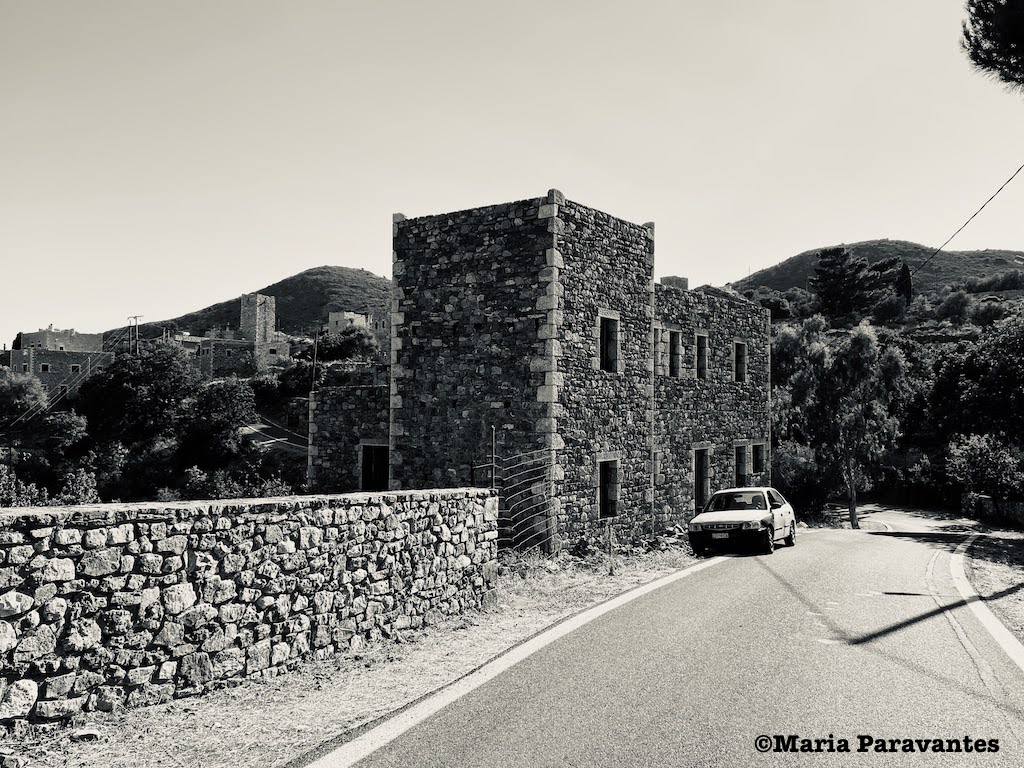 And yes, until fairly recently the Maniots were laconic loners who could survive in grueling conditions needing the very least. These very different Greeks also had a strict code of honor that ruled their lives. If while driving through the Mani you wonder why most of the villages are abandoned, it's because many locals were forced to flee as a result of ongoing blood-soaked Mani vendettas (or "gdikiomos" in local dialect). Taking revenge was the local way of making things right and imposing order. The Maniots were very similar to the Cretans, who too had feuds until fairly recently and probably still do though we never hear about them in the news. This is why the Mani dirges are known worldwide. With so much loss of human life, it was common to see women dressed in black singing these heartbreaking laments.
The Maniates even managed to keep the Ottoman Turks away during the Greek War for Independence which started in 1821 and lasted for eight years. Most of the rebellions against the Turks began in Mani. After ravaging most of the Peloponnese, the Turks, who had occupied Greece for 400 years, turned to Mani, which was never occupied. Three times they tried and three times they failed.
Mani and its Notorious Pirates
This unhospitable land was also home to some of Greece's most notorious pirates. And Mesa Mani in particular is also known as "Kakavoulia" from the word "kakavi" which was a pan they wore as a helmet to attack oncoming ships. Unlike the pirates we all know, the pirates of Mesa Mani ransacked oncoming ships at Cape Matapan from the land after tricking their captains to drive their boats into the rocks.
The region's most famous pirates were Limberakis Gerakaris and the one-eyed Nikolaos Sassaris, and a traditional Maniot song (see below) tells the tale of the latter.
Why Should I Explore Mani?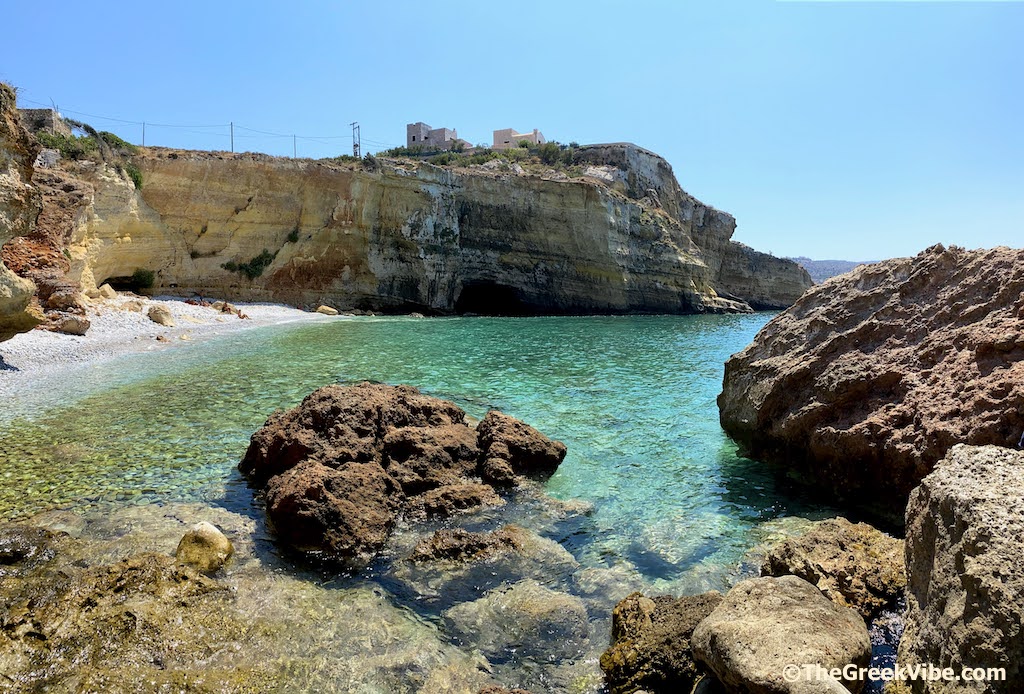 Like I said before, the Mani road trip is for the traveler who wants to go off the beaten track and dive into a very well-preserved authentic way of life in Greece. If you want nightlife, luxury and ease, don't go to Mani but if you love the unpredictable or you're sick and tired of mainstream tourist experiences, then Mani is definitely for you.
In addition to Mani's imposing stone towers dotting the ghostly landscape, tiny churches and chapels in the middle of nowhere serve as a reminder that saints and gods are meant to serve the people and not the other way around. Many of these temples were actually hideouts during the time of the revolution or in numerous times of trouble throughout the country's grim history.
The Mani Towers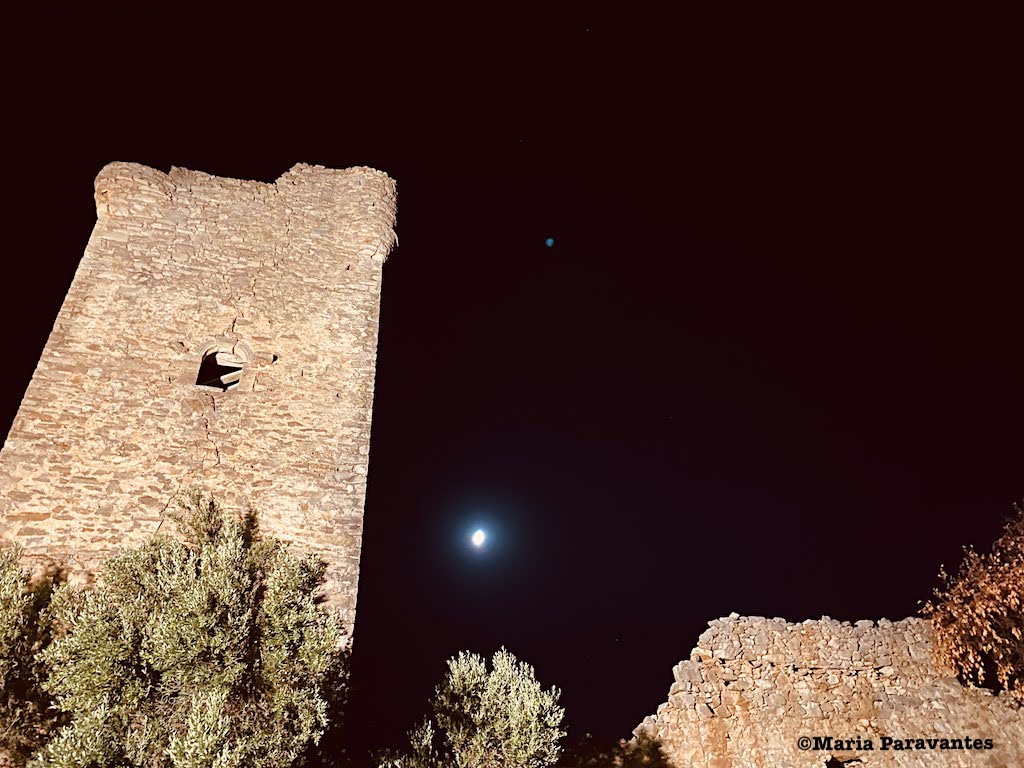 As for the proud Mani towers? Traditional Maniot architecture is minimal with master builders using the ubiquitous stones in these still-standing works of art. The towers – known as "pyrgi" in Greek – were also made to facilitate life at the time. In addition to the living spaces, they functioned as small fortresses complete with gun slits, underground escape routes and a very popular defense of the day, the "zematistres" ("zematao" means to burn), which were built over the tower entrance and in times of danger were used to spill boiling oil or water over the intruders. Smart! You can still see these in other Greek fortresses such as the one at the port of Nafpaktos or in the old town of Rhodes.
Four Days in Mesa Mani: A Perfect Road Trip Itinerary
For our road trip to Mesa Mani, we set off from Athens to Kalamata and from there to Gytheio, which served as our base. You can camp at the wonderful and very clean Camping Meltemi or stay in the pretty seaside town of Gytheio.
Day 1 – Spend the first day swimming and enjoying the good life on the amazing sandy Mavrovouni beach and later in the evening head to the Dimitrios shipwreck a few minutes past Gytheio. After photos, return to picture-perfect Gytheio and take a stroll through one of Greece's best-preserved coastal towns. If you go before sunset, you can walk to Marathonisi, an islet in the heart of the harbor – known in the past as Kranae – where warrior Paris and beautiful Helen (of Troy) were said to have spent their first wedding night! For dinner an absolute must go to Karioupoli!
| Tip
Find the best place to camp 🏕 in Greece with local outdoors experts Campsaround
Day 2 – Set off from Gytheio to Skoutari, a pebbly beach or rather three small beaches that are reminiscent of a Greece long gone. Peace and quiet, a small seaside taverna and crystal cold waters set the mood.
From there take the road to Kotronas, another seaside settlement serving excellent food at its tavernas. Beautiful neoclassical homes are still standing. While there make sure to visit the islet of Skopa to the east, a miniscule peninsula where an ancient temple once stood. Today in its place the chapel of Agios Nikolaos. Bring lunch and water and take in the peacefulness (not in August!).
Continue your drive from there to Alypa, a hidden bay where John Cassavetes filmed the "Tempest" (1982), and to Lagia, where you should stop and walk around town. It feels abandoned as does most of Mesa Mani but you can see that most of the enormous fortress-like homes have been renovated. Remember these people had to make themselves invisible. A handful of eucalyptus trees, a rare site offers respite. From there head on to Porto Kagio. Park your car outside the single taverna and go on a brief hike to Europe's southernmost lighthouse ("faros") on Cape Matapan built in 1882. The hike there is relatively easy and worth the effort. Don't rush it. Enjoy the special energy. This was once a place of worship to the sun and very special for the Ancient Spartans known back then as Posidion (again to the god of the sea).
We did this in a day but this really depends on whether you're up to it.
Escape to Greece with The Greek Vibe monthly Newsletter!
Day 3 – Start off from Gytheio and head to Oitylo another picturesque seaside village more touristy but still with color and crisp impressively clear waters. Keep going to Limeni, which is a favorite holiday spot for the Greeks and the best place to catch the sunset. And now time for the impressive Caves of Diros, an absolute must for young and old. Visit their site to make sure there are open. Sometimes the water levels change and visits are not offered. Tickets are cheap at $15 and include land and lake by boat tour (if you want both) through breathtaking caverns with million-year-old stalactites and stalagmites and can be booked online. In the summer months, demand is very high so book ahead and make sure to be there on time.
Day 4 – Drive your way to Aeropoli, which has a welcoming family feel and is nice at night on the main square. Stop at Mezapos beach for a quick dive. Head to Gerolimenas for lunch and soothing views. Next on to Alikas, a mountain village with spectacular views, and Vatheia, one of the most beautiful and at the same time haunting villages in Mani. The entire town is abandoned but was once brimming with life. I was lucky decades ago to have stayed in one of Vatheia's magnificent towers, which date back to the 18th century. Sadly today, the Greek government has done nothing to preserve the buildings or the town. As a traveler you will be spellbound by the sheer beauty of the architecture and the landscape with the deep blue below. A perfect spot for dozens of photos. Lastly, if you're in the mood you can drive your way to Porto Kagio for a relaxing evening dip and some fresh fish at a taverna overlooking the water.
Maria's Travel Tips: Mesa Mani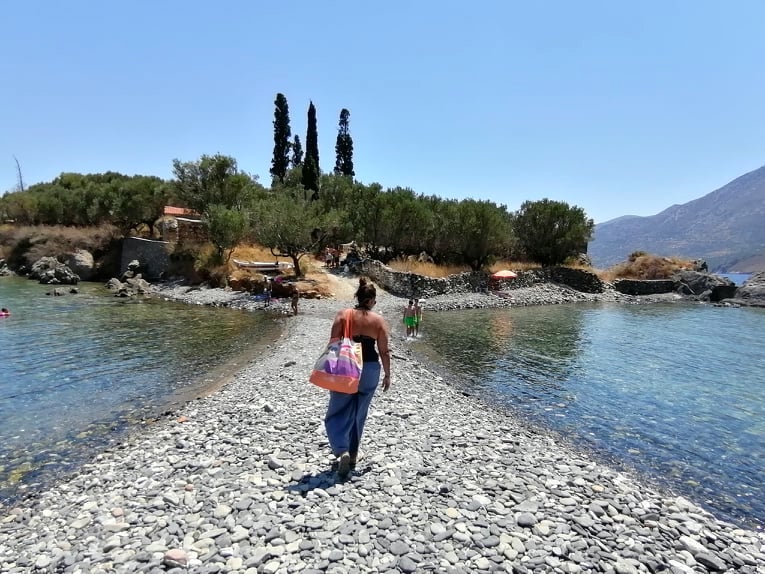 ✓On the road again… How do you get to Mesa Mani? Start from Athens by car or bus. The trip takes about 3-4 hours to Gytheio and from Kalamata about 1.45 minutes. Be warned there are not many gas stops so fuel up in Gytheio or Areopoli.
✓ Indulge in… the ultimate Mani delicacy: the four-ingredient "lalaggia", deep-fried bread sticks in impressive designs that in Mani can also be found as a soft variety served with cheese; local sausage or "siglino", a cured ham that is perfect with lalaggi and cheese and Greek wine or ouzo; "trahanas xinos" in red sauce, a hearty soup; my own favorite after lalaggia, "tsourichti" – a spaghetti dish made with local myzithra cheese, butter and eggs; "galopita" or milk pie; "travichtes" or local pies made with cheese and honey; and "loupina", a unique bean eaten much like edamame and with lots of health benefits.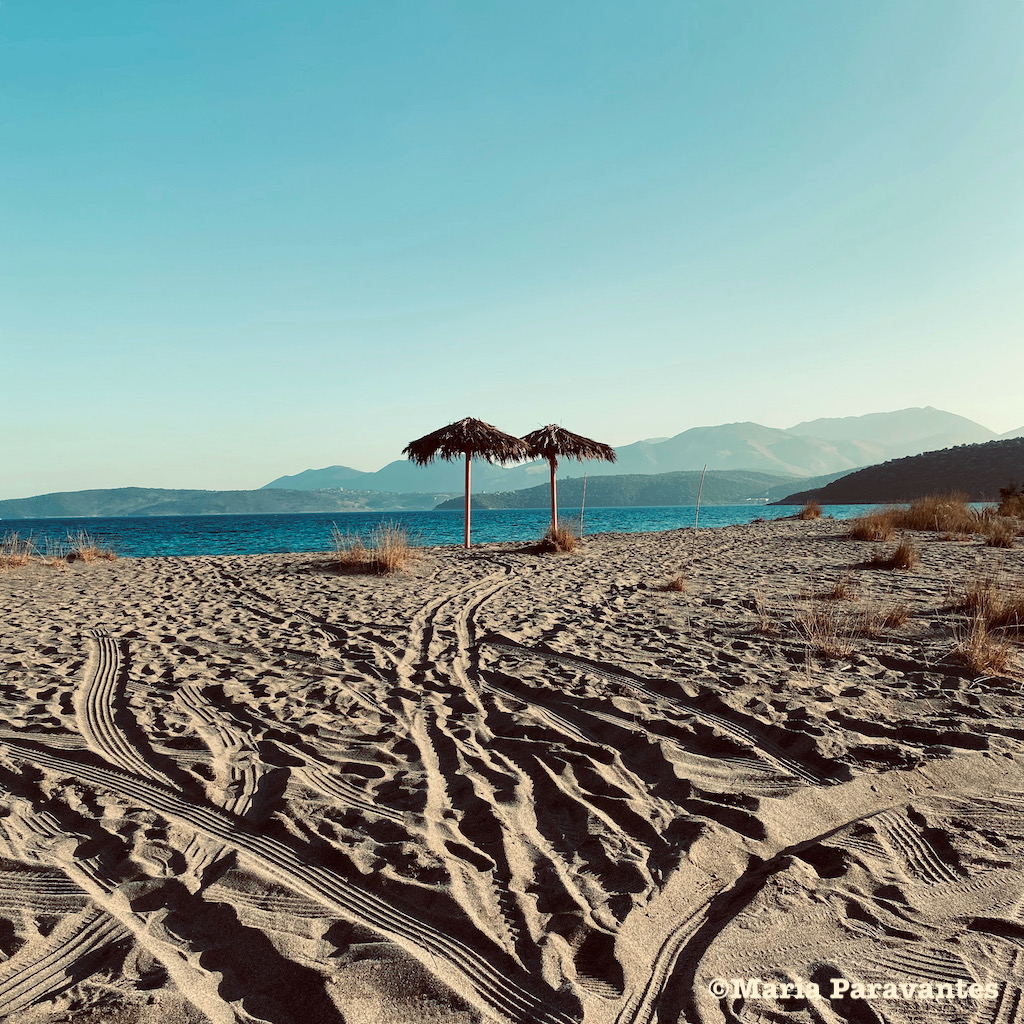 ✓ Settle down… if you do this as a road trip, you can spend a few days in Gytheio and a few days in Gerolimenas. Many of the towers in Mesa Mani operate as boutique hotels or camp outside Gytheio
✓ Don't forget to buy… lalaggia in every, shape and form, and some of the finest sesame and honey pasteli bars I've ever eaten made by the Manolakos family since 1902 which you can find in Gytheio
✓ Truth or dare… For me, Mani is best visited in the spring or autumn. But I would highly suggest you also visit in the winter. It will be a totally different experience and one I am sure you will remember for a lifetime.
---
♫ I end today's post with a traditional Mani song about its notorious one-eyed pirate Nikolaos Sassaris and what his wife said upon hearing about his death, featuring popular Greek singer Alkistis Protopsalti in "Tou Koursarou" off the 1980 album titled "Maniatika".
Enjoy!