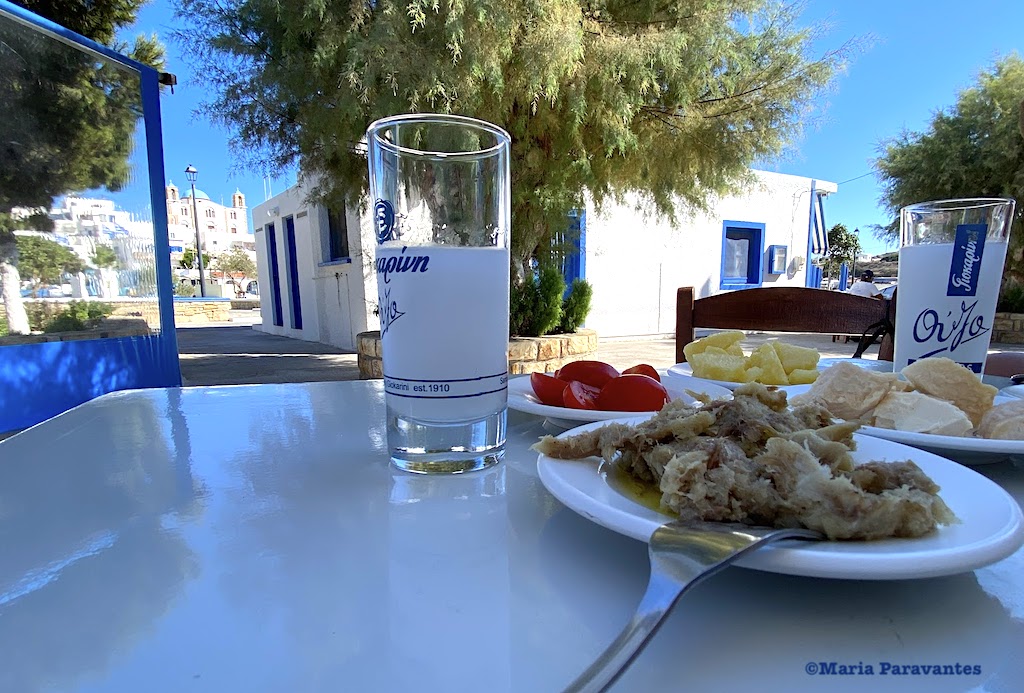 Dreaming of visiting Greece but can't make it yet. No worries. You can always bring a bit of Greece into your heart and home with these 7 easy steps. After all, your perfect reality always starts with a dream and setting the intention, so join me and let's create the very best of Greece in our lives with these tried and tested steps.
So let's get started!
1. Get those Greek tunes playing. Check this post by The Greek Vibe where I suggest songs that take you from Greek island shores to proud mountain peaks, and from there, to Greek cityscapes and to the Greek countryside. Turn up the sound, grab an apron and make your way to the kitchen.
2. Choose four or five of the following Greek specialty food products (and favorites)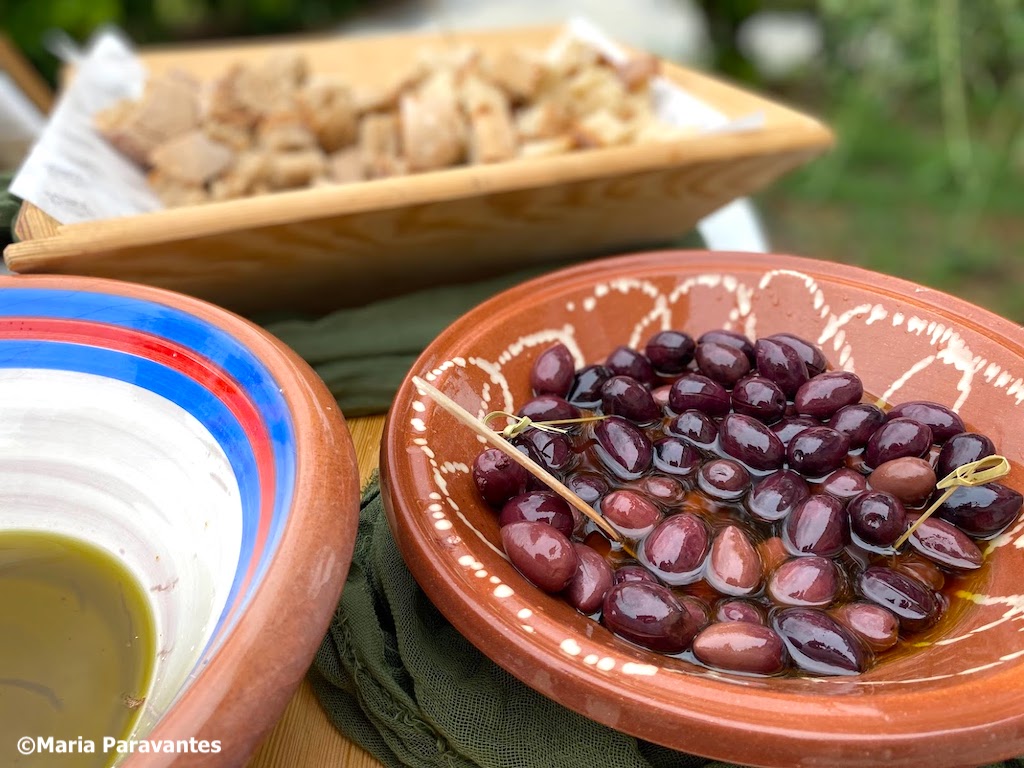 – a handful of Kalamata olives or Cypriot spicy "tsakistes" (cracked) olives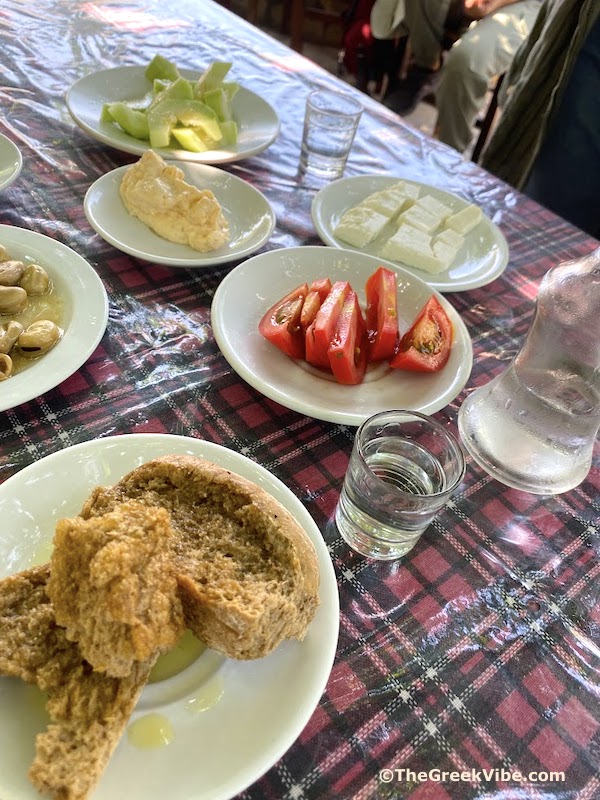 – a few fried Greek meatballs, aka keftedes, everybody's favorites. This is the best recipe – my mother's, of course!
– slice some Cretan graviera cheese into small rectangular pieces or the softer kaseri cheese
– cut a piece of feta and top with oregano and some extra virgin Greek olive oil
– add some dolmades – the ones in the tin – and top with some freshly squeezed lemon
– add some gigantes beans in red sauce, also available in a tin – and top with lemon
– slice cucumbers and season with sea salt and a touch of vinegar
– cut a boiled egg in four and add sea salt, pepper, a touch of vinegar and a splash of extra virgin Greek olive oil
– slice a red tomato and sprinkle with sea salt and oregano
– dip for only a second some traditional Cretan barley rusks (with absolutely no additives and healthy as hell) into some water or wine and then either top with some extra virgin Greek olive oil, some oregano and salt. You can even add grated tomato and crumbled feta cheese and make a dakos – a very frequent appetizer on Crete. Recipe here.
💡Tip: Keep everything in small portions.
3. Look around for a table, a small one will do. Find your best candles, spread out your favorite tablecloth, and lay the table with small dishes and forks. We use small forks for this in Greece. Next bring out the shot glasses for ouzo or your wine glasses. Have in mind that even for wine we use small stemless glasses known as the "taverna glass".
4. Pour the wine, preferably Greek – I have a fondness for retsina – into the wine glasses or your ouzo into the shot glasses. Make sure have ice and water on the side.
5. Serve a bit of the Greek meze foods (plural "mezedes") you prepared on small dishes. Bring the dishes to the table. Remember, the Greek meze experience is very much like Spain's tapas. It's all about savoring bite-sized appetizers slowly in the company of friends, family, a special someone, or by yourself, unwinding and enjoying the moment.
6. Once everything is on the table – doesn't matter if it's a bit crowded, sit down, breathe in, relax your muscles, release any unwelcome thoughts and imagine you're on a beach somewhere in Greece listening to the waves and the music in the background. Take your drink and raise a toast "Stin Ygeia Mas" (To Good Health)". Remember! Drinking and enjoying the Greek meze is a leisurely affair. So drink mindfully, talk a bit about things that don't burden the mind, take some minutes of quiet time, take a bite of some food, and then go for a second round of the same thing.
7. If you prefer a watching a movie instead of music with your meze, then bring Greece into your living room with one of these films shot on Santorini, Skopelos, Mykonos, Athens, or Kefalonia.
Enjoy dear friends! And even if you never come to Greece or have visited already, make it a part of your weekend routine. Greece's ouzo-meze experience brings people closer together and into the Now – the most important moment in time.
---
♫ And I end today's post with the playful Eleni Tsaligopoulou, who sings about the "Agio Tsipouraki" (Saintly Tsipouro), as the favourite Greek spirit which awakens desires and soothes the soul's wounds. Penned in 1993 by Kostas Kaldaras.
Enjoy!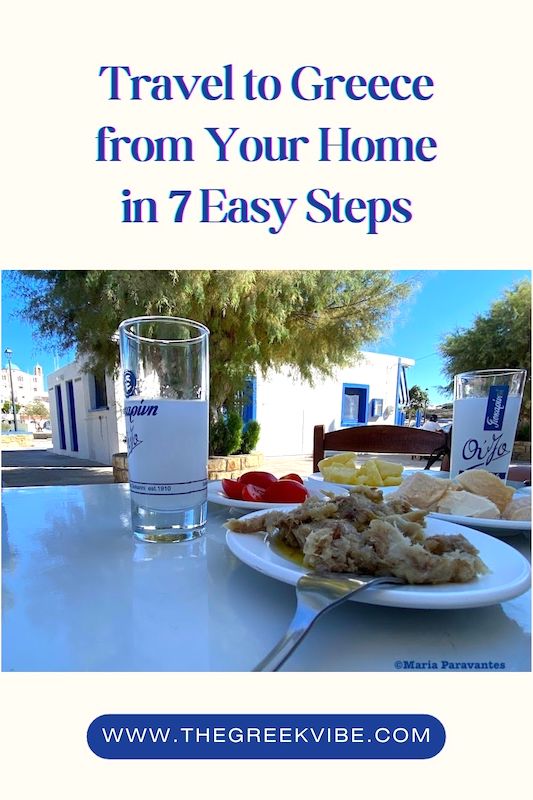 Escape to Greece with The Greek Vibe monthly Newsletter!