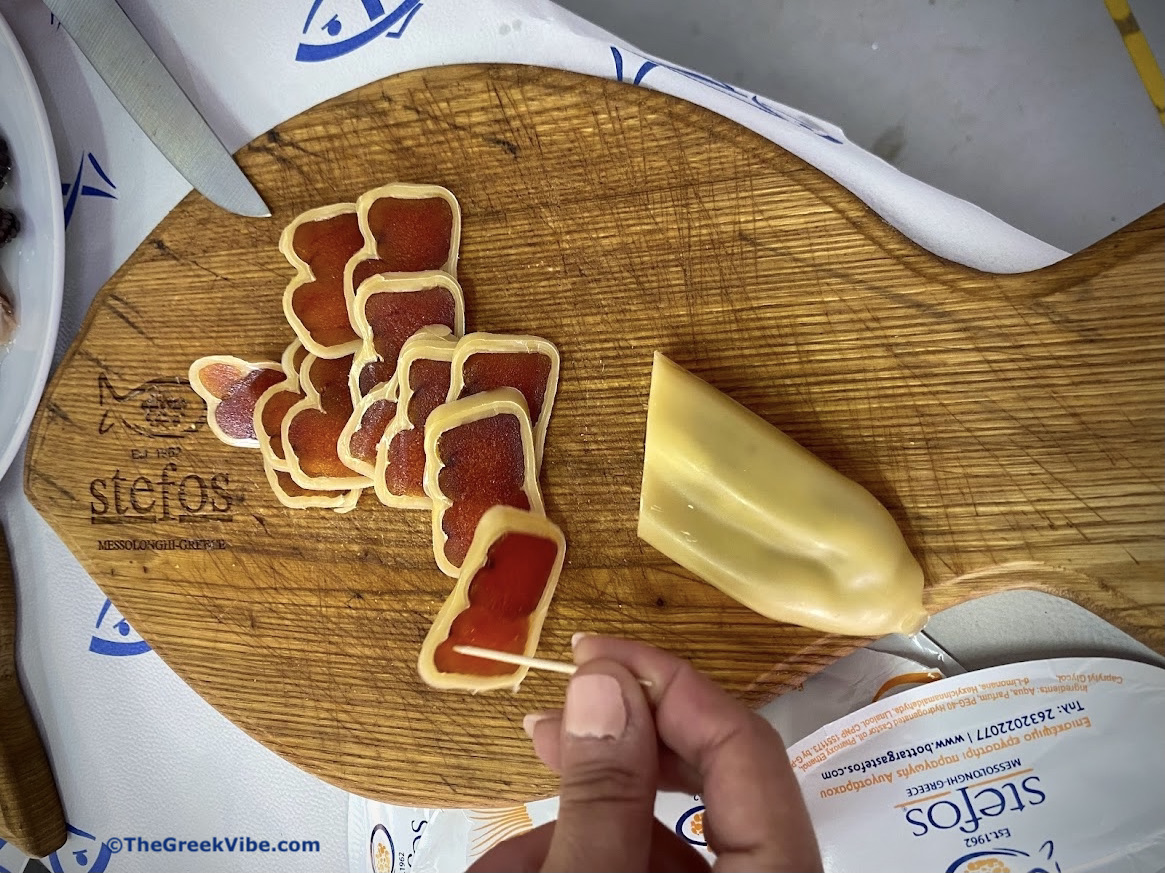 Just like most of the world knows about Mykonos and Santorini, so do they know about feta cheese, Greek olives and moussaka. But what if I told you that Greece produces a luxury edible, a product that gourmands and foodies from far and wide come to find and taste and buy and use in their dishes? This wonderful Greek treasure is avgotaracho: the famous bottarga of Greece.
I'm sure like me you too have probably heard the word "bottarga" but never really bothered to ask. Well, there are all sorts of botargoes in the world and they are basically a caviar of sorts made from dried mullet roe (aka fish eggs).
I have to admit, I've been wanting to write about this select Greek food item for years. Finally, I had the chance to visit the area in Greece that produces this superb product as part of the TBEX Peloponnese conference held in Kalamata in May. So let's get started!
What is Avgotaracho?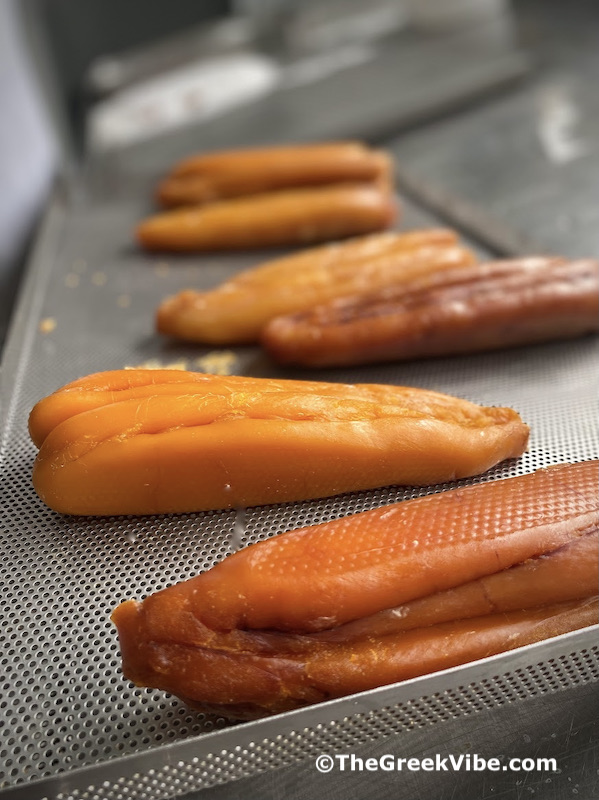 Avgortaracho is the Greek bottarga. The compound word actually means "egg" (avgo) and"tarihevo" which means "to preserve". In English you'll see the Italian word "bottarga" being used widely.
If you're a foodie with an eclectic palate, then I urge you to try the Greek avgotaracho, a delicacy like no other.
This traditional specialty food item can be found almost exclusively in the region of Messolonghi in Western Greece, on the Gulf of Patra. Records say avgotaracho was eaten several thousand years ago by the ancient Greeks.
Today, Messolonghi bottarga in the Aetoloakarnania region opposite the Peloponnese is considered to be one of the world's best, which explains why it has been awarded PDO (Protected Designation of Origin) status.
Due to its scarcity (only 500 to 700 kilos are produced each year), arduous preparation process and short fishing period (two months maximum), avgotaracho is pricey and rightfully so. It sells for around 25 euros per 100 grams.
Messolonghi locals describe avgotaracho as the "gold of the lagoon". First of all, because it has kept generations alive and secondly, due to its distinctive amber color. Legend has it that during the 400 years of slavery under the Ottoman Turks, Greeks would pay the heavy taxation imposed in kind, using – what else? Avgotaracho.
For the Greeks, avgotaracho is one of the finest mezedes served thinly sliced as an appetizer. For the world's gourmands, it's a highly sought-after Greek specialty product that takes innovative dishes to a whole new level.
I should warn, avgotaracho is also an acquired taste so if you don't like caviar or seafood, then don't try it.
Escape to Greece with The Greek Vibe monthly Newsletter!
Where Can I Find Avgotaracho?
Avgotaracho is primarily made from the fish of the Messolonghi and Aitoliko lagoons. The fishermen head out to the lagoon from August to September, day and night patiently searching the "ivaria" (naturally restricted areas in the water) for pregnant female "mugil Cephalus" (flathead grey mullet) also known as "bafes". You can see the "ivaria" and the "pelades" – the traditional fishing huts in the lagoon – when you visit Messolonghi.
Ivaria can also be found in other Greek lagoons in places like Lefkada island, Preveza, and Gialova in Pylos among others.
How to Make Avgotaracho
During our visit to the Stefos Avgotaracho production unit in Messolonghi, we were lucky to meet its owner, Karpathos-born Petros Paragios – a brilliant fellow journalist who made Messolonghi his home (fell in love with a local girl) and has dedicated his life and talent to the production of avgotaracho using traditional methods.
Petros took us through the whole laborious process (apart from the fishing).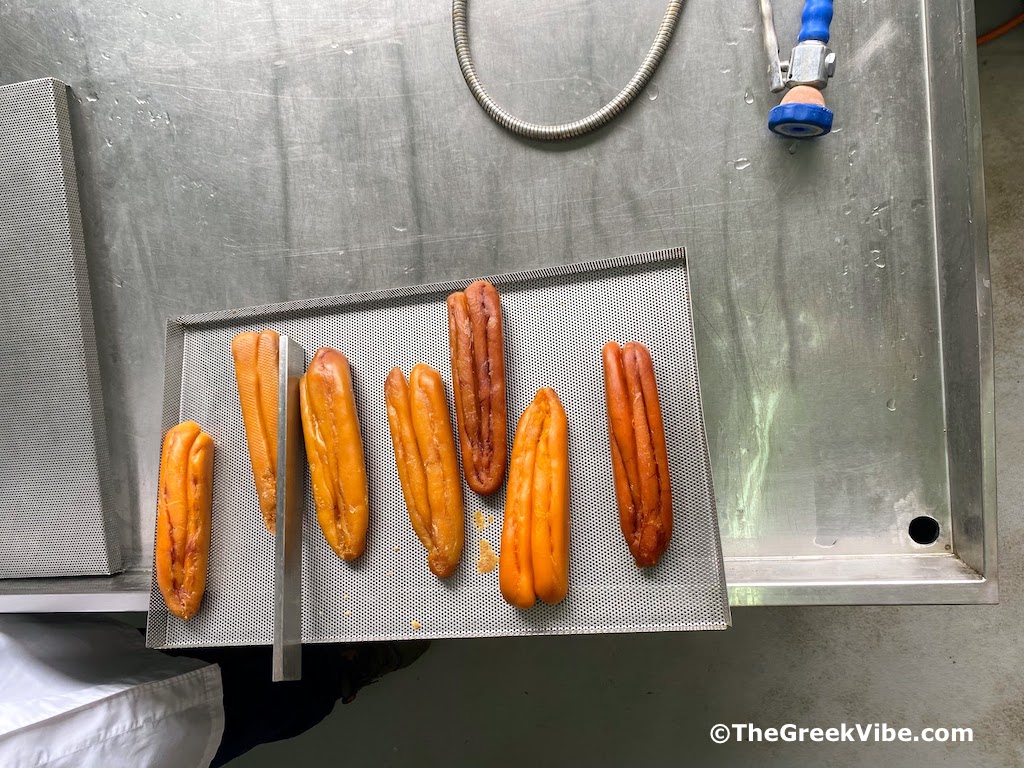 Once the bafa is fished, the twin pouch (ovaries) with the eggs (fish roe) is removed with the care of a neurosurgeon. Literally! So that the tiny eggs remain intact. The sac is carefully washed, cleaned and dried.
It is then placed in sea salt or "afrina" and massaged softly to ensure the salt goes everywhere. The pouch is then left to dry and cure in sea salt for a few weeks depending on its weight.
The curing process produces a hard, dry slab which is again washed of the salt and hanged to dry. At some point it is placed inside a wooded frame to give it its characteristic loaf-like form and again left to dry.
Petros told us that an experienced producer checks every day to see the progress made and can tell be the color if the avgotaracho is ready for the next step.
Once the air-drying process is completed, the avgotaracho loaf is hung and dipped into beeswax which 'seals in' the taste and preserves the delicacy.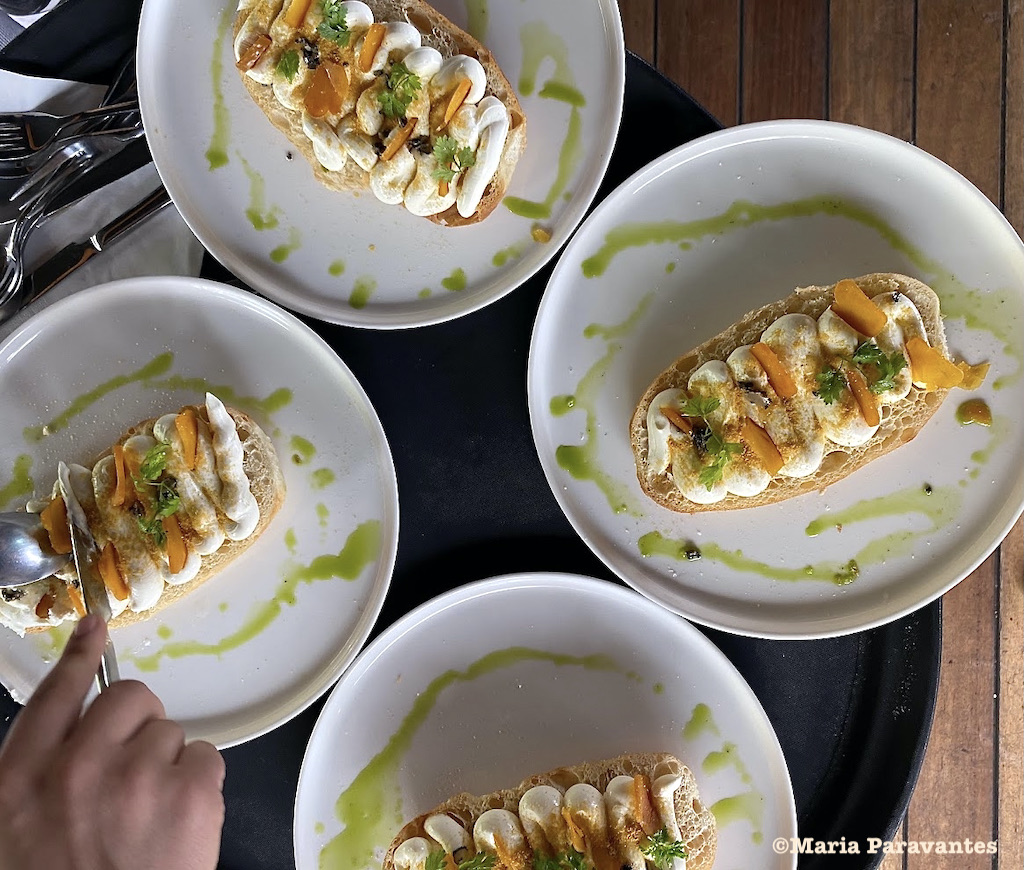 How to Eat Avgotaracho
And now to the fun part. As we entered the Stefos production unit – which was meticulously clean by the way, more like an operating room – Petros had laid a table with avgotaracho as amuse-bouche or bite-size appetizers.
True to Greek eating practices, foods are enjoyed in the simplest way. The older (and poorer), and I would add wiser generations, ate this God-sent delicacy plain, sliced very thinly on a grilled piece of bread with a few drops of lemon. Perfect! Still is! The avgotaracho was a rare find and one to be enjoyed.
Petros started pouring the ouzo into the traditional tiny glasses as we began to shamelessly pick from the platter.
"Let it melt in your mouth and take it slow," he said, quick to point out that much like fine wine tasting, avgotaracho is meant to be experienced. Then take a sip of ouzo!
He went on to add that the drier the bottarga the better. Just like good Greek cheese, I add.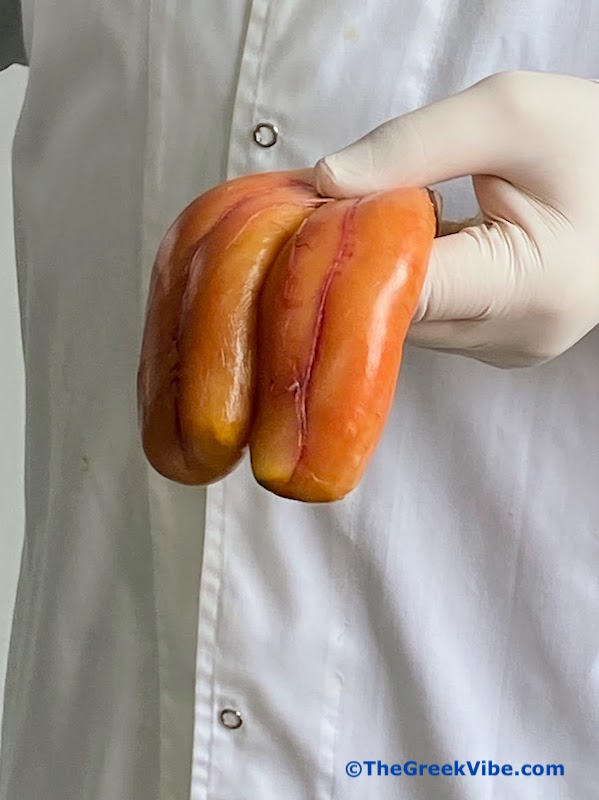 Today, there are dozens of ways to enjoy this natural Greek wonder. During our visit we tried it on white bread with cream cheese, bits with lemon, and thinly sliced.
During our outing in Messolonghi, we 'experienced' avgotaracho again prepared by Alatiera, a great place to eat by the way on the lagoon, which included cream cheese with a touch of mayonnaise on toasted bread. Perfection is the least I can say.
Petros also suggested grating some bottarga over prepared spaghetti or risotto (do not cook the botarga), which I later tried at home and was 'in a bite' transported to a Greek seashore.
Other ways to bring out the intense taste of avgotaracho is by serving on Melba toast accompanied by summer fruit like figs and pears.
Note: when slicing the loaf paper-thin make sure to remove the wax (I learned the hard way!).
Once opened and sliced rub the cut end with some olive oil and preserve the loaf in the fridge in plastic wrap.
Avgotaracho is best eaten within a year. Of course, I can't see why it would last that long!
What to Drink with Avgotaracho
What a question! Ouzo, of course. It's not by chance that one of the country's oldest ouzo-makers can be found in the old town of Messolonghi. The family-owned Ouzo Trikene has been making fine ouzo since 1901. So I think we could safely say they know their ouzo. I couldn't resist trying some just to make sure, you know how it goes, and yes, I vouch for it. You can find it in the shop, recently renovated with love to resemble the days of old when life was much easier. They even wrap the bottle in paper as I remember first seeing as a child when we would go to the corner store with my grandfather in the Peloponnese.
You could also accompany your avgotaracho experience with tsipouro or vodka, whiskey, champagne and of course, my absolute favorite: retsina.
Avgotaracho: The Health Benefits
Could we be luckier? Nature is always wise my father says, and so it is. Avgotaracho is rich in Omega-3 (the fats we want) which protects us from heart disease and is packed with vitamins A, B, C, and E. Two thin slices of this edible masterpiece come to about 50 calories.
Where and how to buy Greek Bottarga
You could find leading Messolongi brands at Athens International Airport but these will be more pricey there. On the other hand, don't buy if you plan to have it in your suitcase in the summer heat.
Also make sure to buy a loaf or premium powder but not grated pieces. Check the color. It should be in the shades of amber and should not have dark thread-like markings which indicate that it's gone bitter.
When eating, Greek bottarga you should experience a burst of the sea in your mouth, a smooth buttery texture, a strong aroma and lasting taste. It should be a tad chewy but not clay-like and the wax should come off easily. It should also be easy to grate like dry cheese.
Word has it that Spain's Ferran Adrià, the Catalan super chef behind molecular gastronomy, praised Greek bottarga, placing it among the world's finest products.
💡Intrigued? Order Stefos avgotaracho. This is also a good choice. Get some premium Bottarga powder for your pasta and definitely some afrina or natural unprocessed sea salt from the Messolonghi lagoon, which is a protected wildlife reserve.