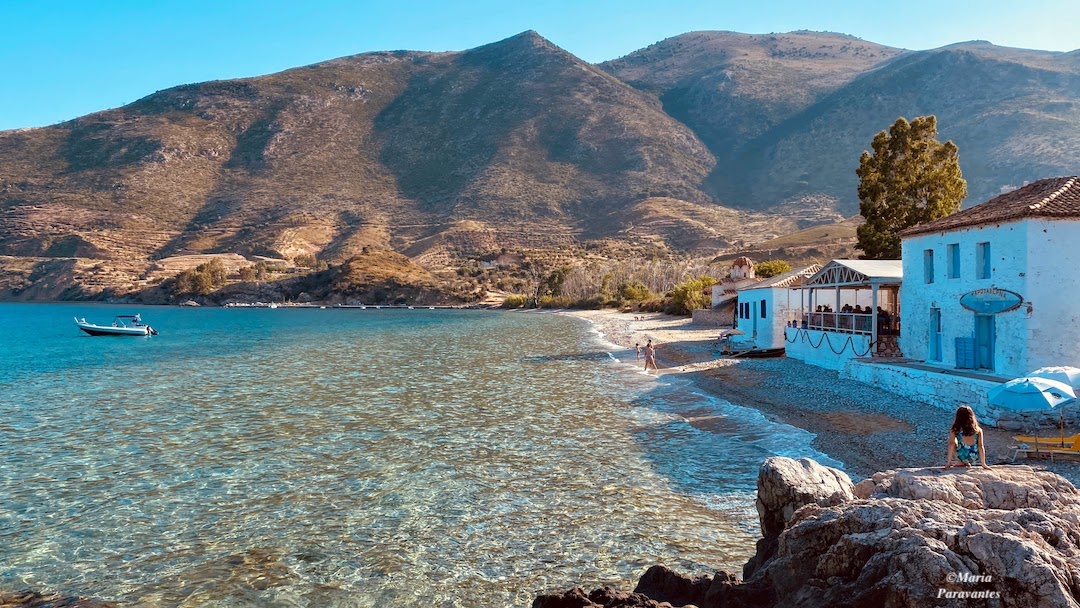 No doubt about it, Greece is what dreams are made of. It may be small to the eye, but it is so diverse that it manages to win over the most demanding traveler who comes back yearning for more year after year.
For most of us, our special dream vacation usually ends up being just a dream… dashed by either too little time to plan, too many options, too much information, or no budget.
So we end up imagining that wonderful destination where we can just leave our everyday lives behind and immerse… only as a consolation to keep us motivated through winter.
Well, if there's one thing I've learnt, it's that nothing is impossible… as long as you put some energy into making that dream come true and having faith that things turn out exactly as you wish them to be.
Greece: Your Next Dream Vacation
That said, let's get down to business: Yes, you've been thinking about your next travel adventure. You've heard about Greece and always wanted to go there. Maybe you had a loud Greek friend who always talked about those amazing beaches and the all-night parties. Perhaps you were captivated by an Instagram shot of spellbinding Santorini. Or better yet, you just love Greek food. Read more about that here. Perhaps you're a history geek with a knack for Greek mythology. Or maybe a sports lover keen on doing your favorite sport in spectacular setting. 
Whatever the case may be, Greece should be on your "To Do (Immediately)" list. And to help you take it a step further, here are five + 1 reasons why you should visit Greece this year.
The Quality
In a little under a decade, Greece has managed to make it into the "Best Of" lists of nearly all travel and leisure magazines worldwide. From Conde Nast Traveler and Fodor's to Telegraph Travel and the Nat Geo Traveler, Greece is a recognized leader for its beaches, its hotels, its services, its food, its airlines and airport, and as of late, its wines.
In the last few years, dozens of boutique hotels have opened their doors offering exclusive services for the most eclectic of tastes.
Did you know that more than 30 hotels in Greece are currently members of the prestigious SLH (Small Luxury Hotels of the World) Group? Just to get the picture, of the 1,000 or so requests SLH gets each year, 5 percent meet the 730 standards annually assessed. The winning factor? Excellence.
In the meantime, international luxury hospitality giants including Four Seasons, Leading Hotels of the World, Marriot International's Westin Hotels & Resorts, and Nikki Beach concept, to name a few, have all been eyeing Greece for quite some time entering the Greek market with impressive luxury projects and innovative concepts.
This all means, that in order to meet the growing demand and at the same time be one step ahead of its rivals, Greece has to offer both value and quality, which is apparently what's it's doing, successfully so, judging by the 33 million+ holidaymakers that visited Greek shores in 2019 (before the global Covid health crisis hit us all) and by those who came last year despite the times.
Escape to Greece with The Greek Vibe monthly Newsletter!
The Hospitality
"Filoxenia" means "hospitality" in Greek – literally broken down to mean "friend" (filos) of the "foreigner" (xenos). Extending hospitality to the traveler or stranger has been – and still is – among the top virtues in Greek culture ever since antiquity. There are dozens of myths dedicated to the art of hospitality telling the tales of humble wanderers seeking shelter and food who were actually gods in disguise.
"Filoxenia" is in our DNA, and so strong that I still remember my grandparents, parents, and aunts offering food and hospitality to friends and relatives for weeks, sometimes even months.
It is after all this all-encompassing hospitality that transformed Greece into one of the world's most dreamt of vacation destinations. This is vividly conveyed by Henry Miller in the Colossus of Maroussi (1941), where the American writer spellbound by the "light of Greece" describes his travel escapades as these are enriched and inspired by the hospitality of bon vivant intellectual George Katsimbalis. And there are so many other bright examples all embodied in the godlike human figure of Zorba the Greek.
Well this still exists today. It's that special human touch that goes above and beyond the latest in luxury, the high-end facilities, the delectable food, the seamless transportation, the partying and letting loose. It's what I always advise travelers to seek out in Greece. Just ask. Greeks love to talk; they love to share stories (which are more than often enriched by personal fancy); they love to boast; and above all they love company. So take advantage and get closer to the true Greek experience with the help of a local.
The Authenticity
Which leads me to the next point: authenticity. It's often a hard concept to grasp, particularly in a world where anything can be copied and recreated. But some things just don't compare.
Yes, the ancient temples, theaters, and palaces were there some 2,500 years ago and you're standing exactly where Plato, Socrates, Sophocles, and King Minos once stood.
The items you see on show in Greek museums – unfortunately not guarded enough – were worn and used by people just like us thousands of years ago.
The shipwrecks, which can now be visited,  were carrying wine, olive oil, and honey in Greek vases and vessels. The wine, olive oil, and perfect Greek honey that are still made in very much the same way today. 
The 42km marathon race which takes place every year from the coastal town of Marathon to Athens is the same route that messenger Pheidippides ran to announce Greece's victory over the Persians in 490 BC.
It is the skies of Samos that ancient Greek astronomer and mathematician Aristarchos looked up at and first came up with the idea that the sun was actually at the center of the universe and the earth revolved around it.
When you visit Kos, you'll be treading in the steps of Hippocrates – known as the "Father of Medicine" for establishing it as a discipline independent of religion while at the same time being among the first to argue that the mind and the emotions contribute greatly to health and well-being.
The Variety
A common mistake people make when planning to visit Greece: they think it's only worth going to the islands. Well, yes, we are very proud of our islands – some 6,000 in all, 117 of which are inhabited. And yes, that feeling of being isolated from the rest of the (working) world does wonders, but Greece also has hundreds of destinations on the mainland, villages, towns and cities by the seaside or in the mountains. Places that are bound to win you over and perhaps less impacted by the tourist flows offering an even more genuine Greek experience.
If I were to objectively say what makes Greece so special, I would definitely say the diversity of its landscape despite its small size, and would add to that the relatively small distances required to experience an alluring beach and then shortly after a breathtaking view from the mountain. Case in point: you could literally be skiing on of Mt Pelion's peaks and then some 30 minutes later – if daring enough – take a dive in the clearest of waters.
The northern Greece region of Epirus alone boasts five ancient theaters as great as Epidaurus not to mention a landscape that is ideal for rafting, trekking, and climbing – among others. Central Greece is home to Mt Olympus, southern Greece and Mt Helmos ideal for skiing in winter and mountain climbing in summer. 
The Experiences
So what makes an experience worthwhile? It's that one thing you do that takes you out of your comfort zone and makes you feel alive. Which in fact is what travel does. You leave your routine behind only to embark on an adventure. And despite the literally hundreds of apps out there to assist you in customizing your trip to fit your needs, there will always be that unexpected event, acquaintance, moment that will end being the experience you remember and want to desperately share when you get back home.
Well, if there's one thing Greece can guarantee, it's an experience you'll want to tell your friends about. It could be anything from rock climbing with the Mediterranean Sea as a backdrop, exploring underwater caves and ancient shipwrecks; it could be dancing till dawn in a far-away village square by the natural spring, or that old woman in the mountains who treated you to potatoes and eggs, freshly baked bread, and some wine when you ended up losing your way along the hike. It could be setting up a tent and lying under the stars by the river as ravers pump away. It could even be exchanging vows in a tiny white-washed chapel overlooking the Aegean Sea, or hitting the slopes with your kids in a small-scale winter wonderland.
And if I were to sum it up, experiences cannot be planned. That's why everyone is talking about immersive travel nowadays. To immerse is to know that the quality, the people, the genuineness, and the choice are there – all you have to do is get on a plane.
The Safe Reputation Won During Covid
The very important "plus-one" reason you should make it a point to visit Greece is its reputation as a safe destination. Greece managed in 2020, 2021 and 2022 to keep travelers coming despite the Covid-19 pandemic. It was among the few countries in the world to have managed to keep the number of Covid-19 infection rates and deaths down and it continues to apply very stringent precautionary measures at hotels based on developments and recommendations of a special committee of experts. The country welcomed thousands of travelers who vacationed in safety last year and in 2020 and who returned to their homes in good health spreading the word. And it was awarded for this by the World Travel & Tourism Council. In short: Greece set an example extending safe hospitality and showing all of us anguished by the coronavirus reality that life does go on, reminding us that we made it through this too and this time, we're one step closer to an even better year.
---
Maria's Tips for #Yournextgreeceadventure
Step 1 – Decide what you're looking for in a holiday. Is it relaxation? Getting away from it all? Quality time with your family? Seeking inspiration? Clearing your mind? Trying something daring or new? Learning? Narrow it down to two things.
Step 2 – Island or mainland. Are you a hiker, a climber, a driver? Do you prefer to detach? Stay in a single spot or explore? If the beach is a basic requirement, just know that there are dozens of pristine beaches – sandy or pebbly – on the mainland as well.
Step 3 – Time of year. Summer is great but Greece does winters too. Not to mention spring and the one-of-a-kind Easter in Greece, or autumn with fewer crowds and lower prices. Read about some great places to visit off-season (and all year round) here.
Step 4 – Duration: Ideally, seven days would be great. Of course, seven days are not enough to see the country in all its glory, but you can get a taste and know what to look for when you come back. For European travelers, a three- or four-day break is perfect to discover Athens and islands nearby.
---
Useful Tools to Plan the Best Trip to Greece
These are some of the trusted partners I use when I travel in Greece and abroad.
🏩 Find a great place to stay and the best deals with Booking.com
🛫 Book the cheapest flights and get the best airline ticket deals to Greece with WayAway
⛴ Eager to book your ferry tickets for the Greek islands? The easiest way is with Ferryhopper
🚘 Discover Greece in comfort with a car. Rent a car with the folks who do it best: DiscoverCars
🏛 Go deeper into Greek culture with exciting sightseeing tours & activities with Viator
🤿 Plan fun things to do & exciting adventures in Greece with the experts at GetYourGuide
🛎 Find a cheap hostel and connect 🍻 with travelers like yourself visiting Greece with HostelWorld
🛵 Explore Greece on bike, moped or motorbike: rent from with BikesBooking
💵 Make sure to get help or compensation for flight delays & cancellations. Just ask the experts at AirHelp  
♫ I end today's post with Greek singer – songwriter Nikos Portokaloglou, who crafts a wonderful song out of the journey… "Taxidi".
Be well, travel!