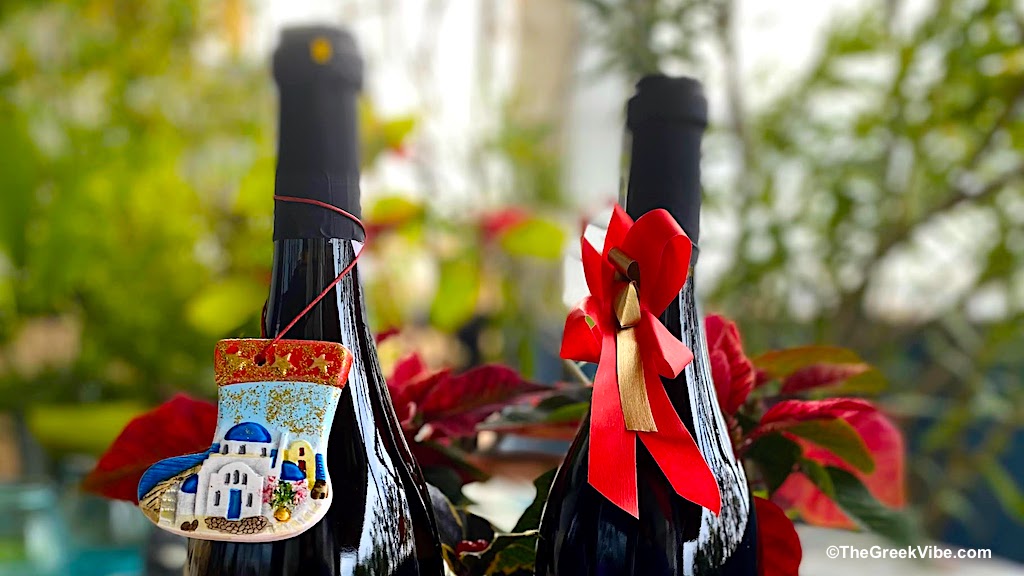 You don't have to be Greek to get Greece-inspired gifts for your friends and family, you just have to love its endless shores and emerald waters, and of course, its delicious food and sweets and culture.
As a true believer that our future starts with a dream in the now, this is the time to plant the seed of that dream and watch it grow into a wonderful trip to Greece. How to start? With a present that brings Greece straight to those you love. Whether in snowy Chicago or sunny Australia, give your loved ones a taste of Greece with these 10 unique Greek or Greece-inspired gifts which you can easily find on Amazon.
10 Fantastic Greek Presents for Loved Ones
1. Greek Honey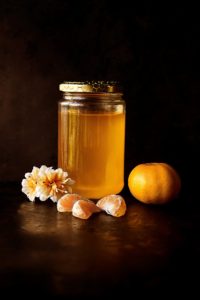 Chefs and foodies worldwide admit that Greek honey is among the best in the world. Word has it that even Queen Elizabeth II had vases shipped over from Kythira island. Perhaps that's why she lived to be 96! This finger-licking-good honey straight from a producer on Crete is one of the most famous Greek honey varieties: thyme. Not just great flavor and aroma but also raw, natural and pure. Use it in sweets, for breakfast, mix into Greek yogurt, in teas, or in smoothies and you'll never buy anything else.
2. Chios Masticha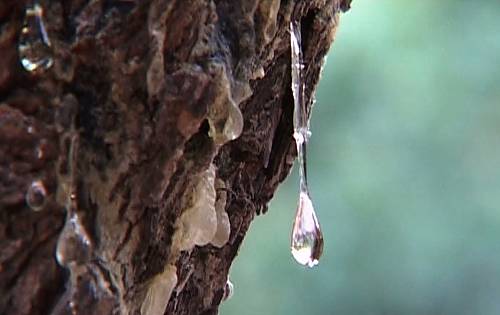 The wondrous masticha is only produced on the Greek island of Chios and scientists across the globe are talking about its numerous health benefits. The magic starts from the single teardrop of a special tree resin which is painstakingly handpicked once a year. The tiny stone-like pieces are then ground and used in everything from breads and desserts to liqueurs and ice cream (actually one of the most famous products). Chewing natural mastic is also good for stomach problems, indigestion and ulcers, is a great breath freshener and can also be used in facial creams and soap. Mastic can also be used as incense.
Masticha is also the healthiest sugar-free (and preservative-free) chewing gum on the market. Did you know that masticha (which means "to chew" – by the way) was among the first chewing gums ever? Ancient Greeks used mastic some 2,500 years ago and Hippocrates from Kos, the "father of medicine", prescribed it for colds and digestive problems. In the past, masticha was worth its weight in gold. No wonder!
Escape to Greece with The Greek Vibe monthly Newsletter!
3. Komboloi – Greek Worry Beads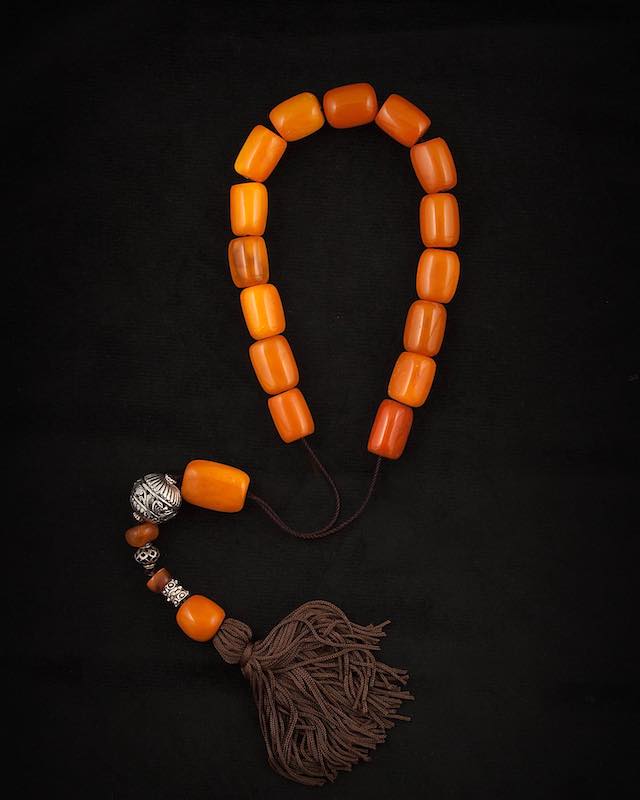 Rarely do you come across a Greek house without a "komboloi" or worry beads. The komboloi is also a very common sight in "kafeneia" (traditional coffee houses) used in the past mostly by men but today an accessory for many women too. The komboloi is made up of an odd number of beads and then tied into a knot (kombos). Very much like a rosary, the komboloi is used not only to pass the time, but the repetitive roll of beads through the fingers has a soothing effect. The komboloi is also used by people who are trying to quit smoking and do something healthier with their hands. All Greek homes have a komboloi if not a full collection of colorful worry beads often passed down from generation to generation as a symbol of good luck and fortune. In the past, a komboloi was a sign of wealth and status indicated by the value of the worry beads and the intricate design.
4. Santorini puzzle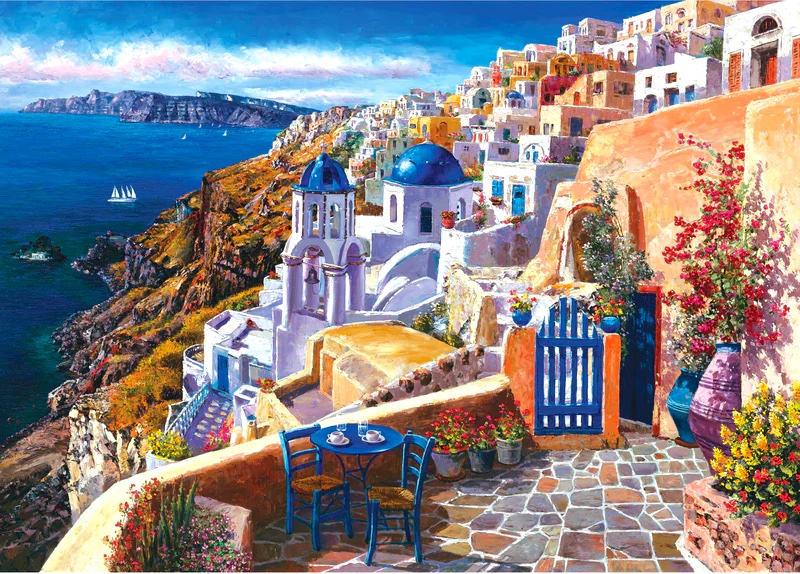 If there's one thing we all definitely need to do in this day and age is to slow down and disconnect and disengage from all sorts of technology stealing our time and energy. Working on a puzzle is the best way to do just that and if that's a puzzle of Santorini in the spring, the effect can only be healing. Studies actually show that puzzles boost memory and concentration. Every connecting piece you find sends a surge of feel-good hormone dopamine to the brain creating a flow of happiness, contentment and satisfaction not to mention a welcome boost of energy. My favorite puzzles feature places I'd love to visit or houses I dream of having one day. This beautiful puzzle of Santorini will also make your day once completed thanks to its vibrant colors which bring the caldera straight into the home and heart.
5. Mythology: Timeless Tales of Gods and Heroes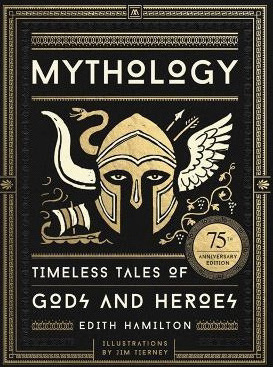 This is my absolute favorite book about Greek mythology and one I offer as a gift often. I remember reading Edith Hamilton's narration of Greece's millennia-old tales and being carried away to far-off lands of fantasy, imagination, and poetry. Hamilton's take on Greek mythology goes beyond the story into the importance of myth in life. That's what makes this book such a wonderful present. It works wonders on the heart and soul so overwhelmed by negative news and low vibrations. If I could describe it in two words, Hamilton's presentation of Greek mythology reveals life's "harmony and poetry" as conveyed through Greek myth. And there's no doubt about it, we need a lot of both in our lives today. Hamilton's book is literally the best go-to source on Greek mythology, and also includes Roman and Norse myths. Everything you ever wanted to know and much more can be found in this classic whether it's the Greeks and their many expressions of love as portrayed in the tales of Cupid and Psyche, the heroes behind the constellations we see in the night sky, or the protagonists of our favorite art and poetry. A must for every Greece-lover.
6. Greek olive oil soap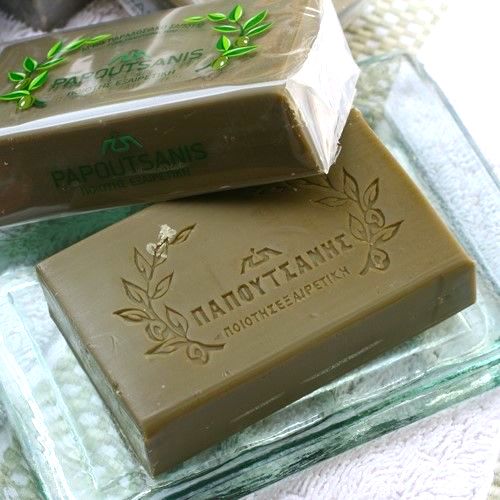 I'm sure few of you knew that Greece's wonderful olive oil is also used to make soap. I remember my grandmother using Greece's 'liquid gold' to make these green soaps which were also used as shampoo and for washing clothes not to mention as shaving cream too. For a kid raised in the US, this was pretty strange. Green soap is green due to the color of the olive oil. It is 100% natural, zero-waste and highly sought after due to its many health and antiseptic properties and because it has no chemicals. It is also hypoallergenic, anti-inflammatory and moisturizes the skin thanks to the antioxidants as well as to vitamins A and E found in olive oil. Plus it's great for baby care or hypersensitive skins.
7. The Colossus of Marousi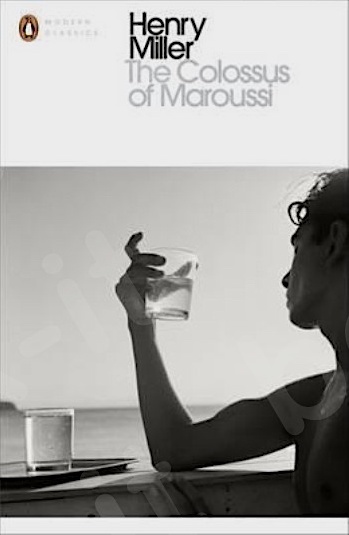 And yes, my absolute favorite and the ultimate book about Greece that still conveys the country's beauty despite being written by American bohemian writer Henry Miller in 1941. Miller writes his impressions of Greece during his nine-month stay before the outbreak of World War II. He visited Athens, Crete, Corfu, Poros, Hydra and Delphi, and in my view captures the essence of Greece, the sacredness of Greek hospitality, the meaning of words such as "water" ("nero"), and of course, pays tribute to the magical Greek light. Just a taste: "The light of Greece opened my eyes, penetrated my pores, expanded my whole being." A book that will have you planning #yournextgreeceadveture in no time and is the absolute best gift.
8. Evil eye charm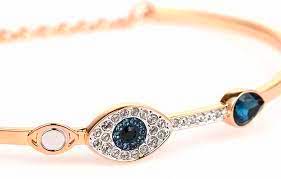 Feeling down? Well maybe someone is draining you of your precious energy. In Greece, we call this "mati" and it means you've been jinxed or suffer from the evil eye. Sometimes people just send bad vibes your way so the best way to protect yourself is to wear a "mataki" – an evil eye charm. That's why you see Greeks either wearing "matakia" charms or hanging them in their homes, cars or businesses. And yes, they make beautiful and thoughtful gifts. Check this out for a more budget-friendly option.
9. Ouzo the Greek: A Year in the Life of a Greek Rescue Dog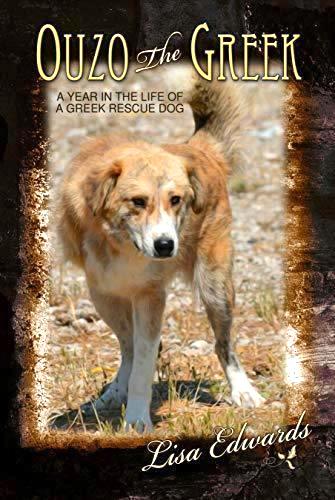 This moving tale about a suffering stray dog hit by a car in Greece only to find love in England is an ideal gift for animal lovers. The story follows Ouzo the rescue dog, who went from broken bones and open wounds to belly rolls and fun 'n' games in West Sussex. The book is written by Lisa Edwards who saved Ouzo after his leg was amputated. As is the case with all furry friends, Ouzo's presence changed Lisa's life and now she dedicates her time and love to animal rescue and awareness.
10. Krokos Kozanis (saffron)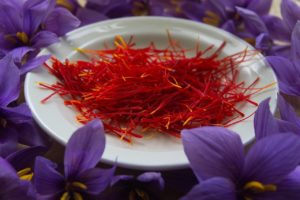 For those who love to cook (and eat!) this Greek marvel of a product is a must. Just ask any chef or foodie. Krokos Kozanis or saffron is a spice produced exclusively in the area of Kozani, Western Macedonia Greece. The ancient Greeks used saffron for its pharmaceutical and aphrodisiac properties. Even Cleopatra used it in her daily beauty routine. You'll find stories about saffron and its wonders in the Old Testament and in the tales of Homer. Why order Greek saffron? Because besides being among the world's best in quality both in terms of aroma and taste, "Krokos Kozanis" has a coloring strength of 256 – that's 45 points higher than the minimum international standard. A pinch of "Krokos" can take your risotto, chicken or fish dishes to a whole new level. You can also find saffron-infused teas as well as cosmetics or pharmaceutical products.
---
🎶 I end today's post with a beautiful song released in 2001 about the gift of life featuring Greek singer Maria Dimitriadi to the lyrcs of Paraskevas Karasoulos and the music of Thodoris Economou. "To Doro" (The Gift).
Enjoy!