Did you know that the top three travel trends have to do with experience, wellness, sharing, and respect? If you bring these four ingredients together it basically translates into something like "ecotourism" or "eco-friendly holidays".
Thanks in large part to cheaper flights and "pocket-friendlier" home-sharing options which have given larger parts of society the chance to travel, the younger generations are now seeking to immerse themselves into that transformative vacation experience that will add something of value to their lives – a new outlook, a different way of thinking, a fresh understanding, or even perhaps a new skill.
At the same time, it is (finally) becoming very important to respect yourself, your environment, and your fellow humans (and animals –let's not forget, we share this earth with them too) while seeing your part and role in the grand scheme of things.
The world has changed so much in the last years due to Covid-19 and so has travel, and I add to that so has Greece – a destination that has gone down in the universal mind as a place of sun, sea, and revelry. And yes, we do do all that, but in the last few years and in sync with the changing times – it is after all Greek philosopher Heraclitus who said that change is inevitable – Greece boasts a wide variety of immersive earth-friendly experiences to offer the restless traveler seeking to get his or her hands dirty… and still enjoy Greece's welcoming beaches, turquoise waters, and nightlong parties.
Before Ecotourism Became a 'Thing'… in Greece
I remember as a child and then teenager when we used to come to Greece in the summers (as all true nostalgic Greek-Americans did back then), being a city girl raised in a Chicago suburb, I was both in awe and in dread of simple mountain village "things" like flies, overly friendly goats, steep inclines, real donkeys, intruding cats, and curious villagers asking me "who I belonged to".
At the same time, the idea of actually going out into the garden and picking fruit off the tree, going down to the cellar to fetch my grandfather retsina wine from his wooden barrels, milking the goats to make cheese and yogurt (and all sorts of other delectables), collecting the warm eggs from under the hen, running off to the only village "pantopoleion" shop to get an ingredient that might be missing for my grandmother's sweets, carrying wood to the outdoor oven to prepare a fire, and chewing on the honeycomb while my uncle tended to his buzzing bees who offered us the finest Menalon honey I have ever tasted – all these wonderfully "immersive" and "inclusive" experiences were what I remember and still long for, seeking to be blessed once again with one such simple adventure.
Well, these explorations are what nurtured my love for travel and passion for Greece, and these very same experiences can still be found for those of you who want to travel and transform.
An Eco Friendly Holiday in Greece?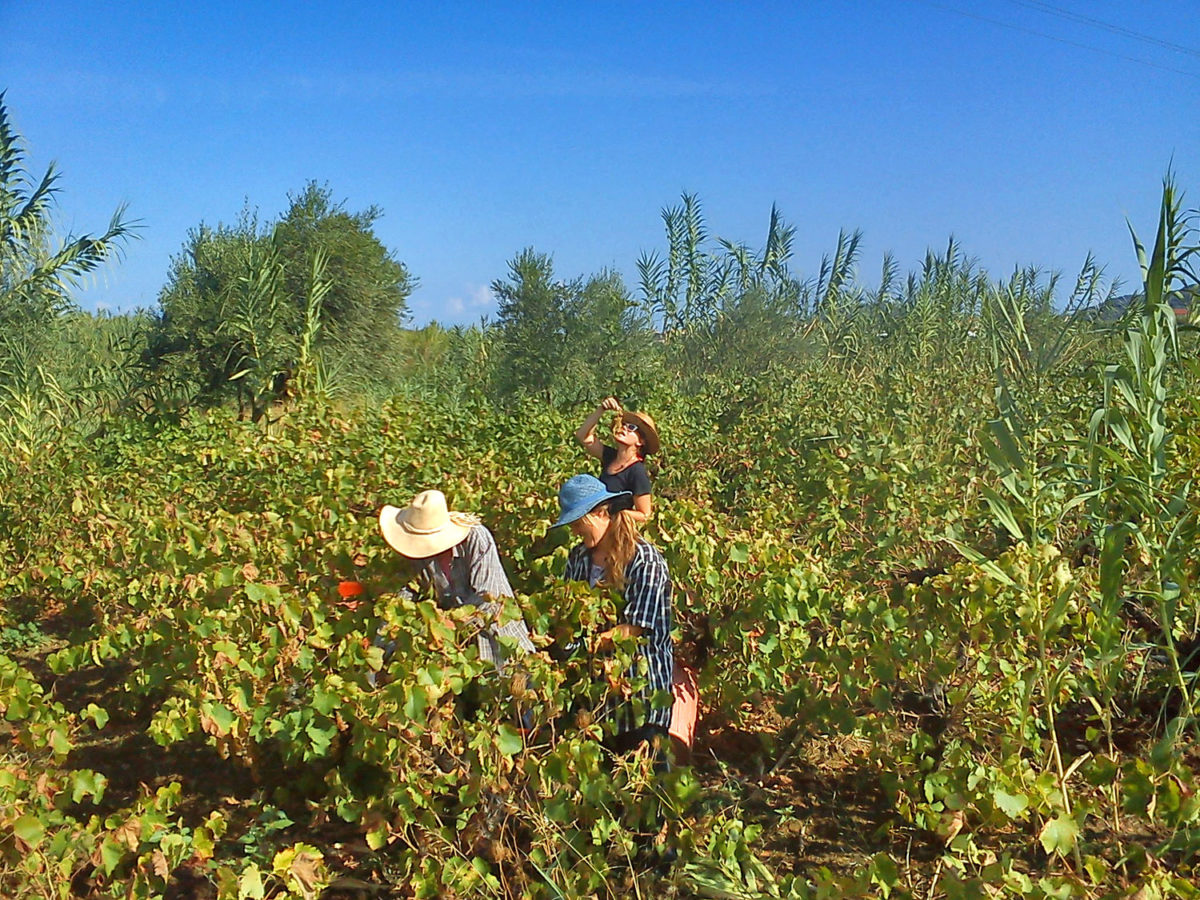 The exciting part about ecotourism and/or agrotourism – which in essence are fancy terms to describe life in rural Greece as it was a few decades ago – is that the things you will learn, see, feel, make and taste, can in one way or another be added to your life routine back home.
At the same time, taking a holiday on a farm or village retreat that brings you closer to nature and back to the basics can only be a rewarding experience. You get to do things with your hands, taste fruit straight from the tree, take in the sounds of nature, enjoy the silence, look at the stars, and so much more.
And lastly and most importantly, you'll be making a small but significant difference: by selecting an eco-friendly holiday, you will be motivating tourism entrepreneurs to seek out sustainable ways, supporting local communities, and at the same time, making sure future generations will also have the chance to experience the beauty and grace of this planet.
Getting Your Hands Dirty in Greece

That said, Greece is naturally an eco-friendly destination, mainly because "progress" was late to arrive in many parts of the rural country or isolated islands. Thanks to that many communities went on doing what they did decades ago. Add to that that after the economic crisis in 2009, many young educated and unemployed Greeks went back to their parents and grandparents' villages and decided to do something different. Combining the knowhow from their studies with new technologies, they decided to take traditions to the next level and so we now have dozens of farm retreats, eco-resorts, and agritourism units from the 5-star option to no-frills lodgings meeting the demands of the most environmentally aware traveler.
For today's post, I suggest five eco-vacation options in Greece, adding however that there is a growing number of earth-friendly facilities each offering unique hands-on experiences.
Escape to Greece with The Greek Vibe monthly Newsletter!
---
☞Crete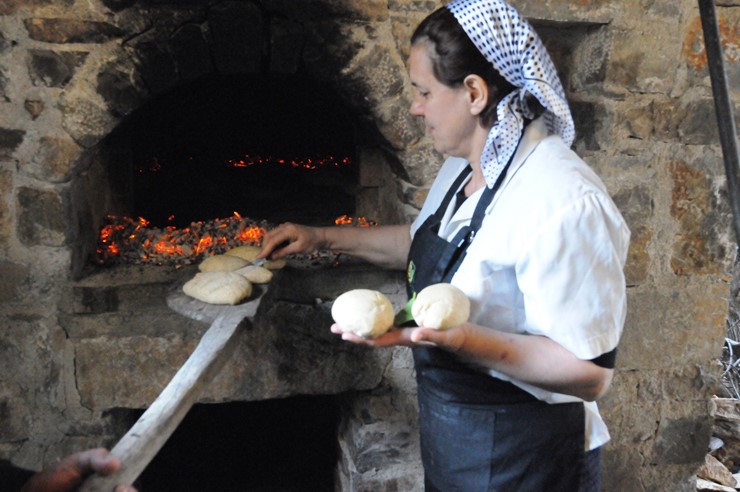 Myths, traditions, and knowhow passed on from one generation to the next offer visitors to this Greek eco-resort the chance to experience traditional Greek hospitality or "Philoxenia" and learn about the Cretan way of life.
Besides a hands-on introduction to local medicinal herbs, you will also learn how to make Cretan bread in a wood-burning oven, traditional cheese with a local shepherd, as well as how to prepare dishes from Crete's famed diet – the authentic Mediterranean Diet, which studies have proven contributes to long life and well-being. Enagron also arranges day trips to villages, monasteries, and to a traditional Cretan shepherd's home.
What makes Enagron an eco-resort? The 15-acre farm is situated in the midst of olive trees, vineyards, orchards and fruit trees, vegetable gardens and dozens of aromatic plants and herbs – all organic and fertilizer-free.
Hiking, birdwatching, participating or learning about Cretan agricultural practices, participating in traditions and rituals, winemaking and taking part in the traditional "rakokazana" or the process of making local spirit raki (tsikoudia), which includes a grand feast as well are all part of the Enagron experience.
☞Laconia, Peloponnese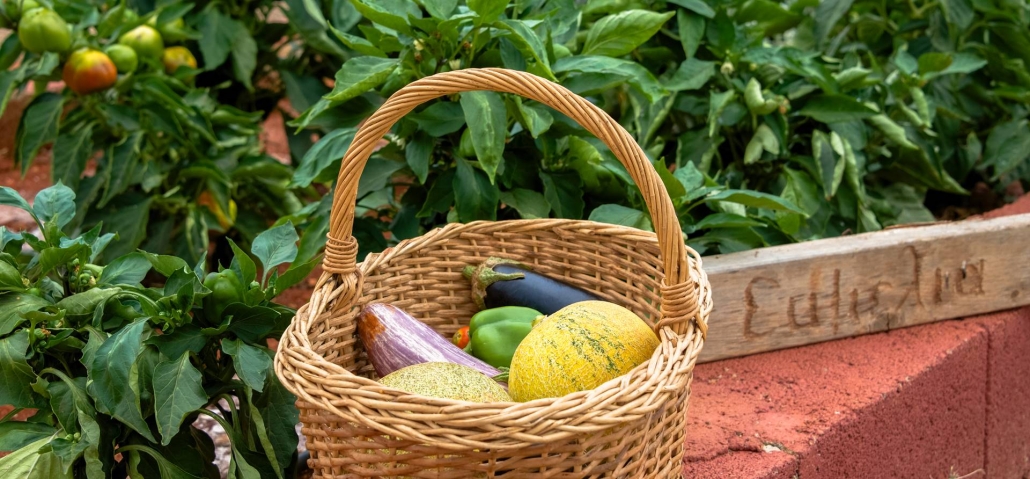 "From farm to table" is the motto at Eumelia, which is one of the first organized tourist facilities committed to safeguarding the environment, employing sustainable practices, preserving local traditions, and setting a bright example for others to follow. Its many awards say all there is to say.
Eumelia is a GSTC certified sustainable tourism hotel, it has received a global hospitality award as the most unique eco-tourism accommodation, Conde Nast Traveller named Eumelia as a leading Peloponnese holiday destination in 2019, and the Guardian included Eumelia among the top 10 best cooking classes with stays in Europe as well as on its best family-friendly hotels list.
So why visit Eumelia? Besides its great reviews, Eumelia hosts invite you to be part of the clan, to participate in everything from picking vegetables and preparing the food, but you can also join the farmers or feed the animals or learn about the secrets of winemaking.
All the products at Eumelia are a result of committed farming – from the seed and care to the harvest and preparation. The best part is preparing the massive farm table to serve the dishes you made. The people at Eumelia also make their own organic wine and extra virgin olive oil.
☞Tzia (also known as Kea), Cyclades
Also among the first to offer Greek eco-experiences to travelers is the Red Tractor farm on the island of Kea, in the Cyclades. This relatively small facility is open all year round and offers visitors a relaxing island experience with an additional twist: acorn cookies. The farm's Marcie Mayer produces acorn flour which she then uses to make a series of gluten-free and fiber-rich products.
She even hosts an annual Acorn Festival on the island in October.
Guests will also have the chance to learn how to make jams and marmalades using island fruit and no preservatives, organic wine, ointments made from herbs, and of course, the Red Tractor's pride and joy: the famous acorn cookies.
☞Mt Olympus, Central Greece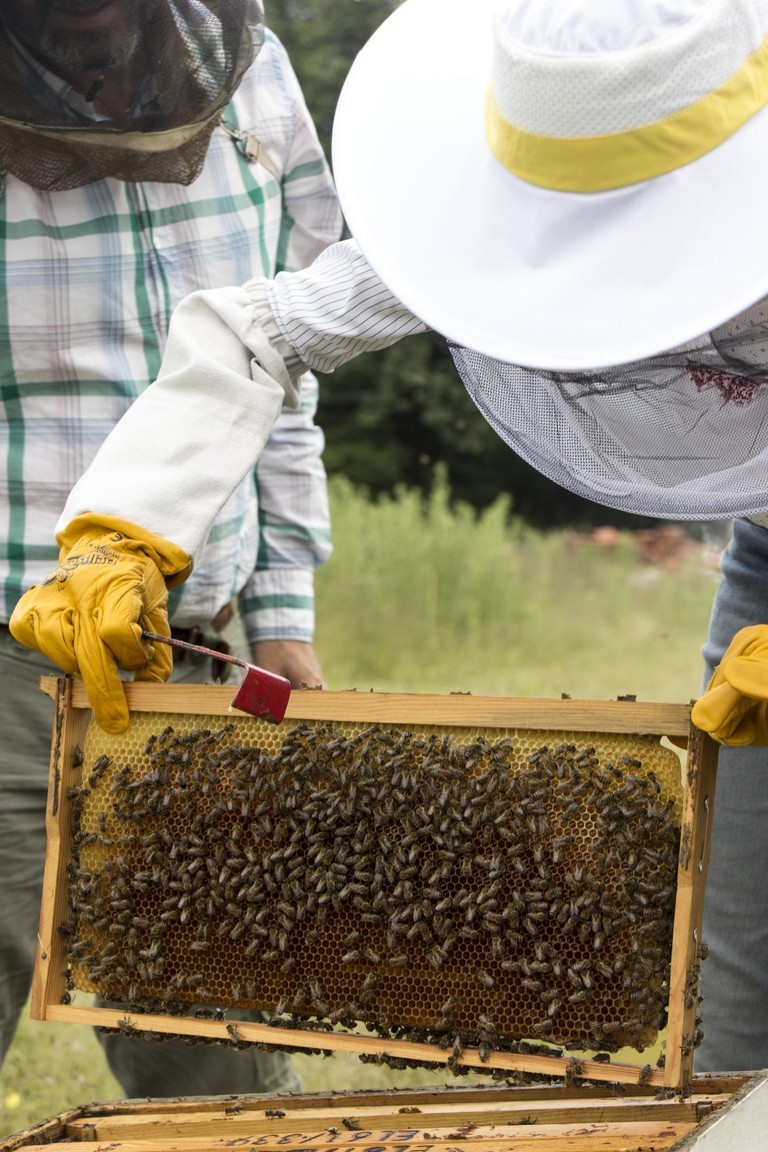 Located near canyons, beaches and slopes, at the foot of Greece's highest mountain, Mt Olympus, formerly home to the Greek gods, and the country's first national park included on UNESCO's World Network of Biosphere Preserves, Ktima Bellou offers guests a magical experience as close to nature as it gets.
Besides dozens of nature- and tourism-related activities on offer, including archaeological site and monastery visits, off-road jeep trips, mountain climbing and hiking (with aid of certified experts), skiing and ski mountaineering, and canyoning, Ktima Bellou also offers exciting workshops in beekeeping and essential oil distillation.
You can join the farm's beekeeper to learn about bee products, the beehive, and bee life, visit the farm's beehives and give beekeeping and honey production a go. In the end, you can make your own traditional beeswax ointment with wax from the beehive and fragrant oils to take home.
☞Zakynthos, Ionian Islands
If you're looking for a warmer family-style eco holiday then Therianos Family Farm on the popular island (and beautiful, I must add) of Zakynthos (also known as Zante) is your best bet. This small-scale, family-run farm makes you feel right at home and at the same time gives visitors a taste of what life is like in rural Zakynthos.
Besides the organic products produced on the farm, you'll have a chance to participate in wine making and tasting, as well as learn about Zakynthos' little known secrets: its fantastic olive oil and its bursting-with-taste black raisins: a nutritional wonder – the world-famous Zante raisins. The people at Therianos are passionate about their island and about wellness and health, also producing skin care products made of olive oil as well as soap, tea, olive oil, and wines.
---
Maria's Tips for Your Eco Holiday in Greece
✓ Make sure to ask before booking whether a facility offers agricultural activities. Unfortunately there are many hotels using the term "eco" either in their name or description but do not abide by that philosophy.
✓ Not all eco-resorts are by the beach. If you chose to take an eco vacation do know that most hotels are a bit further from the sea. That doesn't mean you won't be near to a beach or village.
✓ Know what you're looking for before you book. Are you just interested in some cooking lessons and maybe picking a few veggies from the garden? Or are you ready to go olive picking, cut wood, carry water?
✓ Pack accordingly: which means know the season, the weather, and what you're going to be doing.
Useful Tools to Book & Plan the best trip to Greece
✓ Ferries
✓ Cars
✓ Fun things to do & adventure
✓ Rent bikes, mopeds, motorbikes
✓ Get help or compensation for flight delays & cancelations
---
♫ On that note, I leave you this week with one of Greece's most loved singers, the late Nikos Xylouris, who despite his short life left behind a great legacy… "This Wonderful World" (Aftos o Kosmos o Kalos). Let's keep it that way!