Hiking – reading – eating – writing – art – love: in that order, and some yoga poses in the sunset are the activities you'll be doing if you travel to Sikinos: the Greek island that very few of you know.
We've all heard about the spectacular Santorini sunsets, the wild beaches of Folegandros (which is a perfect Easter escape by the way) and the crazy nights of Ios, but there, in between the three popular Greek islands, you'll find Sikinos – a tiny gem of an island ideal for the quiet types, the couples, the hikers, the solo travelers, and the artists.
At 42km, Sikinos is all about doing your thing whether you who love to walk, hike, or explore. It's also the perfect Greek island for those of us seeking the inspiration of breath-taking Aegean views, the repose of Cyclades island village life, the great food, and the warm welcome.
Unlike its famous neighbours, Sikinos has steered clear of the "must" travel destination spotlight, which for me is great news because it has managed to remain genuinely Greek unaffected by the flows of mass tourism.
And you'll begin to understand what I mean minutes after the ferry pulls into the port: Alopronia (a Greek compound word meaning "grace from above"). You'll basically be lugging your bags onto a sandy beach that well, feels like home. A few more steps and you've basically just barged into a family gathering.
Welcome to Sikinos, where good life is all about taking it slow – as was pretty much the case on all the Greek islands in the '60s and '70s before thousands (32 million to be precise in 2019) of adventure-hungry travelers discovered the Greek isles, with the exception perhaps of Mykonos, Corfu, Rhodes, and Hydra, which have always been VIP favourites.
Sikinos, together with Folegandros, used to belong to the so-called "agoni grammi" islands, which means that any form of transport connection was rare, barely once or twice a week. This still happens in the winter or when the merciless Aegean winds decide to show their might. And not only that, but the ferry (vapori) couldn't even approach because the ports were too small so dinghy boats would carry travelers from the middle of the sea to the shore. Thankfully today things are easier.
Sikinos: The Perfect Place to Chill
A sheltered harbor, a handful of roads, three settlements, dozens of churches and chapels, a wonderful winery and some fishing and swimming: the perfect ingredients for a relaxing and fulfilling vacation.
All the action on this tiny Greek island home to some 200 permanent residents takes place in its three main settlements: Alopronia (the port), Pano Horio, and Kastro (also known as the "Hora"), which together form a "double town", and as of late Episkopi. All four are worth exploring with the Kastro bound to win you over with its tiny quarters and traditional white-washed homes well hidden from the winds (today) and the pirates (of yesteryear).
Make sure to head on up to the Zoodochou Pigis (which means "Life Giver") Monastery, a nunnery dating back to 1690-1834, the patron saint protecting the island from above and celebrated on the first Friday after Orthodox Easter.
You should also light a candle at the Church of Pantanassa (The Virgin Queen) in the main square in Hora, and admire the wood carved icons.
Escape to Greece with The Greek Vibe monthly Newsletter!
Walk Along Ancient Cyclades Trails
Sikinos is a hiker's paradise. A trek along its ancient "kalderimia" (handmade stone footpaths) reveals a dry and rugged terrain dotted with 61 churches and chapels no less, a valley or two for some color, and a handful of rejuvenating beaches.
I recommend visiting Sikinos in the fall (September) or in early June but if you're visiting in the summer, it's better to wake up early for your hike and find yourself a nice beach with some shade until sunset. Summer in the Cyclades can get relentlessly hot after 2pm.
Despite the typical waterless Cyclades landscape, Sikinos' indigenous flora and fauna is protected under the EU's Natura program. Sign-posting of the trails could be better.
For tried and tested hikes of all levels on Sikinos, complete with info, maps and detailed input by real users go here.
Sikinos' trails are part of the "Paths of Culture" project carried out by Elliniki Etairia – Society for the Environment and Cultural Heritage, which was awarded in 2019 with Europa Nostra's Public Choice Award. Sikinos is also among five Greek islands listed by Europa Nostra and the EIB (European Investment Bank) Institute as Europe's seven most endangered heritage sites. Learn more here.
Horio (which means village in Greek) is a well preserved agricultural settlement where you'll find good food and local products such as tiny waterless tomatoes, eggplants and grapes – all organic of course.
It goes without saying that like all of the Cyclades, homes on Sikinos are open to all and locals are ready to extend the warmest Greek hospitality with a spoon sweet, some local wine, a piece of homemade bread and cheese or even a simple smile.
If you're more the swimming type like I am you can either go to Agios Nikolaos or by boat to some of the more remote beaches like Ai Giorgis with its taverna, Gialyskari and Malta, which can get to via trail or by boat.
There is also a small museum of Byzantine finds in the Paraporti district in the southwest side of the Kastro, a few remaining windmills, and the impressive archaeological site of Episkopi: an Roman-era mausoleum converted into a church.
Top-rated places to stay on Sikinos
Maria's Travel Tips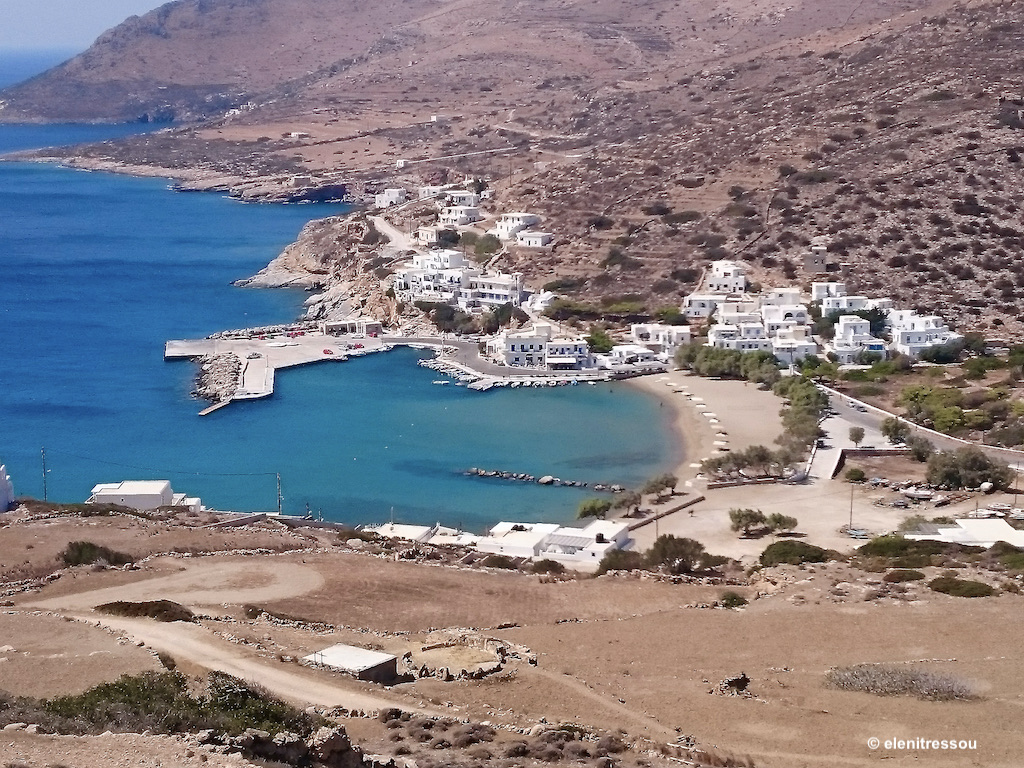 ✓On the road again… How do you get to Sikinos? By ferry from the port of Piraeus in Athens three times a week. The trip can take anywhere from seven to 10 hours. Alternatively you can fly to Santorini (45minutes) and from there take the local boat to Sikinos – a two-hour trip. If I were you and had a free day on my hands, I would visit neighboring Folegandros, about an hour away by ferry. In any case, check Ferryscanner to be sure.
✓ Indulge in… local Sikiniotiko cheese and red wine, of course. Sikinos was also known as "Oenoe" meaning "wine" due to its valley of vineyards. Make sure to try the local "karpouzenia" sweet made of watermelon (unique to the Cyclades), cheese and onion (kalasouna) pies, and fava. For the meat lovers, order stuffed goat (katsiki gemisto) or rooster in wine sauce (kokoras krasatos). If you're lucky you may find kritamos which is a delicious (and very healthy) sea fennel and pickled volvi (which are edible tassel hyacinth bulbs).
✓ Settle down… at the port Alopronia for extra options or in the Kastro-Hora area for a more traditional experience in guest house-style rentals or B&Bs. Alopronia is perhaps the busiest – if you can say that – part of the island with a supermarket, some bars and cafes. It's also where the main bus station is taking you to the island beaches.
✓ Don't forget to buy… thyme honey! Simply the best and of course sesame and honey pasteli bars and local wine and cheese.
✓ Truth or dare… try some yoga, go on a fishing tour, or visit the amazing Manalis Winery for a wine-tasting (and food) session and breath-taking views.
✓ Song & Dance… and of course don't miss a local panegyri: an open-air festivity usually dedicated to a saint featuring the traditional island fiddle, tsabouna (a bag-pipe type of instrument), and laouto instrumentalists playing traditional islands songs with plenty of dance.
---
Useful Tools to Plan the Best Trip to Greece
These are some of the trusted partners I use when I travel in Greece and abroad.
*The Greek Vibe may receive commissions on purchases made through affiliates and partner links. Clicking affiliate or partner links comes at no additional cost to you but goes a long way in supporting our work.
---
🎶 And I end today's post with the island's top fiddle soloist Father Theodoros in action performing the traditional "Akrida" originally from the island of Sifnos, which is a 'hidden' resistance song!
Enjoy this Post? Share and Pin it!