Although seeking Arcadia is the ultimate purpose in poetry and life, very few travelers to Greece have ever visited the area that inspired the term and later an entire movement. Arcadia is a region in the heart of the Peloponnese that inspired the ideal of beauty, harmony and abundance as this is portrayed by poets, writers and artists worldwide.
Why you ask? Well, one tour of Arcadia will give you the answer. Verdant forests, wild beaches, villages that have remained untouched, monasteries in the remotest nooks, endless vineyards, and mountains 'decorated' with one of the rarest pine tree species in Europe – all home to the god Pan and to his nymphs who have given their names to the rivers, the lakes and the waterfalls around you. This, my dear friends, is Arcadia, a mere two-hour drive from Athens and the next destination in Greece that should be on your wish list.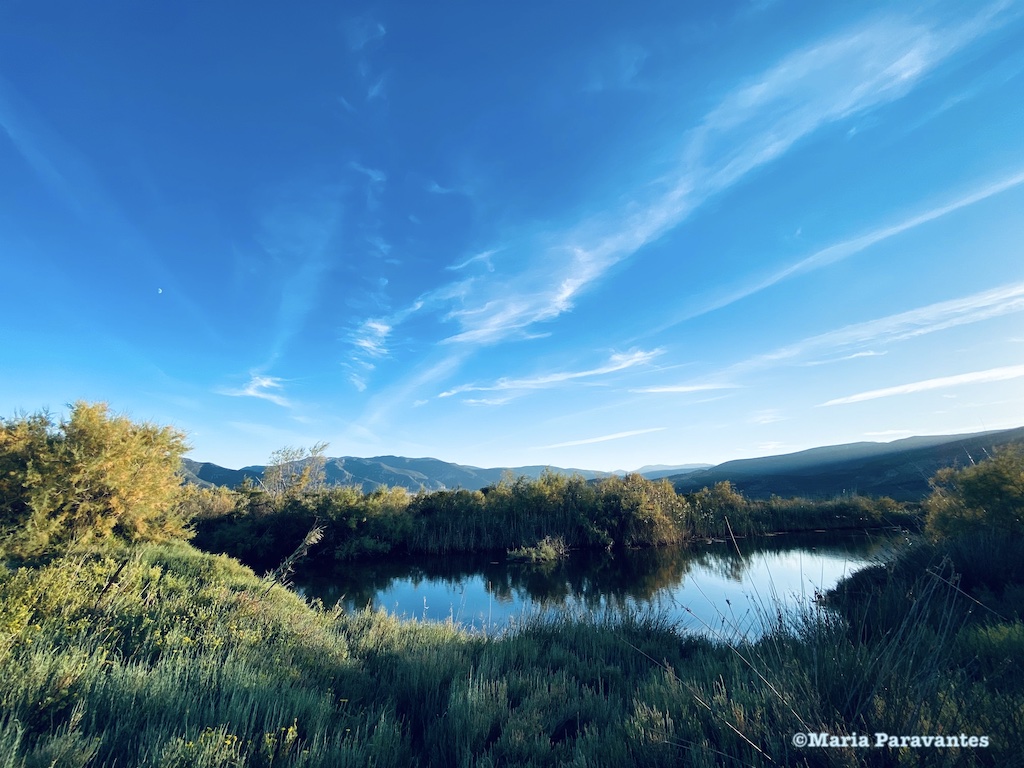 Arcadia: The 'Tuscany of Greece'
For the locals, Arcadia is Greece's very own Tuscany. A small area with such vast diversity that a traveler will never get bored. It's ideal for the solo traveler, families, the athletic types, the explorers, the culture fans, camping enthusiasts, archeology buffs, and of course, the gourmands. And yes, it's also perfect for the sea & sun lover.
Having spent all my summers in Arcadia ever since I was four, lived and studied there, I can safely (and objectively) say that it is one of the most beautiful places in Greece to visit, worth discovering NOW, before it becomes to touristy and loses its color and authenticity.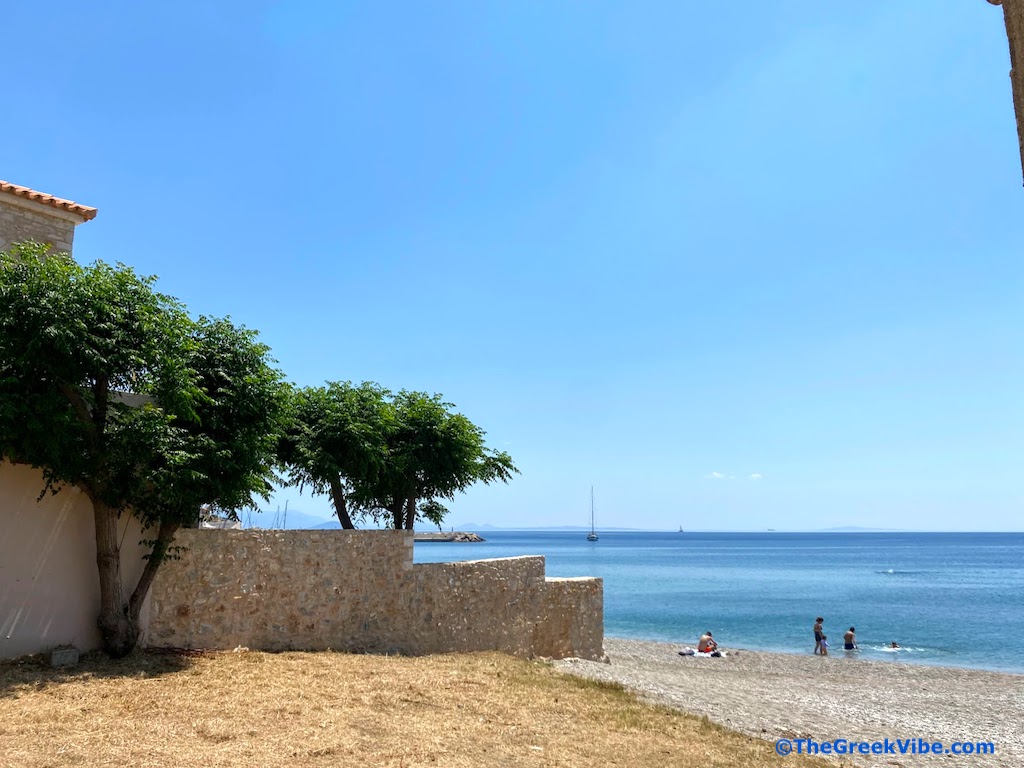 Discovering Arcadia Greece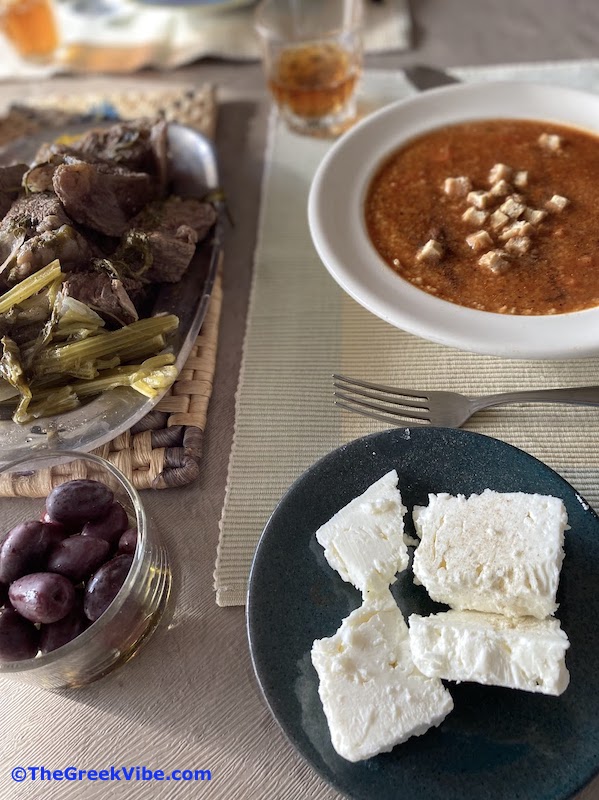 For me the best way to get the most out of your Arcadia travel experience is to go on a road trip. This means renting a car or ideally a camper and doing your own thing at your own pace. To really see and experience Arcadia, you would need at least two weeks. That's why those who have, keep coming back for more every year. Most of the roads are new but to be honest, I always prefer going via the old country roads which are more scenic and offer a sense of adventure that is sadly missing from today's travel culture.
You could, of course, take a bus to any of the areas I recommend below and travel worry-free, which is also something I do when I don't want to drive. I just throw my headphones on and listen to music as look out the window.
Unlike most of the popular areas in Greece, Arcadia has very few luxury hotels or massive resorts, which is what makes it a truer experience of the Greek countryside. The seaside villages are still very traditional, the mountain villages very well-preserved, the towns bustling with life, the beaches quiet and the waters crystal clear.
The very best way to discover the Peloponnese is to start from Arcadia!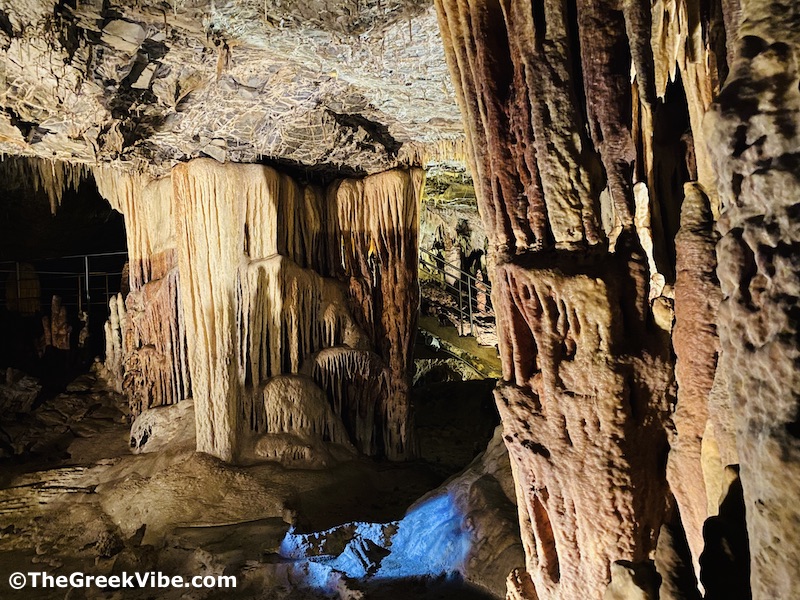 Places to Visit in Arcadia Greece
Mount Menalon and its Villages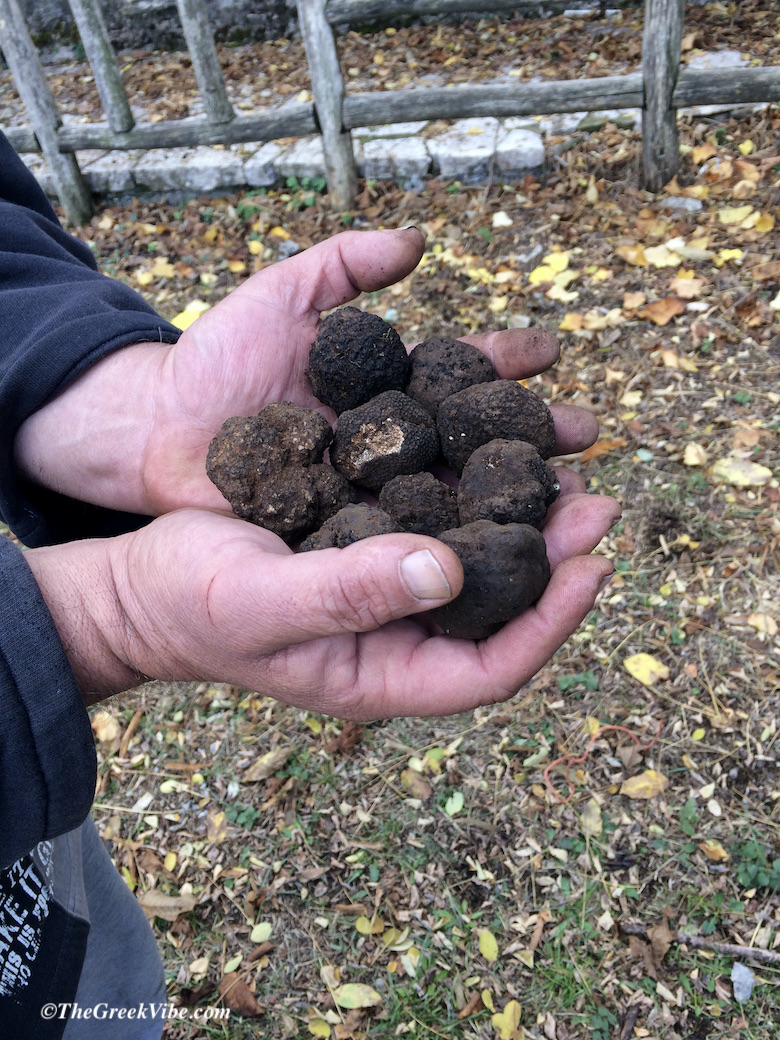 Mt Menalon is very near the town of Tripoli, my mother's birthplace. This could be an ideal base because it's a lively city with cafes, bars, supermarkets and hotels. From there begin your drive to Mt Menalon, the highest mountain in Arcadia at 1,981 meters. On your way make sure to stop at Agia Fotini, a very special church located opposite the Ancient Theater of Mantineia. Continue towards the Menalon ski resort, yes we do have ski resorts in Greece! And then start your journey towards the villages of Dimitsana, Zatouna, Karytaina, Zygovitsi, Vytina, Nymphasia, Magouliana, Stemnitsa. Make sure to visit the Menalon Forest History Museum in Chrysovitsi and the monasteries of Philosofou and Prodromou literally hanging over the Lousios Gorge. If you're up to it you can actually hike from one to the other.
All these villages in the Menalon highlands were the 'headquarters' of the Greek War of Independence and where it all started. Greek hero Theodoros Kolokotronis – who led the Greeks in their struggle against the 400 years of Ottoman Turkish rule – had assigned a certain task to each village so as to keep the struggle going. One village would bake the bread, the other do the wood work and so on.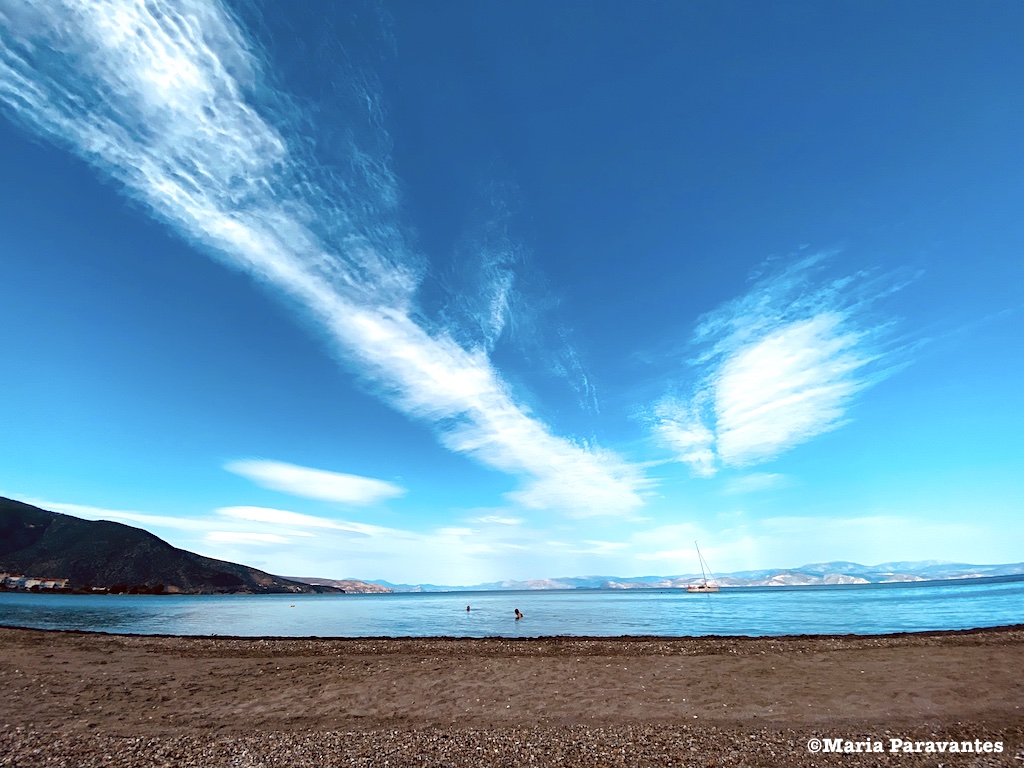 North Kynouria, Mount Parnonas and its Villages
The best way to discover this area of Arcadia is to head to Mount Parnonas from Tripoli. This is for me one of the most breathtaking trips in Arcadia, taking you from ancient olive groves and bucolic landscapes upward through one of the most diverse forests full of chestnut, walnut, plane and fir trees to the Alpine peak and downward towards the beaches of Arcadia in North Kynouria. On your way make stops at the villages of Karyes (known as Arachova by the locals), Vamvakou, Kastanitsa, Prastos, Kastri, Agios Petros, Vervena, Ano Doliana, and downward towards Agios Andreas and its beach. Ideally, you should stay for a night or two in one of the traditional guest houses or boutique hotels in Kastanitsa, Vamvakou and Karyes and then head down to the coast on the next day. Start from Paralio Astros and its endless Portes beach, very popular with kite and wind surfers, or for a stress-free kiddies beach go to Atsiganos. Xiropigado is nice and quiet. Stay for a couple nights in Paralio Astros or Xiropigado and make sure to visit the Moustos Lagoon Nature Reserve and Wildlife Refuge which you can walk to from Portes beach.
Next day off to South Kynouria and Leonidio. Stop for a dip in the crystal waters at Kryoneri beach on your way.
South Kynouria and Leonidio
Sea and sun and raw beauty. Set off from Kryoneri or Astros and head towards Leonidio. On your way there you'll come across a coastline laced with one incredible beach after the other. Most of the beaches are with pebbles or stones and opaque waters. If you come in June or September, you'll have them all to yourself. Pure bliss! There are several campgrounds along the way for those of you into camping. Stay overnight at Tyros, once a quiet fishing hamlet today a traditional seaside town with a very special aura. The next day head to Leonidio, stop for a swim at Sabatiki or Plaka beach. And yes, plan to stay a day or two in Leonidio. You can read more about this jewel of a town here. Have in mind that Leonidio is the capital of the Tsakonia region, home to a handful of villages that still speak one of the world's most ancient and still living languages dating back to the times of Leonidas the King of Sparta. Make sure to visit the mountain village of Kosmas and the Elona Monastery (the road needs your full attention but is spectacular).
Seeking (and Finding) Arcadia
It's no wonder the region I spent most of my childhood and adolescent years has inspired poets and writers for centuries. Arcadia – as in poetry and art – is indeed still an unspoiled natural landscape where with a bit of imagination you could still feel (if not see) playful nymphs dancing in the shadow of the massive evergreen trees.
This is the home of Pan, the ancient Greek god of fertility and sexuality, spring, impromptu music, the shepherds and their flocks, the woods and the wild. As a nature spirit, Pan – half man half goat – was worshipped in nature and rarely in temples like his counterparts. You can still see remnants of one of the two temples dedicated to him along the Neda River Gorge in the southwestern Peloponnese.
In literature, Arcadia is perfect and thus a utopia, never attainable. But I if you know where to go, I'm sure you too will discover your Arcadia in Arcadia, Greece. Read on.
Did you know the word "panic" is derived from a reference to Greek god Pan?
Escape to Greece with The Greek Vibe monthly Newsletter!
The Best of Arcadia Greece: Maria's Tips
Best way to discover Arcadia? Start from Tripoli, the capital of the Peloponnese and head to one of the three itineraries mentioned above. Plan to stay a day or two in each area so that you have the chance to explore.
Arcadia is the ideal playground for the alternative traveler, for those of you seeking simplicity, authenticity, adventure and self-discovery.
What to do in Arcadia Greece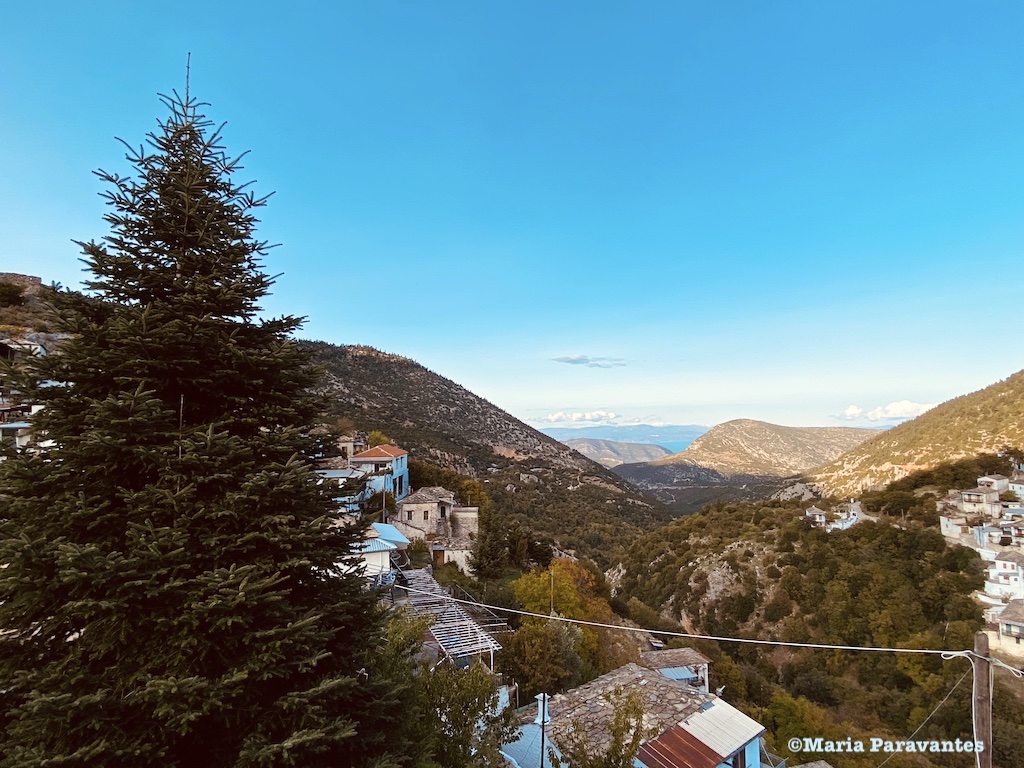 Everything! Yes, no exaggeration. You can ski in the winter and then dive into azure waters in under an hour. You can hike on trails that connect one remote village with the next and then sit and enjoy a Greek meze and some ouzo on the beach. You can try your hand at archery, pick chestnuts in a chestnut forest and then find your inner peace under a waterfall very few know about, you can enjoy fresh fish overlooking the sea or kite surf to your heart's content, you can climb some of Greece's most challenging cliffs and crags or explore old-world monasteries literally hanging in the air. All of this in Arcadia.
That's why for me, those of you who love Greece and Greek food and culture and who are looking to get away from the mainstream, Arcadia is the place to go.
►Where to stay in Arcadia?
Arcadia and its towns and villages have managed to remain genuine because there are no massive resorts. Choose instead to stay at boutique hotels or guest houses mainly in the villages for a more genuine feel.
►Things to do in Arcadia
✓ If you like nature exploration or hiking, then you're at the right place. Book a hike with the experts in the region: The Menalon Trail – with hikes for all levels spanning 75km of Arcadia forests.
✓ Adventure your thing? The go on a rafting day trip down the Lousios or Ladonas rivers. These guys do a great job.
✓ herb and mushroom collecting
✓ horseback riding near Dimitsana
✓ skiing on Mt Menalon
✓ swimming and fishing in North and South Kynouria
✓ visit the monasteries in all three areas above
✓ tour the wineries, sample the wines
✓ visit Kapsia cave especially if you have kids (outside Tripoli)
✓ visit the Archaeological Museum in Tegea (outside Tripoli).
►When to visit Arcadia
I would safely say all year round. Arcadia is an all-weather, all-inclusive destination. Actually, the mountain villages around Mt Menalon are winter holiday spots for the Greeks. And then you have the coastline which is also perfect all year round. Ideally, I would recommend you visit in spring (breathtaking!) end of May early June or in September and early October when it's also much cheaper.
►Easter in Arcadia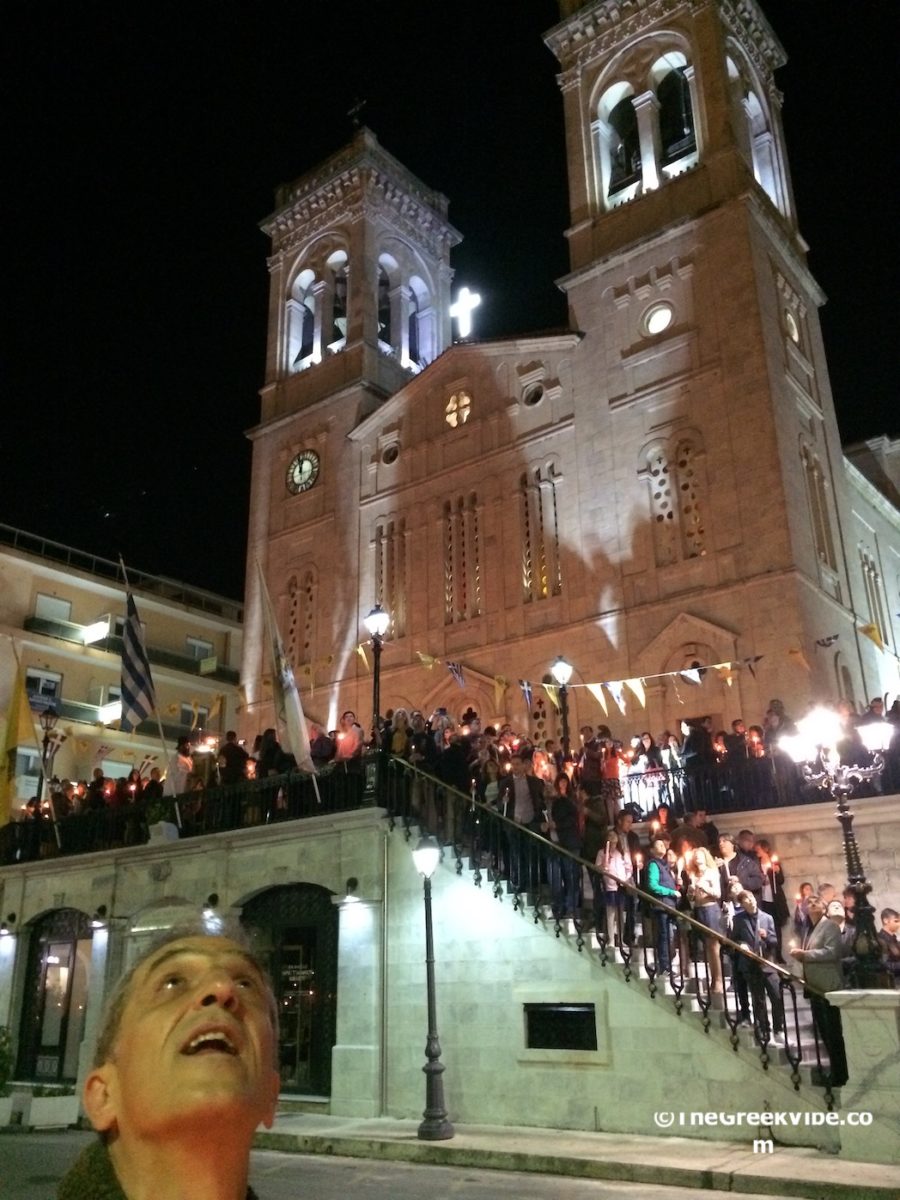 When I was a child, Easter in Tripoli was a very big thing. Greeks from far and wide would come to town for the biggest Orthodox celebration and rightfully so! The feast, the processions, the hymns and the music, the dancing and the food are still very much alive with most of the happenings taking place in Tripoli's massive Plateia tou Areos (or Areos Square). I always say, if you want a true Greek experience, then make sure to visit Greece during Easter at least once. You won't regret it.
►What to eat in Arcadia?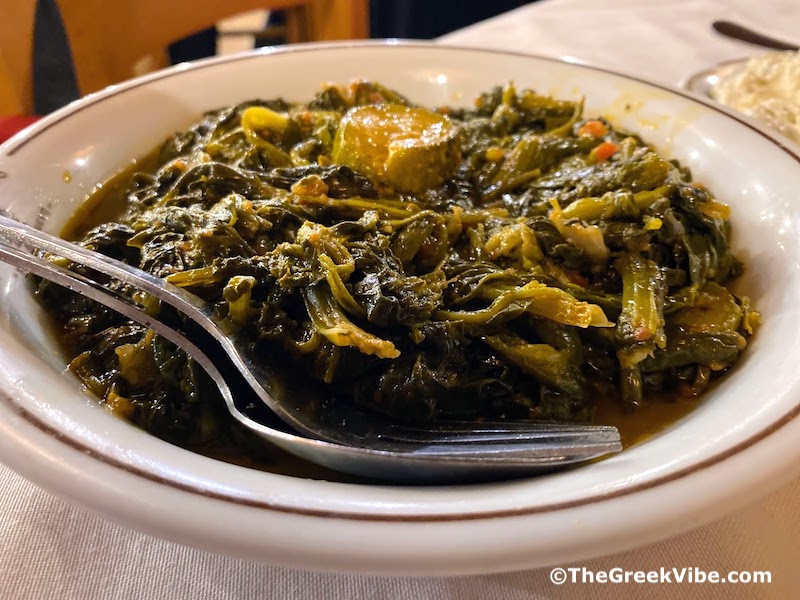 Where to start? So many traditional foods. Try "lagoto", my absolute favorite, rabbit or pork stewed in garlic sauce, "stifado" (meat and onion stew), risotto with black truffles found at the foot of Mt Menalon, "trahanas" soup (a traditional pasta), "gioulbasi" and "bogana" (lamb or pork baked in wax paper), "kolokythokorfades" (greens and zucchini in tomato sauce), anything with the famed and local "Tsakoniki Melitzana" (a unique Greek eggplant), "herino me selino" (pork and celery stew), "horta yiahni" or greens in tomato sauce. In Kastanitsa try anything made with local chestnuts! And spoon sweets (more about those here), baklava, kataifi and galopita (custard pie).
►What to buy from Arcadia
Tripoli's very own spirit "Tipota" liqueur, strained yogurt (ask for "giaourti sakoulas"), and cheeses, particularly graviera from the mountain villages, spoon sweets from Levidi and Vytina as well as the famous "melitzanaki" from Leonidio, and of course, the one and only "Meli Menalou" or Menalon honey, also known as "vanillia", which is also a PDO (protected product of destination origin). In Kastanitsa, buy chestnuts. Tripoli is famous for its apples, cherries and garlic and last but not least! The wines! The plateau around Tripoli is home to the famed Moschofilero variety which produces wonderfully fresh and fruity wines.
---
Useful Tools to Plan the Best Trip to Greece
These are some of the trusted partners I use when I travel in Greece and abroad.
*The Greek Vibe may receive commissions on purchases made through affiliates and partner links. Clicking affiliate or partner links comes at no additional cost to you but goes a long way in supporting our work.
---
♫ I end today's post with a song about woman who eager to fight for freedom during Ottoman Turkish rule dressed as a man, a "klepht" or a Greek brigand, and managed to remain unnoticed for 12 whole years until a button popped off and revealed her secret. Her name? "Arkadiani" here featuring Greek demotika (folk song) singer Amalia Karzi born in the Peloponnese.
Enjoy!
Enjoy this Post? Share and Pin it!