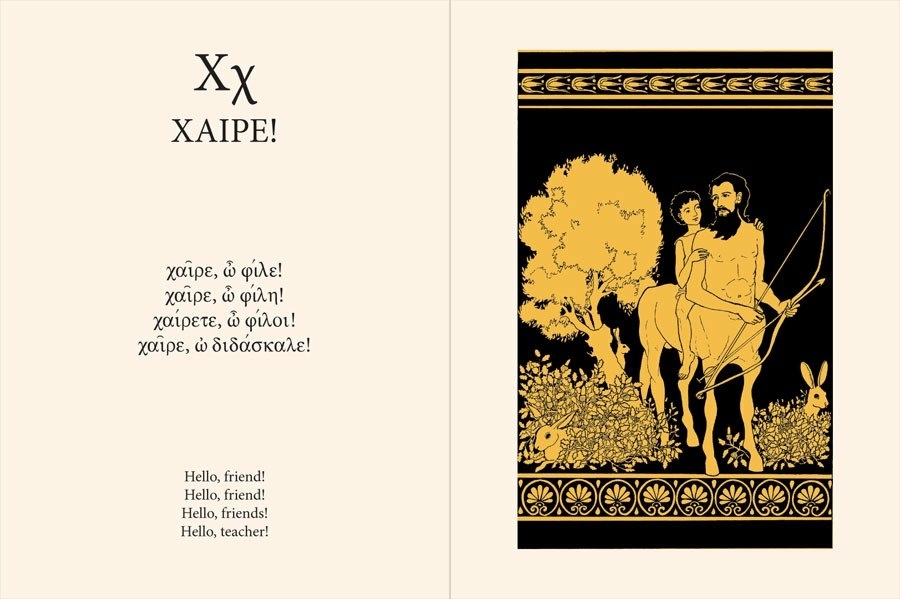 A picture book with tiny poems that teaches kids Ancient Greek? Well, yes. And written by a non-Greek who is Greek at heart.
The universe (or God) works in great ways and that's exactly how I came across Alpha is for Anthropos, which translates into "A is for Human".
This wonder of a book was written by Therese Sellers and introduces children to the fascinating world of the oldest living language: Ancient Greek.
To create memory links, Therese mixes short poems with myth and beautiful art work inspired by ancient Greek pottery created by her sister, Lucy Bell Jarka-Sellers, also a Greek philosophy graduate.
Therese was not born Greek but intrigued by the stories she heard during grade school in the US started learning Ancient Greek in her teens. She took that soft spot a step further and completed Modern Greek language studies at Harvard. And then she moved to Athens in the '80s, and it was a matter of time before she purchased a holiday home in the Peloponnese.
Alpha is for Anthropos
Why Alpha is for Anthropos? As a true philhellene, Therese believes that the answers we seek to create a humankind of compassion can be found in ancient Greek language, philosophy and thought – the foundation of Western culture – which are anthropocentric, casting the essence and responsibility of existence on humankind.
That said, Therese believes the first thing any child should learn is how to be an "anthropos" or in the sense of the Greek word: a giving and compassionate human being.
Discovering and reading Greek poets changed her life. As a post-graduate student, Therese moved on to contemporary Greek writers and poets. Let's not forget, this tiny nation of 11 million has given us two Nobel Prize winners: Odysseas Elytis and George Seferis – both in literature.
Her latest pet project is the first translation in English of Asia Minor Greek Ilias Venezis' Land of Aeolia. 
Therese believes the reading world knows very little about Greek literature with the exception perhaps of Nikos Kazantzakis (nominated nine times for the Nobel) and known for Zorba the Greek and The Last Temptation of Christ. She also believes Alexandros Papadiamantis is one of the greatest writers globally. 
Escape to Greece with The Greek Vibe monthly Newsletter!
Touched by Greece!
Guests and friends tell us how they've been 'Touched by Greece'
Therese Sellers creatively chose to answer The Greek Vibe's questions with one of her tiny poems (in italics below) inspired by Japan's short form haiku poetry and by the style of Dionysios Solomos, the poet who wrote the Greek national anthem.
1) How were you 'touched by Greece'?
✒A wild iris on a Greek hillside led me astray
Greece touched me first through the stories of Homer and the plays of Sophocles and Euripides, which I read in Ancient Greek. Then I fell in love with the physical landscape of Greece and her living language and traditions. As a teacher, translator and poet, I try to share the ways that Greece inspires me.
2) What does Greece mean to you?
✒In an olive grove, a small white church witnesses a family feud
For me, Greece means a certain village house with yellow roof tiles and tall cypress trees growing beside it. Greece means olive groves, goat bells, and the buzz of cicadas. Greece means Byzantine churches and tiny shrines to the Orthodox saints.
3) Your favorite place in Greece?
✒In the breast of the Peloponnese, hear it beating: the heart of Greece.
I love every part of Greece, but even when I'm on the most exquisite Cycladic island, I miss Epidavros.
---
☞Pour yourself a drink you love, prepare a Greek meze and discover the magical world of Ancient Greek with Alpha is for Anthropos available here or the Alpha is for Anthropos: A Greek Alphabet Coloring Book which you can find here.