The secret is all in the eyes, says Thomas Kunstler, a filmmaker, director, and artist born in Rome and living in Athens. And when you realize that these "eyes" are made of clay, you can only imagine the passion and patience that goes into his art: stop motion animation.
What is stop motion you ask? It's a filmmaking technique which animates puppets usually made of clay and shot step by step to create a full-length film. For me it's what I used to love watching as a child because these films always had reality-like feel but were in a way very much similar to fairytales – which meant you could give them the ending you wanted.
Thomas breathes life into his handmade puppets creating stop motion animation films that transport you straight to the heart of Greece.
The Greek Vibe is very happy to introduce this month Thomas Kunstler, his clay dolls, his art, his animation and his love for Greece. And if you don't know him, the time is now to get carried away by his wonderful work.
I first came across his short films writing a post about the rebetiko genre – widely known as the Greek Blues. To my surprise, I discovered this short film which managed in just under three minutes to capture the essence and atmosphere of the rebetiko in sight, sound and feel. To my even greater surprise, the creator was not Greek and was in his mid-20s capturing the true feel of songs and of a way life that is now more than 100 years old.
Finding Inspiration in Greece
Thomas was in his mid-teens when he started playing with clay and animation. All he has done since is to remain committed to his passion. Why? Because it makes him feel good. Wow! What wise advice.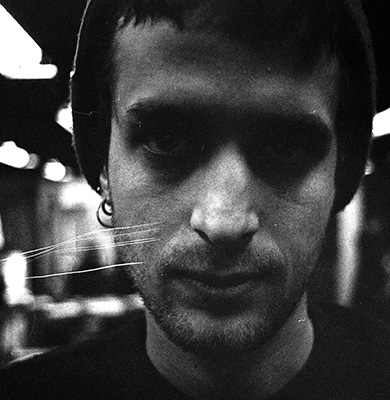 Why did this Italian craft stop animation about the rebetiko? Because he found in the rebetiko lyrics – penned more than a century ago – words that expressed his feelings.
And as a true artist can always find inspiration even in the smallest of things, Thomas found it in the rebetiko, which he says not only tells a story that is still relevant but has remained unexpressed in the arts.
The process of stop motion animation is far from simple. Thomas crafts each puppet by hand, then constructs a story, and then scene by scene shoots his puppets in (handmade) action.
Catch a wonderful glimpse into the rebetiko subculture in this touching and nostalgic short video.
Greece's rebetiko, a music genre once associated with the outcasts and laymen of Greek society only to become a major part of upper class entertainment and later an important part of Greek music culture, was included on UNESCO's 2017 list of the Intangible Cultural Heritage of Humanity as an expression of cultural and historical significance that must be safeguarded for the collective interests of humanity.
Besides his two shorts inspired by the rebetiko and an animation film – Markos to be titled Markos – The Film – about the "father of the rebetiko", Syros-born Markos Vamvakaris, he is currently preparing a short stop motion animation "fairytale" titled "Roz Vouno" (Pink Mountain) set in Epirus, Northern Greece, in the times of Ali Pasha of Ioannina.
He is also dreaming about his next adventure: bringing to life American country music and the loud saloon atmosphere with his clay dolls and filmmaking.
 Each year, the island of Syros, home of Vamvakaris, hosts the annual rebetiko festival and the Animasyros International Animation Festival.
Escape to Greece with The Greek Vibe monthly Newsletter!
Touched by Greece!
Guests and friends tell us how they've been 'Touched by Greece'
1) How were you 'touched by Greece'?
Through music! When I was studying filmmaking in England I got to know the filmmakers Dimitris Lambridis and Antonis Kitsikis. They became my best friends. Music for me has been one of the greatest discoveries. I've been introduced to Greek music – from the rebetiko to [Manos] Hatzidakis – and from then, I started researching, exploring this new world. Thanks to the rebetiko and the music of the great composers I discovered new sounds, a new language, a new culture that I liked very much.
2) What does Greece mean to you?
I means a lot, it's home, a source of inspiration, of joy and sadness and frustration at the same time. Everything around me at this point feels familiar. I feel equally confident walking around Athens as in Rome. Athens is the place where I have some of the dearest people of my life.
3) Your favorite place in Greece?
3. My favourite place in Greece is the place I haven't been to yet. I love exploring and unfortunately I didn't have the chance to travel in Greece as much as I would have liked to. I'd love to see the north and the mountains.
You can see more of Thomas Kunstler's work here.