Where does one begin to describe the man behind a music that not only radiates Greece, but also soothes the soul. A man who uses his gift to raise awareness for dozens of causes, who steers clear of titles and labels and moves with ease from music to food and from there to kindness and giving. This man is Greek-American composer, musician and as of late chef George Skaroulis.
His is a music used by healers, massage therapists, and animal welfare societies to create calm and inner peace not only for us humans but also for our furry friends.
'Love Makes the World Go Round'
George strongly believes that "love makes the world go round" and this innate generosity emanates from his music and his actions.
He may have 16 CDs under his belt and dozens of concerts to boast about, but he is above all a "philanthropist" at heart. (Philanthropist – a Greek compound word which broken down means '"philos" – friend – and "anthropos" – human or a 'friend of humankind'.) And he crafts a lingering music that takes us out of the tunnel and into the daydream.
"As our lives seem to spin at such a hectic pace, we easily forget to step back, take a deep breath, relax, and appreciate what we love in our lives. Now, more than ever before, we must learn to slow down, reflect and recharge, taking the time to find our own peaceful sanctuary," he said back in 2015 for the release of Sanctuary – a message which I believe is as timely as ever in the era of Covid.
Among others, George's soft ambient music is also used to heal animals. Besides working with the Atlanta Humane Society which played his music to relieve kennel dogs, he teamed up with author Jennifer Skiff for the release of "The Divinity of Dogs: Music to Calm Dogs and the People Who Love Them", which you can find here.
The Patmos Connection
George was born to a family of Greek restaurant owners in Clearwater, Florida. Music came naturally to the five-year-old who decided early on that he wanted to play by ear unlike his classically-trained mother.
But it was Greece, Patmos and his grandfather's passion for photography, that inspired much of his work. So much so that he compiled 80 years' worth of photos by his grandfather Theo and organized "The Generations" music and photography exhibit on the island. "To say the least, it was an emotional event," says George.
Today, George lives and works in Atlanta, Georgia. When he's not composing or working in the family business, the 58-year-old stands in as part-time chef for the Piedmont Cancer Wellness Center, where he teaches healthy cooking classes and prepares Mediterranean dishes for "cancer thrivers".
Music for a Cause
George Skaroulis' latest project is a public service announcement for the American Friends of the Blind in Greece. To learn more or support the Lighthouse for the Blind of Greece go here. Not only did he help produce the video, George also narrated and composed the music for the project titled "The Lighthouse" to help raise awareness and garner support. Check out the video about the "Faros Tyflon" (aka The Lighthouse for the Blind) located in Kallithea here.
And it's not the only project he's done to raise awareness and funds. Other causes include performances and concerts that helped raise thousands of dollars for the Multiple Sclerosis Foundation, the Massage Therapy Foundation, American Friends for the Blind in Greece, the American Cancer Society, Haiti Disaster Relief, as well as the Humane Society, and for AIDS research.
Touched by Greece!
Guests and friends tell us how they've been 'Touched by Greece'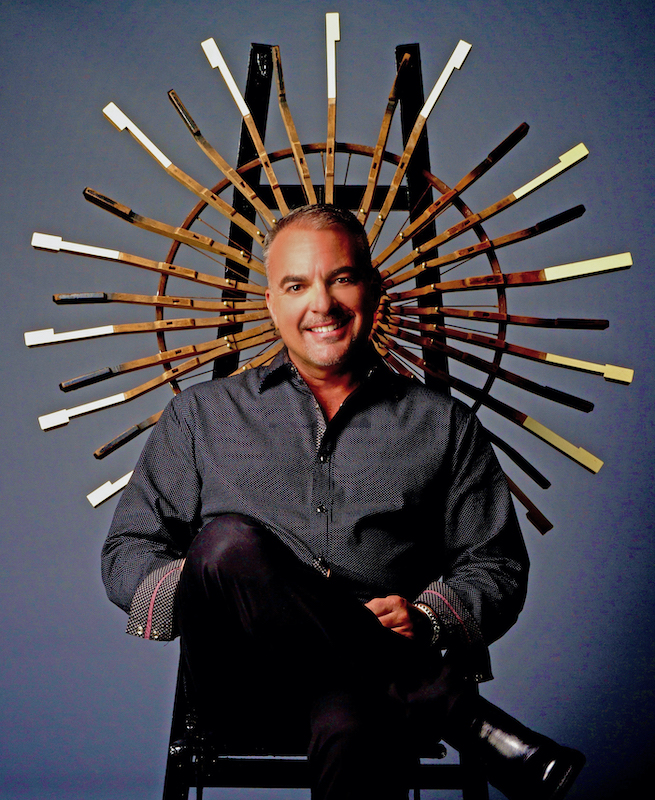 1) How were you 'touched by Greece'
In 1976, our family traveled to Patmos. That year, I brought along my keyboard because I knew I would be inspired. I climbed to the roof of my grandfather's house and channeled all of the wonderful history and emotion under the stars with the Monastery of St John in sight. There, my album Return to Homeland was born.
2) What does Greece mean to you?
Family, tradition, honor, bravery, history, religion, music, dance, the sea, and the amazing feast of life!
3) Your favorite place in Greece?
Santorini for the sunsets, Patmos for reconnecting to my heritage.
---
The Greek Vibe loves George Skaroulis' Return to Homeland available here and his moving album Generations available here. You can also find him on Spotify and on his website.
Escape to Greece with The Greek Vibe monthly Newsletter!