A London-born writer and translator who decided to make Greece her home in the 1970s because of its light, its language, and its flowers: If there is one person that is very much inspired by Greece then that definitely is Caroline Harbouri.
Her latest project – one of many – is the translation into English from Greek of Alexis Panselinos "The Lame Angel" out on Recital Publishing.
Titled in "O Koutsos Angelos" in Greek, Panselinos crafts a captivating story set in World War II Athens, featuring the adventures of a defeated Greek-American detective who has escaped to Greece after being hunted down by the mob in New York. After a failed attempt to make something of himself, our 'fallen' detective finds himself with an unexpected assignment and gift he never imagined. The rest is all in the book which I recommend for those of you who love to read or who are interested in contemporary Greek writers.
I really enjoyed the The Lame Angel, which I read in English and which thanks to Harbouri's smooth translation managed to keep the "Greek feel of the language" alive. As a bi-lingual speaker and writer, I always make it a point to read works in the original language and this because it is very true that a translation can "make or break" a book.
In the case of Panselinos, who resourcefully plays with the Modern Greek and its slang and expressions, Harbouri delivers a wonderful read of The Lame Angel magically bringing a foreign reader into the feel 1940s Athens during the Nazi Occupation (known as "Katohi" in Greek).
And the Greece inspiration doesn't stop there for Caroline. Under the pen name Petrie Harbouri, she has published three novels of her own: Graffiti, The Brothers Carburi, about three brothers from 18th-century Kefalonia, and Our Lady of the Serpents, to be reissued by Recital Press soon.
In the meantime, this Brit with degrees in English and French from the University of Cambridge and a Greek nationality is also an avid gardener who in 1994 together with a few other "green thumbs" founded the Mediterranean Garden Society (which you should expect to read about in an upcoming post).
The Mediterranean Garden Society is today a non-profit-making association with members in 38 countries dedicated to mediterranean-climate gardening to cultivating plants that can survive and thrive in summer-dry climates. Besides the exchange of secrets and knowhow, the group also arranges lectures, garden visits, and expeditions to areas of floral interest for its members.
---
For those of you interested in bringing a touch of the warm Mediterranean to your home, why not create a Mediterranean garden? Learn how from our friends at Happy DIY Home.
Escape to Greece with The Greek Vibe monthly Newsletter!
Touched by Greece!
Guests and friends tell us how they've been 'Touched by Greece'
✒How were you touched by Greece?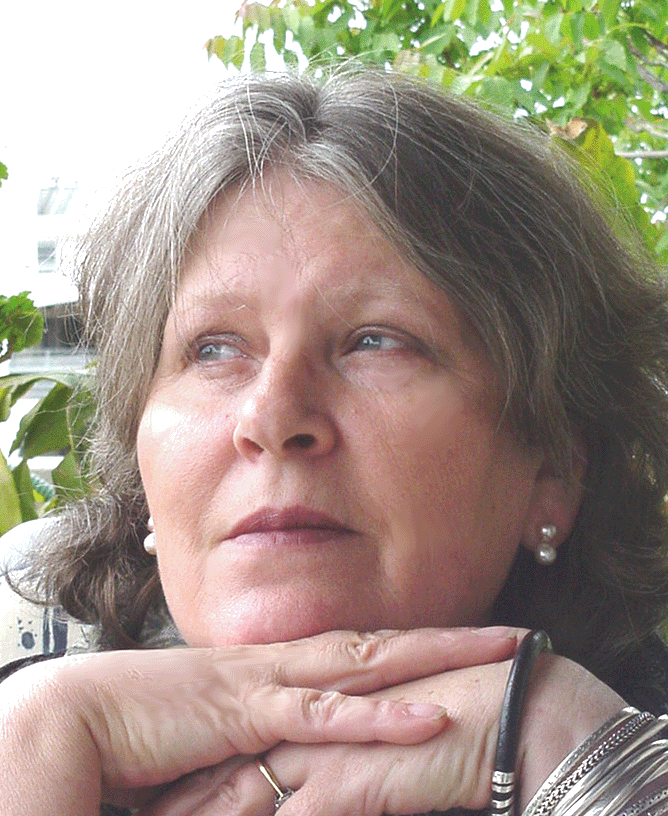 The Greek language has fascinated me since I studied Ancient Greek at school. The texture of Modern Greek, ranging from the formal to the ultra-demotic, with its preservation of ancient words – one or two going as far back as Linear B – and its later borrowings from Turkish, is a source of never-ending delight.
✒What does Greece mean to you?
Greece means home. The clarity of the light, the rich layers of history, the wealth of the Greek flora, and not least, the admirable tenacity of the Greeks form the background to my life.
✒Your favorite place in Greece?
Hard to pick one. I love Nafplion for its elegant little houses and seafront. I love the Monastery of Kaisariani on the footslopes of Mt Hymettus for its beauty and tranquillity, its trees and fresh springwater, a mere stone's throw from central Athens. I love the town of Chania in Crete. Each of these places is impregnated with its own history.
☞ On the beach? At home? Make yourself a nice coffee and embark on an exciting journey of World War II Athens where the meaning of life takes on a whole new meaning. Get Alexis Panselinos' The Lame Angel available here. You can also find Caroline Harbouri's And Our Lady of the Serpents here.