I met Domna Samiou many years ago. I was going to interview her for a story. I was so enthusiastic and at the same time so edgy that I still remember my thoughts as I drove to her home in Nea Smyrni. I got out of the car and as I rang the doorbell my heart began to race. I had admired Samiou since childhood. Her clear, metallic voice was so sincere that I knew to expect a personality of the same caliber.
She opened the door to her Spartan home embellished mostly with traditional musical instruments and greeted me warmly with a handshake and a smile. I wanted so to express my admiration right there and then that I barely let her speak. A few humble "thank yous" later, she asked if I wanted coffee, Greek coffee she emphasized, but warned me that she was not really a "kitchen person". Well, who needs to be good in the kitchen with such a wonderful voice, I responded.
And thus we sat down, where she began to tell me her story: she was born in 1928 in Kaisariani, a deprived Athens neighborhood at the foot of Mt Hymettus. Her parents had fled to Greece during the Asia Minor Catastrophe in 1922. They were refugees from Bayindir, Smyrna.
[This is a song "Aman Gkel Aman" of their native Bayindir taught to her by her mother Maria.]
'We were starving. There was hunger'
Samiou lost her father and sister when she was young, the Depression, she explained. "We were starving. There was hunger." And so a wealthy Kolonaki family took her in as domestic help at the tender age of 13. The mistress of the home would soon discover that this was no ordinary "help". Young Domna's vocal acrobatics would resonate as she did the household chores. The woman was so taken aback by the child's talent, that she sent Domna to Simon Karas – master of the Byzantine Musical Art and dedicated to the documentation and preservation of Byzantine and Greek folk musical traditions.
"On Sundays, I would wear the only dress I had and rush to hear the mesmerizing hymns. Whenever I saw a wedding or even a funeral I would join the procession just to chant along. I couldn't wait for Apokries Carnival Season and Easter."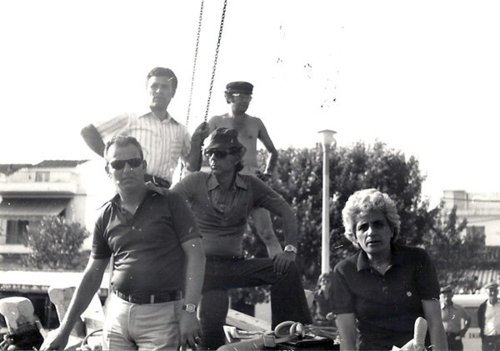 Samiou explained that she could soak in every word and piece of information. "To this day, now that I'm old, I know all the hymns word for word. The only thing that upset me was that I couldn't join the boys and chant in church."
Karas heard the little girl and distinguished her vocal talent as well as a deep passion and thirst for learning. This was the "official" start of her "career" in traditional Greek music.
"Karas taught me many things about the demotika… that each region has its own musical style, rhythms, instruments and dances that accompany the music."
[Domna interprets "Oso Varoun ta Sidera", a traditional Cretan "tabahaniotiko" song, an urban idiom played in the Rethymno and Hania regions of the island.]
Escape to Greece with The Greek Vibe monthly Newsletter!
Byzantine Music & Simon Karras
She described her relationship with her "daskalos" (teacher) as a "landmark" in her life. And explained that he had a thorough knowledge of Byzantine music and by extent of the demotika genre, which is deeply rooted in Byzantine music. "When Karas taught us a plagal mode for a church hymn, he would add an example of a folk song that was based on the same sound."
Besides her memorable true-to-tradition interpretations, Samiou's most notable and valuable contribution to Greek music is her research and archival material. Her job as a radio producer at EIR (Greek Radio Institution) in 1954 under Karas' supervision, brought her face to face (and ear to ear) with tradition in-the-making as it was very much alive all over Greece.
With an Ucher tape recorder over her shoulder she roamed rural Greece, stopping in the most isolated of Greek villages nestled in the mountains and during feasts, celebrations, funerals and over coffee she would ask (and record) the locals – mostly septuagenarians – to share and sing.
"That's how I created my own archive of thousands of songs. I would go to the "kafeneio" (local coffee shop) or village center and ask whether they knew anyone who sang well. Usually the response was 'Kyra Maria sang wonderfully… but she died…'"
["Marmarinos Karsilmas" – a traditional song from Propontis (Sea of Marmara) recorded in 1982.
Traveling Greece to Record Music
Karas, she explained, had done this by hand… writing down the musical phrases he heard, a painstaking process because "unlike Western music, demotika songs are brimming with 'tsalimia' (musical adornments) which depend on the singer, the region, the technique and which change with every single interpretation".
She then demonstrated herself, singing for me a song three different ways. [I still have the recording, the only one I have kept of all my interviews over the years.]
Samiou was a very strong personality. On the outside she seemed unbending, but all the intuitiveness on the inside was manifest through song.
"It was a hard job," she said. Greek folk song has for centuries been passed on from generation to generation through word of mouth, many songs had never before been recorded. And that is also why she was against any type of intervention to demotika.
"These songs have survived for centuries. This is our song, our melodies and verse, any intervention to this wealth is merely changing it into something it is not," she said emphatically.
A television crew on a shoe-string budget later accompanied her and thankfully her "Musical Travelogue" are now part of the Greek National Broadcaster's ERT archives.
At some point in the interview, I remember Samiou felt she had to defend Greek traditional song. She explained that it was the military junta in 1967, which gave demotika a bad name, associating it with a distorted form of nationalism and by allowing only demotika and military marches on the radio.
"People associated the demotika with the junta. They were sick of it all." And so she resigned from her post after the 1967 military coup, because "things were horrendous".
English Bach Festival
Samiou saw a stage for the first time at age 43 in London during the 1971 English Bach Festival, where she sang traditional songs for the 150-year anniversary of the Greek Revolution.
But it was an Epirot song, which she sang a cappella at the historic Rodeo Club (later the Kyttaro) in 1971 that took audiences by storm, mostly politically aware university students who stood up and cheered.
Some 10 years later, in 1981, Samiou founded the "Domna Samiou Folk Music Association", which records, preserves and promotes Greek folk music tradition in its genuine form.
"My dream was to bring in traditional groups from around the world and exchange traditions and insight, but the association is very poor. Besides producing albums we can do very little else," she told me back then.
As our interview came to a close she became apologetic in way. "Unfortunately, I haven't managed to do the things I wanted to and now I've become old. How long do you think my voice will last? I would suggest a closer examination of the people who are around our culture minister. The future of the demotika, of Greece's musical heritage, is in their hands."
Samiou represented Greek traditional music for over half a century with an overpowering commitment. She performed everywhere from the tiny villages of Greece nestled in the mountains to the prestigious international festivals across the globe. Her example is one of dedication, determination, constant yearning, learning and love.
"What I've done, I've done out of my love for our tradition," she told me. Adding her advice to the younger generations: "Money is no motivation, deep love for your art is."
To this day, Samiou's voice sends chills up my spine. Not because of her exceptional vocal technique, nor of the profound knowledge that it embodies, but because it's as if she is intrinsically tied to the haunting mountain echoes, the soft Mediterranean breeze, the comforting whisper of the cypress tree leaves, the crisp running waters and the sounds, colors and history of this land. And it is there that she will continue to live on…
Maria's Greek Music Bits
♪ For Domna Samiou's TV archives go here
♪ For a taste of her talent listen to 'Tragoudia tis Xenitias', 'Mikrasiatika Tragoudia', 'Ta Paschaliatika', 'Ta Apokriatika', 'Tis Kyra Thalassas' (Of Dame Sea), 'Kaneloriza'.
---
♬ Domna Samiou here in a moving rendering of a traditional demotiko song from the Northern Greece region of Epirus about "xenitia" or the feeling of loss and nostalgia for the homeland of those forced to leave. "Xenitemeno Mou Pouli".