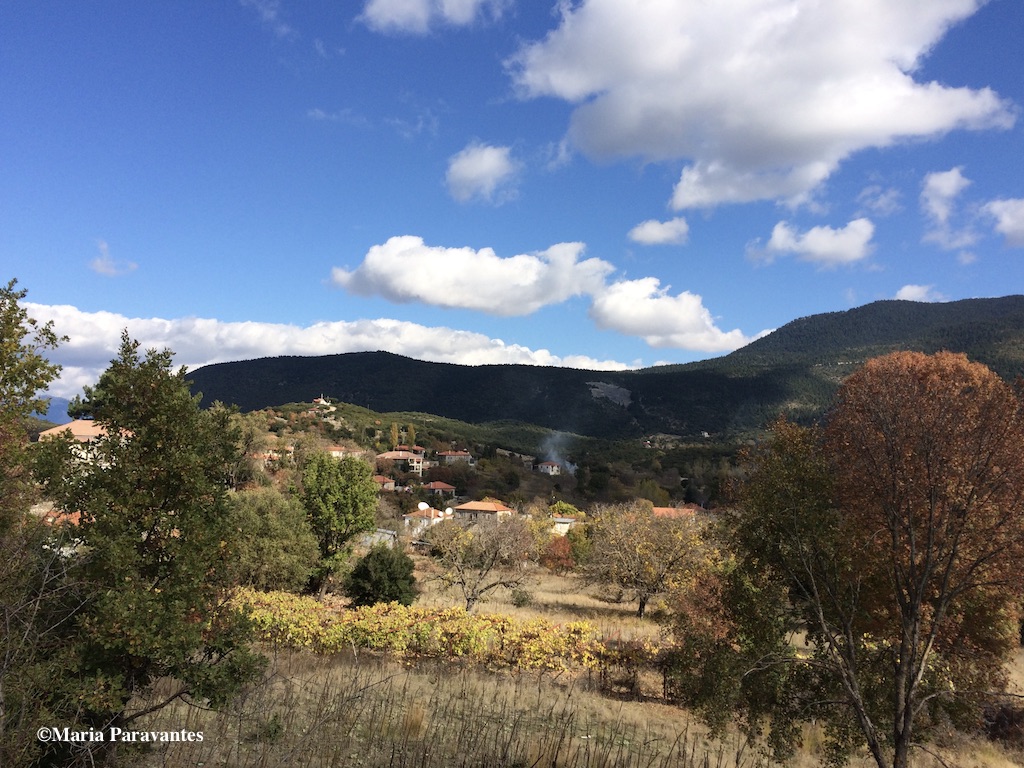 When you think of Greece, you probably picture sandy beaches, red wine and great Greek food by the sea, and lots of sun. But did you know that Greece is even better in the fall?
For starters, the waters of the those super clean, award-winning beaches are warmer, the weather is milder – not too cold, not too hot or as Goldilocks said: "just right" – the faces are friendlier, and the prices lower, not to mention much more free space on the beach, on the islands, on the ferries… everywhere!
And if you're the responsible type of traveler, visiting Greece in the low season also means respecting the environment.
For me, traveling to and through Greece in the autumn is basically getting the best genuine Greece experience.
It's the perfect time to take a road trip and visit the mainland where you will not only enjoy wonderful undiscovered beaches you didn't even know existed, serene lakes offering precious moments of respite but you will also get to experience the authentic side of Greece, which to be honest, is getting harder to find.
Visit remote villages or towns where living like a local means being warmly welcomed into the community, shown around and treated daily to goodies (learn more about the Greek treat "kerasma" here). It's also a chance to see other beauties of Greece that very few know about: hidden springs nestled in the mountains, footpaths through lush forests, age-old stone bridges connecting villages, tranquil lakes with fresh water fish, and even rural towns that are as vintage as they get.
Lastly, and above all, the people factor: enjoy warm Greek hospitality in all its greatness and for sure you'll be coming back again and again.
Join me here today at The Greek Vibe and let's discover the best places to visit in Greece this fall and the magic of the season!
Escape to Greece with The Greek Vibe monthly Newsletter!
Autumn in Greece: More Than Just Sea & Sun
1. Thessaloniki – Greece's second largest city is all about personality. With a bustling boardwalk on the coast and plenty of historical monuments, Thessaloniki is a great place to start your discovery visit of Northern Greece and Western Macedonia. But for me the greatest part of Thessaloniki, besides its fantastic food – yes, do try the trademark custard-filled "trigona" pastry, the koulouri, the sandwiches, and any meze (more here on how to make your own) accompanying distilled spirits ouzo or tsipouro – is wandering around the old trade district and market, where you'll find some pretty cool cafes, bars and eateries hidden away. Not to mention tons of urban street art, and the underground aura of an up-an-coming art scene. Plus Thessaloniki is brimming with life. You can feel it everywhere and it's known for the best nightlife spots in Greece. Don't miss the Thessaloniki International Film Festival in November, which brings some of the world's top directors, stars and producers to the city some the latest trends and emerging talent in music and contemporary art to the spotlight.
---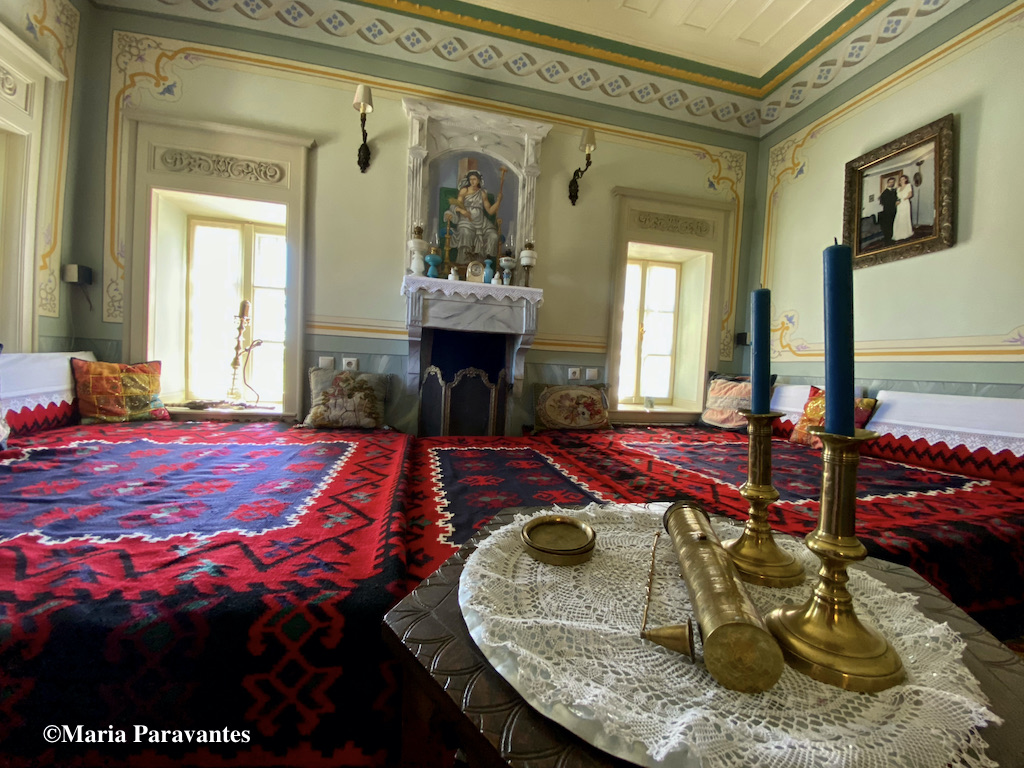 2. Nymphaio – Think fairytale and add to that the crispest air in Greece, homemade jams and spoon sweets (learn more here about this dessert), freshly-baked pies, cobblestone footpaths and … bears. Nymphaio is nestled in the Vitsi mountains at an altitude of 1,350 meters in the midst of dense forestland. This is also home to the Arcturos Bear Sanctuary, one of a handful in Europe dedicated to the protection of bears and of wolves. The wider area is also known for its fine wines. And once there, mushroom and truffle hunting is a must. A hard day's 'work' comes to a wonderful close on Nymphaio's small square where the talented Dimitris treats you to his edible goodies (all from area producers) with a shot of locally-produced tsipouro. I promise your night and sleep in one of the beautifully renovated traditional manors will be rejuvenating.
---
3. Prespes – Two lakes, the larger home to three countries – Greece, Albania and Skopje. This is Prespa land… an untouched paradise where time stands still; cows, sheep, hens and roosters roam freely, seagulls and cormorants chill on the dock, and boats dreamily sail back and forth with some fresh fish for the day or to take visitors on a tour of the tranquil waters. The smaller Prespa Lake is a protected wetland an ideal for pelican spotting. It is also connected via a floating boardwalk to Agios Achilleios, an islet which appears to be taken out of a movie set. While there make sure to indulge in some of Greece's finest beans, the famed Florina red pepper, and of course, the local fresh water fish – the grivadi. You will feel truly blessed after the Prespa experience. A must for any traveler going off the beaten track.
---
4. Meteora – Wow! That's the first thing you're bound to utter when you look up to the towering cliffs of Meteora – which literally means in Greek to "float mid-air" like meteors. The experience is surreal. Why? Because Kalabaka is just your average stuck-in-time town at the foot of these gigantic rocks that appear to have been thrown there by giants randomly. But it gets even more mysterious. Hidden away in the crags are six monasteries and dozens of chapels and hermitages, and a secret spot up high where people climb to leave their handkerchiefs. Besides being the perfect place to catch the sunset, a drone and photography lovers paradise, and rock climbers' favorite challenge, Meteora and its monasteries are the best place for those of you interested in religious art and iconography, and in Orthodox architecture and practice.
---
5. Kastoria – This magnificent, multicultural town is ideal for nature lovers, sports travelers or history enthusiasts. And if you like food, look no further. Kastoria, for me, is magic. Situated in a lush valley full of apple trees and surrounded by the serene Lake Orestiada, Kastoria feels like home. A stroll through this welcoming city – particularly the traditional Apozari and Doltso quarters – takes you back in time. Three eras: antiquity, the Middle Ages – Byzantium, and Ottoman rule come to life at every turn. You could almost still hear the friendly chatter of the ethnic communities that lived in harmony here: the Bulgarians, the Turks, the Greeks and the Jews. That is why Kastoria has a cosmopolitan aura to it. This Western Macedonia city was once an international fur trade center, which explains the stately mansions. Make sure to walk, jog, or cycle around the lake: perfection.
☞If discovering the places mentioned above sounds exciting, then contact The Greek Vibe partner, Joysters, a team of locals in the know who can guide you straight to the best of the best in Western Macedonia. Tell them Maria sent you!
---
6. Tinos – A decade ago, Tinos was mostly known for the thousands of faithful who would flock there in August for the massive Dormition Virgin Mary celebrations every year. This has changed however and the Cycladic neighbor of Mykonos (just an hour away by ferry), is now showcasing its diverse offerings: everything from dozens of excellent beaches, the finest food and wine in the Cyclades (and local products), and international running events to art and marble mastery listed on UNESCO's protected world heritage list, locally made sweets to die for, and some of the best preserved villages and architecture in the Cyclades.
---
7. Galaxidi – A tiny harbor town right out of a romantic novel. This one-in-all retreat on the mainland is more than enough if you plan to indulge (in) your love but it also happens to be near the Ancient Sanctuary of Delphi – known as the center of the world – and an UNESCO World Heritage site; the town of Amfissa famous for its vast green olive groves – yes, those plump ones – located in the valley between two of Greece's prominent mountains — Parnassos and Giona. Galaxidi is an ideal starting point to explore the area. Follow the long coastline full of excellent beaches with extremely cold waters to Nafpaktos, and once there, stay for the nightlife under the fortress.
---
8. Mt Pelion – Where does one begin to describe the mountain of the mythical centaurs. I remember always thinking of Pelion as heaven on Earth. This magic mountain home to a dozen or so villages will convince you one and for all that Greece is the place to be all year round. With spectacular beaches for all tastes, invigorating springs, rivers and streams, fully-preserved traditional settlements, lush forests full of beech, oak, maple, chestnut and plane trees, its spirituous spirit "tsipouro" and of course, incredible local charcuterie edibles, Pelion is truly a divine destination and we're lucky to have it. Besides the local saints' festivals, locals also celebrate their most famed product: the apple in the village of Zagora. Don't miss it.
---
9. Arcadia – I will try to be as objective as possible about the land of my parents, of all my summer holidays as a child (from the US) and still is today, and of my university years. This is a land of wonders. Still under the radar, still very genuine and very diverse. In one day you can have the best of everything: secluded sandy beaches, traditional grandma-made foods in the mountains, and drinks on the town. And there's so much more: hiking along the award-winning Menalon Trail, a network of eight footpaths spanning 75km of forests, valleys and rivers, a visit to the quirkiest Greek Orthodox church in Greece, a tour of a rare and mystical cave ideal for kids, a stop at one of the most charming and traditional villages on Mt Parnonas for a festival dedicated to the chestnut. An absolute must and ideal for road trips.
---
10. Syros – A grand theater inspired by La Scala, a strong Catholic and Orthodox community, a reputable ship building legacy, Greece's first shipyard, home to the 'father of the rebetiko' Markos Vamvakaris, and today a lively center of the arts, sports, music, animation and theater, it's no wonder Syros is the capital of the much-loved Cyclades islands. Unlike its surrounding white-washed and wind-ravaged isles, Syros is very stately and this is due to its active role in the 1821 War of Independence as well as to the wealth of its tradesmen. The lower part or Ermoupoli features a theater-like setting complete with splendid mansions overlooking the harbor. The upper part – Ano Syros – is closer to the Cyclades feel with narrow maze-like paths and a Medieval aura. And yes, there are several beaches for the sun lover. Syros is the perfect escape in the fall. It is easily accessible and combines the best of both worlds.
And of course, lastly (and always) my favorite… Athens. Yes, the Greek capital is best visited in the fall or winter. The cool weather allows you to explore in comfort and understand why Attica was believed to have the best climate in the world. Traditionally, concerts take place at the ancient Irodion Theater right under the majestic Acropolis in autumn, but you can also chill out like a Greek at hotspot Agia Irini Square. You may be in Athens but you can still visit the isles in under an hour: go to Aegina and Agistri for some island air or drive to the up-and-coming Athenian Riviera along the coast which has it all: boardwalks, beaches, nightclubs, kiddies entertainment facilities, luxury hotels and the Athens Riviera jewel: the Stavros Niarchos Cultural Center (SNFCC).
---
Maria's Tips on Visiting Greece in the Fall
✓ On the road again… Apart from Tinos and Syros, you can drive to all the places mentioned above. There are thankfully regular ferry connections for the two islands in the autumn. For Northern Greece locations it may be a good idea to start your trip from Thessaloniki.
✓ Settle down… in boutique hotels. It is always better to stay at smaller hotels which preserve the traditional styles of each destination and are usually also run by locals and families. This way you support the local communities and can enjoy an authentic experience with the help of people who actually live in the area, know the best in town, and love their hometown.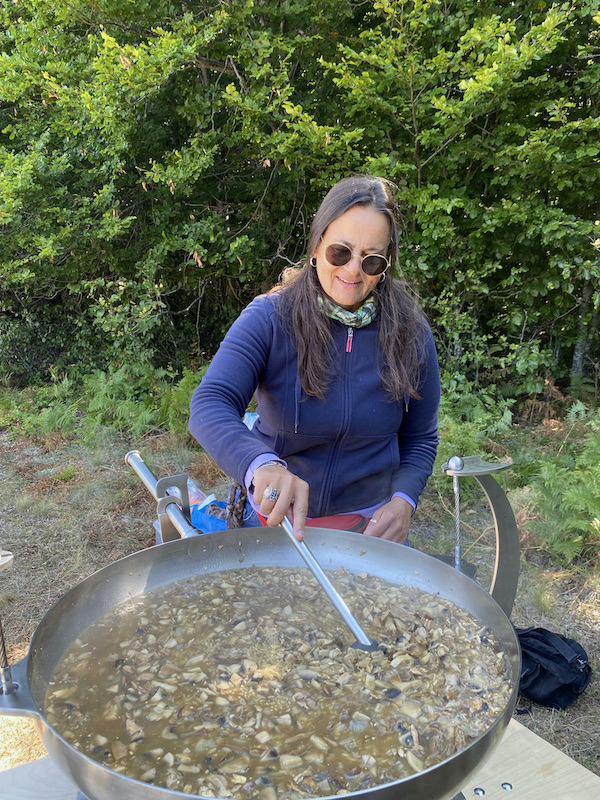 ✓ Indulge in… where do I begin…autumn and fall are very different to what most travelers know Greece for. I will insist that traveling the mainland is the best way to be immersed into the real Greece. Yes, we have the great beaches and the seaside tavernas, but we also have beautiful forests, unique nature parks, protected wetlands, as well as dozens of experiences that take place off-season including olive picking, cheese making, grape harvest, and of course, (40 day's after the wine harvest) the distillation of favorite spirit tsipouro and raki – which are all also celebrations.
✓ Don't forget to buy… local products. You will find unique local products in every region mentioned above. Beans (Prespes), Florina red pepper spreads, handmade jams, spoon sweets, wines and mushrooms (Nymphaio), local tyraki cheese, tiny pickled artichokes, capers (Tinos), San Michali cheese, almond sweets, loukoumia and halvadopita (Syros), spoon sweets, pies and sausages (Pelion), spoon sweets, chestnuts, wines, graviera cheese (Arcadia)… stay tuned to The Greek Vibe for more.
✓ Truth or dare… since travel is all about doing something new, I suggest getting to know Greece through local experiences. Visit The Greek Vibe partner Zorbabook and check out a series of tried and tested experiences on offer. You won't regret it.
Plan your #nextgreeceadventure easily through TheGreekVibe.com partners.
---
♫I end today's post with a Greek song about autumn: "Fthinoporo". Much-loved singer Haris Alexiou sings about a summer love gone cold to the music of Nikos Antypas off her 1992 hit album "Di Efhon".