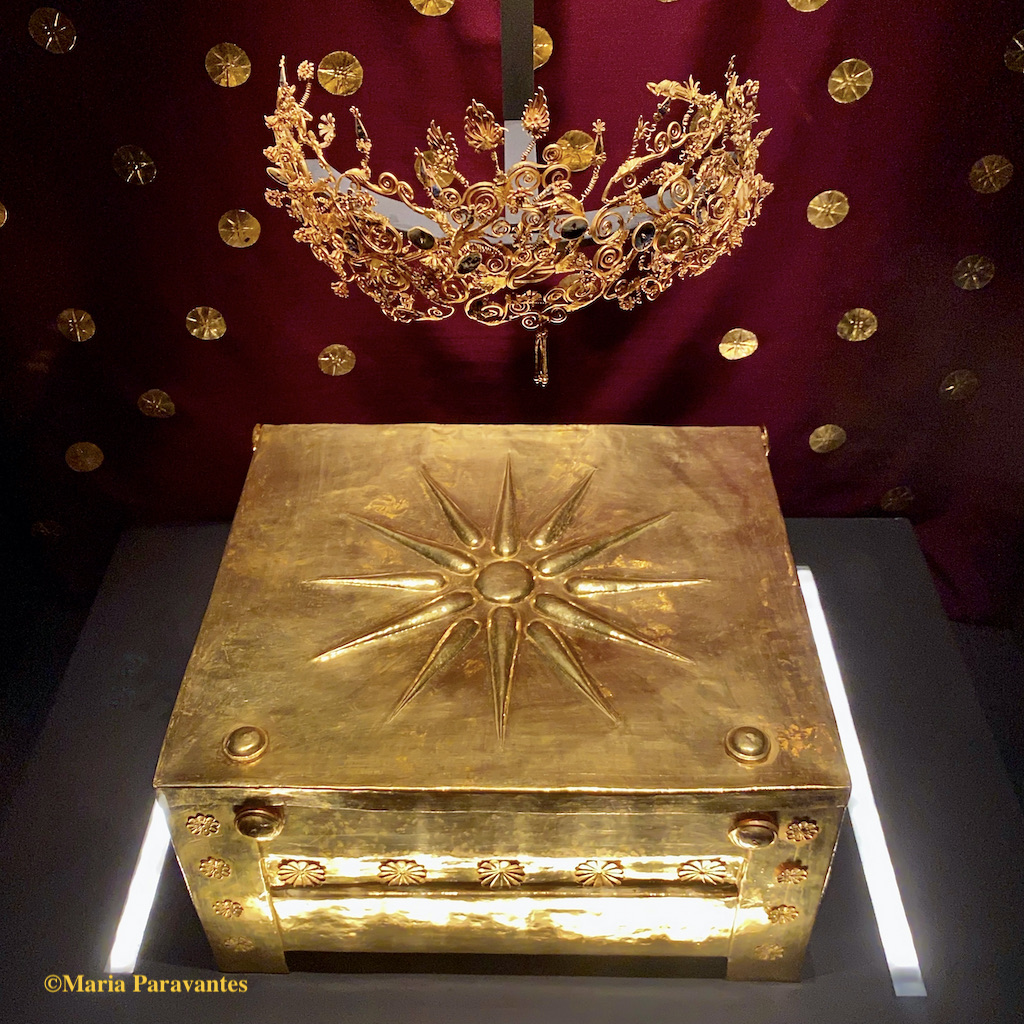 In the middle of a plain surrounded by the low hills of Macedonia is a small Greek village that you would probably never stop to see. During the drive there, nothing appears to be interesting other than a rustic landscape and the striking purple blossoms of the region's famous peach trees which in no way prepares you for one of the most profound experiences to be had in Greece.
You park your car in this somewhat unattractive village and walk along a path past a few very sad-looking cafes/bars/restaurants to reach the gate of what seems to be a beautiful park. In the center, a grassy mound with two downward-headed doors on either side. Once you walk in, you will never come out the same person. Instead, you will emerge from this incredible experience feeling renewed, hopeful and grateful for the wonder of humankind.
Ladies and gentlemen, welcome to Vergina, the kingdom of Macedonia, the burial ground of a great Greek king and his family, a site of power and wealth. If you love Greece, then you must visit Vergina at least once in your lifetime, and if you have kids, they should too.
Where is Vergina and Why Visit?
Vergina was in ancient times called Aigai and was the capital of the kingdom of Macedonia. It's an hour's drive from Thessaloniki, Greece's second largest city, and here you will find some of the finest treasures of all times, untouched for thousands of years, comparable only to the breath-taking finds of King Tut (Tutankhamen).
Under the Mound at Vergina
The large mound that you enter at Vergina is known as the "Great Tumulus" ("Megali Toumba" in Greek): one of the world's most significant archaeological discoveries and among Greece's most important museums housing four tombs as found initially undamaged.
But unlike many similar sites across Greece, these are not your average ancient graves and this is not your typical museum. Here you will find something much greater. At Vergina, you are walking straight into royal burial grounds where some of the world's greatest treasures and wall paintings remained preserved for centuries. Greek kings and heroes are buried here. This is where Philip II, the father of Alexander the Great, was laid to rest thousands of years ago after being assassinated by one of his body guards.
The museum has been constructed in such a way so as to re-create the thrilling discovery process. Near the museum you will see the remnants of the monumental palace and its impressive mosaics and an ancient theater area.
Who Discovered Vergina?
Vergina and its remarkable finds came to light in the late 1970s thanks to the persistent excavation work of Greek archaeologist Manolis Andronikos.
Working for days and hours against all odds and considered by many to be near mad for digging there, Andronikos was convinced that under the Great Tumulus lie the tombs of Macedonian royalty.
And so it was. On November 8, 1977, Andronikos discovered a burial site with four tombs, two of which were completely intact, never opened and containing riches untouched for centuries. He also uncovered an "Heroon" (a temple dedicated to a hero). But how was Andronikos sure that this was the tomb of a king?
As he and his assistants pulled back the massive entrance, there in front of him was a marble chest. What he saw – and you too will see – when he opened it left him in awe, with his heart about to break, as he himself wrote later in his book. Inside was a 24-carat gold larnax (funeral box) engraved with the Star of Vergina. And inside that he found a glittering gold wreath of ravishing beauty wrapped in a purple cloth placed above the remains of the deceased. The golden wreath/death crown, which weighs some 700 grams, is adorned with 313 oak tree leaves and 68 acorns made of pure gold. It is crafted in such a way that even today's finest technology could never create an item of such utter beauty and perfection.
Escape to Greece with The Greek Vibe monthly Newsletter!
There was no doubt: this was the burial ground of royalty, and Andronikos confirmed that the cluster of graves belonged to the Argead Dynasty or the family of Alexander the Great, who was the king of Macedonia and one of the greatest military leaders of all times.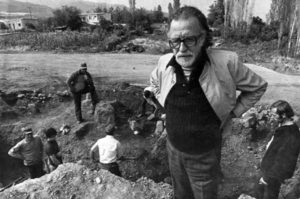 Buried here is King Philip II of Macedon, who ruled from 359 BC until his assassination in 336 BC, when his son, Alexander the Great, was proclaimed king expanding Hellenism worldwide. Alexander was buried in Egypt.
Placed on an ornate death bed made of ivory and gold, King Philip II was laid to rest wearing the crown which was truly fit for a king. And I promise you will be captivated by this masterpiece which remained hidden from human sight for thousands of years.
The tombs Andronikos unearthed 23 centuries later also hold the remains of Alexander the Great's son, Alexander IV, who was also murdered 25 years after Philip's assassination. On the site a burial cluster of queens was also discovered as well as five more royal tombs.
Vergina: The Importance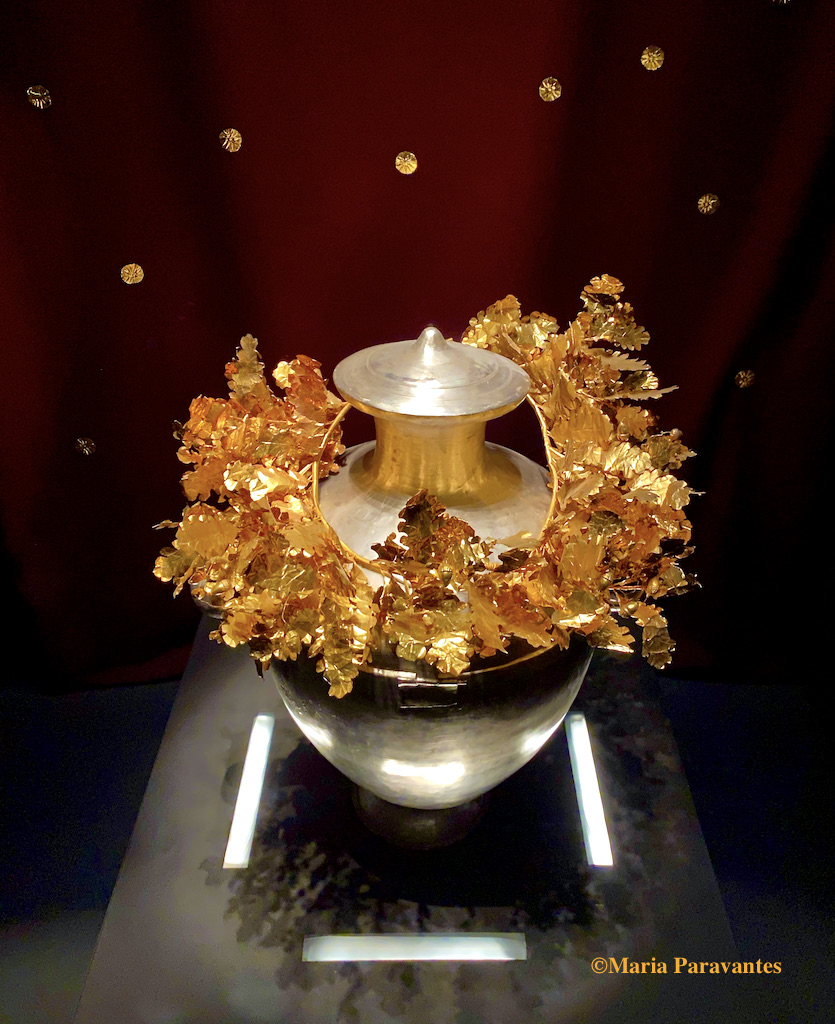 The site of Vergina is not only important as a testimony of ancient Greek funerary traditions or Macedonian and Greek history but also of Greek art. The museum showcases other exquisite items found there including golden suits of armor, a carved burial bed, silver and bronze utensils for the funeral feast, weapons, helmets, and shields.
And it's not only the experience inside the vault that is mesmerizing. Once you've toured the extravagant burial grounds take a stroll outside in the archaeological park.
Why you ask? Because there was absolutely nothing the ancient Greeks did by chance. The places of death and birth all had meaning as they were selected for the energy of the area.
Breathe in this special energy, listen to the ruffling leaves of the trees, take in the silence, travel through time. This is the same feeling, the same aura that you will experience at the Asclepions – the ancient Greek healing centers. Read more about Asclepions – the ancient Greek healing centers. Or at the ancient Greek theaters that were also constructed in areas of high positive energy such as the Theater of Dodoni. Read more about five of the world's ancient theaters in Epirus.
So important is Vergina that in 1996, UNESCO inscribed it as a World Heritage Site "as exceptional testimony to a significant development in European civilization".
The Star or Sun of Vergina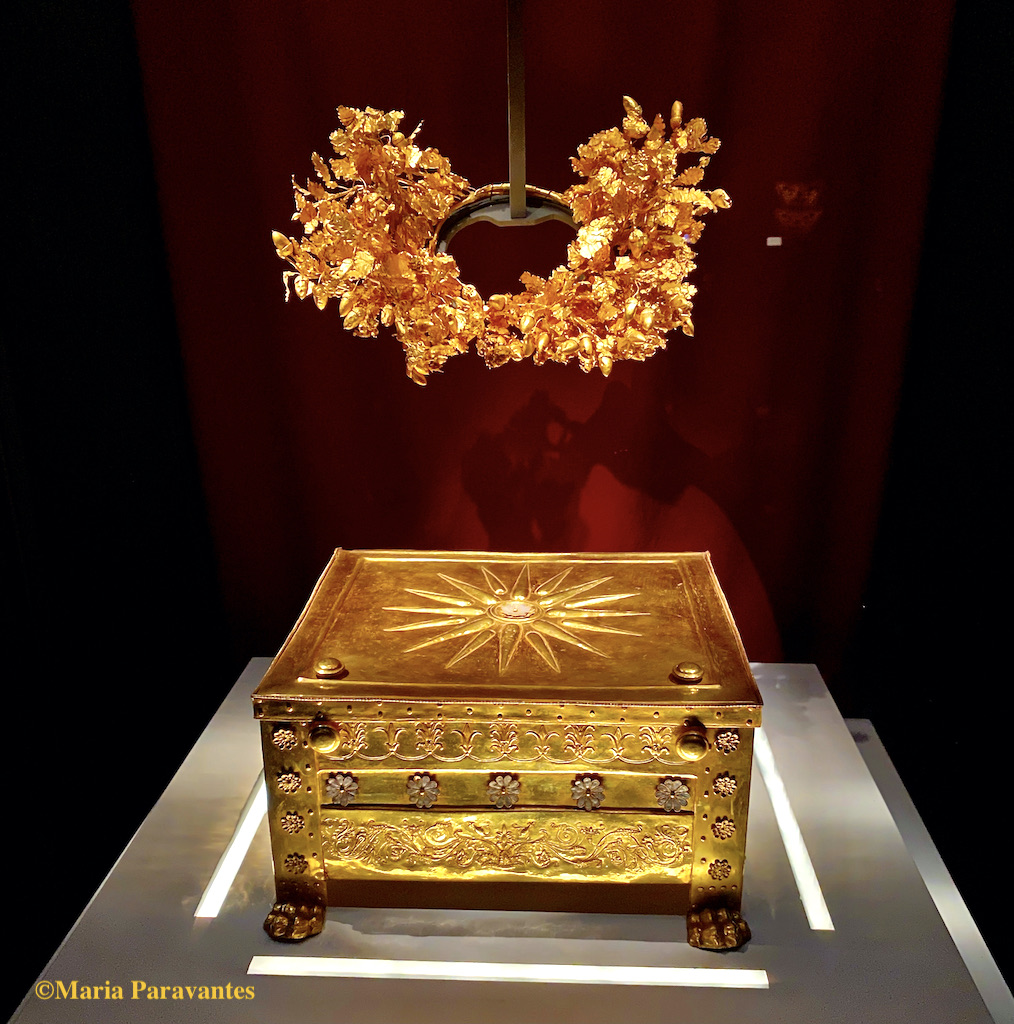 As you will see for yourself on top of the larnax engraved there is a sunlike depiction. This is known as the "Sun" or "Star of Vergina". This is no ordinary symbol. It was used across Greece in ancient times on everything from jewelry and vases to coins and shields.
The Sun of Vergina, the royal symbol of ancient Macedonia, is made of 16 rays -you may however find eight or 12 rays – and at its center is a rose, known in Greek as the "rodakas", which symbolizes the grace of Mother Earth, fertility, beauty, and power.
---
Maria's Tips: Visiting Vergina
✓ Vergina is in northern Greece near (8kms) Veria, Central Macedonia, and an hour's drive from Thessaloniki.
✓ It's the ideal place to visit with children, who will be fascinated by the experience. Make sure to check out the museum's interactive educational programs that include a "personalized" virtual tour of the site with the archaeologist who discovered the tombs, Manolis Andronikos.
✓ Travel to Vergina as part of a trip to Western Macedonia, Thessaloniki, Meteora, or Pella, where you should definitely visit the Pozar Thermal Springs (Loutra Pozar)
✓ Best time to visit Vergina would be in spring (when the region's celebrated "sargetaria" – peach trees – blossom) or fall, and start early in the morning to avoid the tour buses.
✓ Stay for the day: plan a picnic and dine in the site's peaceful park area after your museum visit.
✓ Tickets cost 12 euros and reduced: 6 euros which also applies off season from November 1 to March 31. You can also visit the museum and site for free on March 6, April 18, May 18 and during the last weekend of September. Go here for updated info.
✓ While in the region, try some locally-made craft beer: named what else? "Vergina", which was the first Greek craft beer that kickstarted the Craft Beer Revolution in Greece in 1998. Read more about Greek craft beers.
✓ If you want to visit Meteora and get an authentic experience of the wider region, then contact The Greek Vibe partner, Joysters, a team of locals who can guide you straight to the best of the best in Western Macedonia and Central Greece. Tell them Maria sent you!
---