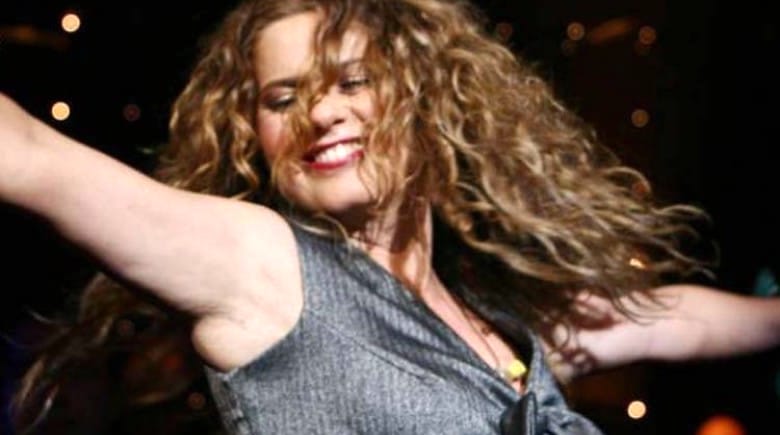 Allazei Kathe pou Vradyazei (Changing Every Time Night Falls) came at a time when singer Eleni Tsaligopoulou had achieved instant recognition thanks to her distinctive vocals and vibrant personality. This 1999 album was a daring step in a new direction, away from the laika genre she had so faithfully served to that day and into fresh musical territories with songs penned by some of the country's up and coming.
Musically the 13-track album featured for the most part potent ballads delivered to a tee. Tsaligopoulou's voice works as a finely tuned musical instrument interpreting the nuances of the lyrics and the very core of the music and at the same time expressing a wide range of overwhelming feelings: love, loss, desperation, loneliness and abandon.
In "Pare Me st' Oneiro" (Take Me With You in Your Dream) by Yiorgos Andreou, a duet with Cypriot singer/songwriter Alkinoos Ioannidis, Tsaligopoulou's stirring vocals "dress" the final moments of a passionate affair as the smooth almost soothing Alkinoos adds a sensitive touch to the poignant lyrics of undying love: "What do I need to say for you to believe that I love you…that the world is empty without you, the night a wound without you, my life is black without you…."
Tsaligopoulou responds: "Give me your dream's eyes so I can travel with you down the secret trails which years alone you tread…"
The Serres-born Andreou was also behind the musical arrangement of the album, giving it a more contemporary tone – a turn away from the laika, retaining echoes of tradition throughout and at the same time harnessing Tsaligopoulou's rampant talent.
Another moving track off the album, "Helidoni" (Swallow) by Kostas Leivadas, builds up to an electrifying peak thanks to the looming guitar riffs, the dark piano and of course Tsaligopoulou's despairing vocal acrobatics.
In "Logia tis Siopis" (Words of Silence) by Leivadas to the music of Andreou she sings "I love you so that I can even learn to live for you away from you."
When I first heard Tsaligopoulou in the '80s I was a teen. She started off singing folk songs with impressive dexterity. But there was always something to her penetratingly (and painfully) clear vocals that got you hooked. It wasn't long before she became a household name moving to the laika and later to more experimental works. But besides Tsaligopoulou's stirring vocal talent, it's her stage persona that has stolen the show.
As for this album, I chose to write about it in this month's "CD Minutes" because I believe it heralded the beginning of a new era in Greek art song (entechno), combining a profound verse with emotive music creating an overpowering whole. In part, the album's achievement had to do with the different writing and musical styles (various lyricists, poets and composers) all brought together through Tsaligopoulou's genuine voice. The album was not a massive hit. But if you listen to it you will find it grows on you… and that my friends is the secret to true art. Enjoy!