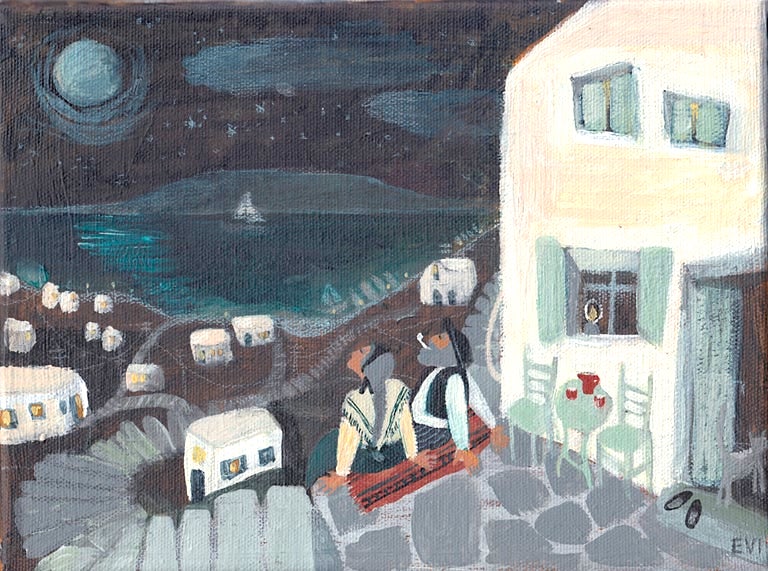 "A lifetime is still not enough to experience Greece," says this month's guest on The Greek Vibe's Touched by Greece series. Evi was born in the Netherlands in the 1980s and completed visual arts studies in Amsterdam. Hers is a story similar to the tales behind many others I've interviewed and featured in Touched by Greece. She visited "sunny Greece" once, came back for more, and then decided to find her calling here and stay.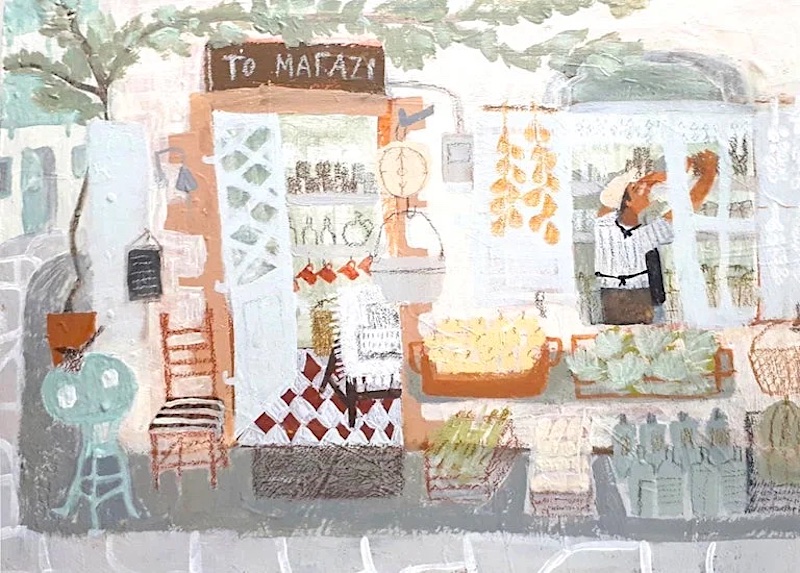 Greece Coming Alive Through Art
Evi describes her work as "slow and soulful originals" and they are exactly that. Touching images of joyful and spirited Greeks in action: cooking, baking, making pottery, weaving, dancing, playing the bouzouki, selling ice cream, fishing, drinking coffee at the kafenion, stargazing – all capturing the essence of Greece past and present, its old-fashioned charm that still resonates on its islands and mainland mountain villages.
Slow & Original Visual Narratives
I came across Evi and her truly touching portrayals of Greece on Instagram and decided I had to see what she was all about. To my surprise, she's not Greek and she is very young, and yet she renders Greek traditions, practices, pastimes and trades… 'Greeker than any Greek'.
These "naïve narratives" are done with "kefi" and "meraki" – two Greek words that Evi uses a lot and which are very difficult to describe. In short it's that umph, the energy and passion you feel when your'e doing the things you like.
For Evi, Greece lured her like a Siren… "something in the air, the ancient history, the warmth, and certainly the people that made me feel instantly at home", she says.
And all else is history. Today she lives and creates art in the Peloponnese, in Kalamata her chosen home. And what is home all about for Evi?
"Simplicity, small moments: a homemade meal, a laughter shared between people, the sweet smell of herbs in the air, the sea gently rolling onto the pebbles, hand-painted signs in front of a local shop, winding streets with colorful doors, the slower pace of life and the art of living in the moment".
And I can surely agree to that. Who wouldn't?
When is she happy? When she's painting and when she manages to strike a chord with her works, inspiring a sense of joyfulness in the receiver.
Her work captures Greek traditions, community and culture using a naïve brushstroke as was the work of a great Greek painter Theofilos (Chatzimichail) from Lesvos. She likes to keep her visual narratives real "with all its flaws and imperfections". She says it makes the paintings "come alive and gives them some sort of honesty and straight-forwardness".
Escape to Greece with The Greek Vibe monthly Newsletter!
Touched by Greece!
Guests and friends tell us how they've been 'Touched by Greece'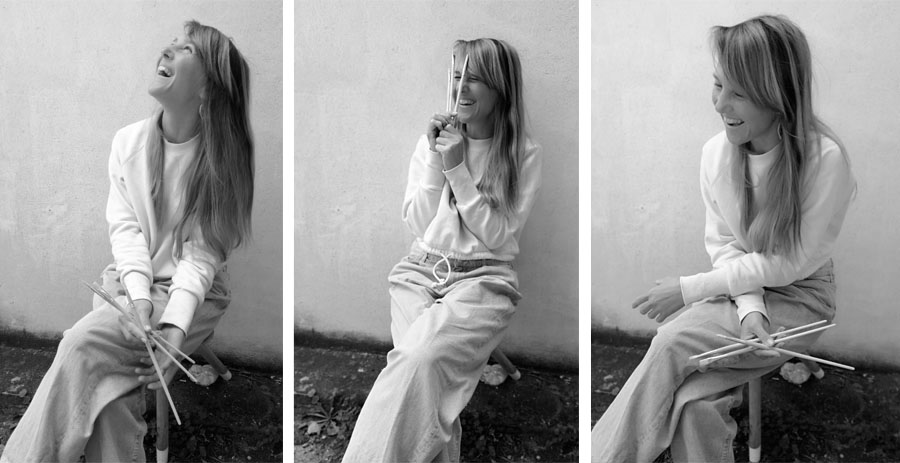 1) How were you 'touched by Greece'?
My first meeting with Greece is the classic holiday story, but it was at a significant age and to me that whole vacation felt like an epiphany. I was only 12 and never really had been abroad, but the feeling of belonging was so strong in those weeks, it was like truly coming home and that stayed with me ever since. I felt more alive than I could remember.
2) What does Greece mean to you?
Greece to me is like a feeling of freedom, of flow and of being alive. As if it's natural and almost effortless here to be connected to the elements. There's something special in the air and the roots go very deep. Its history is very 'visible' in the energy. Add to that the generous spirit of the people, who have the ability to live in the now with a passion for life, to experience it to the fullest. And the sun, of course; the light is special here, like an elixir, strong and embracing.
3) Your favorite place in Greece?
That's impossible to say. There are so many to love and like, and there's still so much to discover. That's why I love Greece, it's so diverse! It keeps surprising you wherever you go and there's something for everybody, at any age. Epirus is very special to me, as is the Peloponnese where I live at the moment, wild and green places. As for the islands, Amorgos and Koufonisia are among my favourites, and Samothraki is a place I'd like to visit. I have visited countless places in Greece, but I have the feeling a lifetime is still not enough to experience it all really. 
---
☞All of Evi's originals come with a certificate of authenticity and you can get your own here. I would like to add, that Evi also creates works for a cause. The proceeds from the sale of some of her beautiful paintings have been donated to the 'Choose Love' – Ukraine Crisis Fundraiser for refugees. You can also find her on Instagram and Facebook.