Greece may have dozens of gods, goddesses and deities of all sorts with divine beauty, power, courage and knowledge but they also have a superhero, or should I say an antihero who does more for the Greek soul than all of the gods put together.
Dear friends, meet Karagiozis, a short, ordinary guy with a rather long nose, penetrating black eyes and a heart of gold.
What Karagiozis lacks in heroic qualities, he more than makes up for with his wit, inquisitiveness, lack of expectation, joyfulness and kindness. And that is why Karagiozis is still very much alive today in a world of AI, virtual reality and Alexa.
Who is Karagiozis?
The word "karagiozis" means "black-eyed" in Turkish. Karagiozis is the main character of traditional shadow puppet theater or "theatro skion" in Greek. Together with his pal Hadjiavatis, his wife and three kids, Karagiozis always has a story to tell and usually there's a message for the audience. But above all, Karagiozis makes us laugh.
So what is shadow puppet theater you ask? Well this unique art form that goes back centuries and is a live performance using cut-out figures which come to life on a white screen with the help of light. In the not so distant past, the screen was actually a white bed sheet hung with clips from a clothes line known from the Turkish as "Karagioz Berdes".
The shadow puppeteer is usually a versatile craftsman making the puppets, writing the script, directing the show and performing all the roles complete with voices, accents, singing and sound effects. In short: a one-man show.
Legend has it that Karagiozis made his way to the Ottoman Empire from Java in Indonesia brought over by traveling tradesmen and from Turkey came to Greece in the mid-1800s thanks to Yiannis Brachalis, known as the father of the Greek Karagiozis art form. In the beginning, the shows were not suitable for children or women as the jokes were brash if not outright offensive.
This all changed and by 1924, the Karagiozis shadow puppeteers set up their own union with over 100 members. By the mid-1960s, the Karagiozis matinee also included a live band who were known as the musicians of the "berde" or "curtain" entertaining mainly for the poorer Greeks who had no money for nightclubs.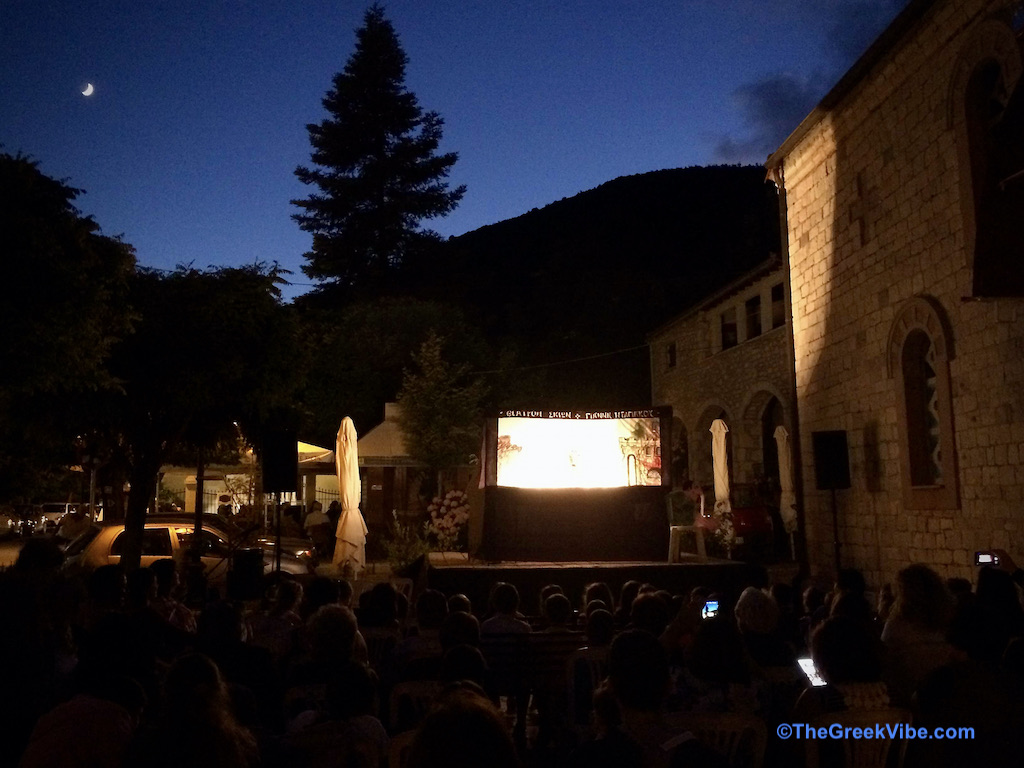 Karagiozis Comes to Town
A few decades back, when Karagiozis came to town we all knew about it. Like the traveling circus, Karagiozis shadow puppet theater was a touring troupe that would visit Greek towns and villages and stage a show. Upon the troupe's arrival, someone would go around town announcing the time and place of the performance.
The arrival of a Karagiozis shadow puppet troupe – usually on a Sunday evening – was always a major happening in town and you knew the show was on because you could hear people laughing with his witty jokes.
I remember as child visiting my grandparents in Tripoli in the Peloponnese in the summer. I couldn't wait to go with my grandfather to see Karagiozis when he was in town. The show would start after sunset so you could see the puppets in the light. We would all gather at a makeshift theater, usually in an open-air cinema or in smaller villages on the main squarewhere chairs had been placed randomly. We kids would eat "garidakia" (cheese puffs) and the elders usually preferred "passatempo" (pumpkin seeds). As a kid I always thought pumpkin seeds were "boring". Little did I know about the health benefits!
Karagiozis: An Central Part of Greek Heritage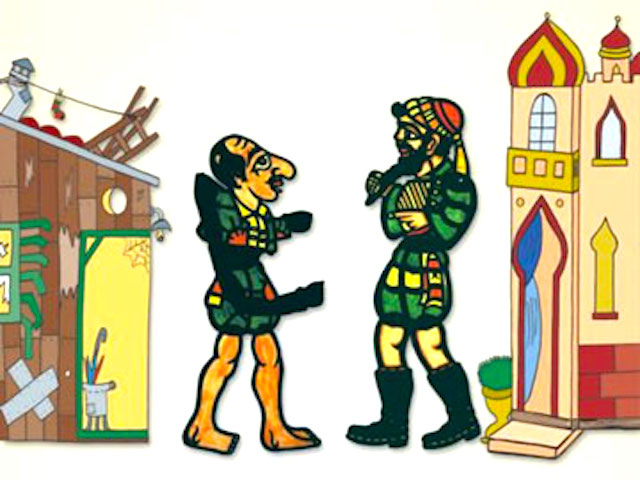 Undoubtedly, Karagiozis is an integral part of Greek heritage, a heroic figure that all Greeks identify with and one that connects us with Turkey and their own "Karagioz".
Evidence of its importance can be seen today in the dozens of schools where puppeteers pass on the secrets of shadow theater and puppet-making to the younger generations so that they too will do the same. Today you can even find Karagiozis shadow puppetry as part of university-level studies in the performing arts.
Meanwhile, in my Athens neighborhood, there is always a Karagiozis show every Sunday and you know because a van with a loud speaker plays the characteristic upbeat theme song and announces the time and place.
Karagiozis and the Music
Opa, opa, opa…e! That's how each Karagiozis performance begins – in the past with live instruments today recorded. This characteristic theme song is directly linked to the traditional rebetika music genre.
When the traditional song is heard, the crowd quiets down eagerly waiting to first hear Karagiozis and then see him emerging from his hut always commenting on someone or something. Each character that emerges has their own song.
Escape to Greece with The Greek Vibe monthly Newsletter!
The Charm of Greek Antihero Karagiozis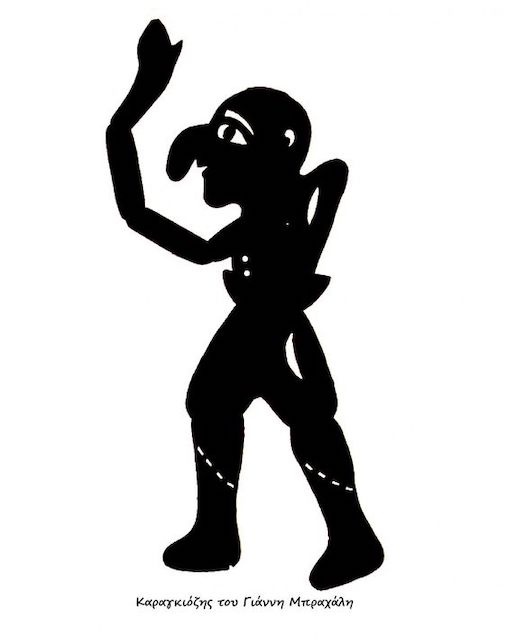 Though Karagiozis lacks the human qualities that we all tend to admire such as idealism and courage, he still is a dreamer who somehow manages to get things done. Have in mind that Karagiozis was the Greek who survived 400 years of Turkish rule (and subjugation) so he found other crafty ways to get by.
For the Greeks, Karagiozis, was for many years a popular hero representing the downtrodden and poor, the lower classes and the vulnerable who had little or no connections to the big wigs.
Why is he relevant today more than ever? Because he's a survivor who continues to laugh at himself and the world living in the now and sending out his message to all of us: life is too short so starting laughing. I think Greek songwriter Dionysis Savvopoulos best sums up the essence of Karagiozis for the Greeks: "What makes me suffer, spares me, dreaming away, like Karagiozis".
Karagiozis in Greece Today
Yes, many grandparents and parents still take their children to Karagiozis shows today despite the onslaught of I-phone apps and virtual reality games.
The inspiration for Karagiozis' tales comes from real life, politics, and popular literatureand each time he features in adventures which can and do include everything from traveling in space and to becoming prime minister or a prophet.
At the same time, younger-generation puppeteers have "updated" his escapades that's why you can see him as an astronaut, a doctor, a singer, a teacher, as God's Chosen One, as Alexander the Great – or in short: as one of us.
Some puppeteers have also invited popular bands to play live during the show and Karagiozis was even made into an animation film.
Maria Tips: Getting to Know Karagiozis
► Attend a Karagiozis show on Sundays at Veikou Park in Galatsi
► Visit the Spathario Museum (or Karagiozis Museum) in Maroussi dedicated to the great Evgenios Spatharis – one of the leading Karagiozis puppeteers
► buy a Karagiozis puppet from the shops in Monastiraki
---
♫ I end today's post with a beautiful song penned in 1975 by Dionysis Savvopoulos and performed by Mariza Koch about our own resemblance to Karagiozis ("San ton Karagiozi") and our need for the magic of his shows.
Enjoy!