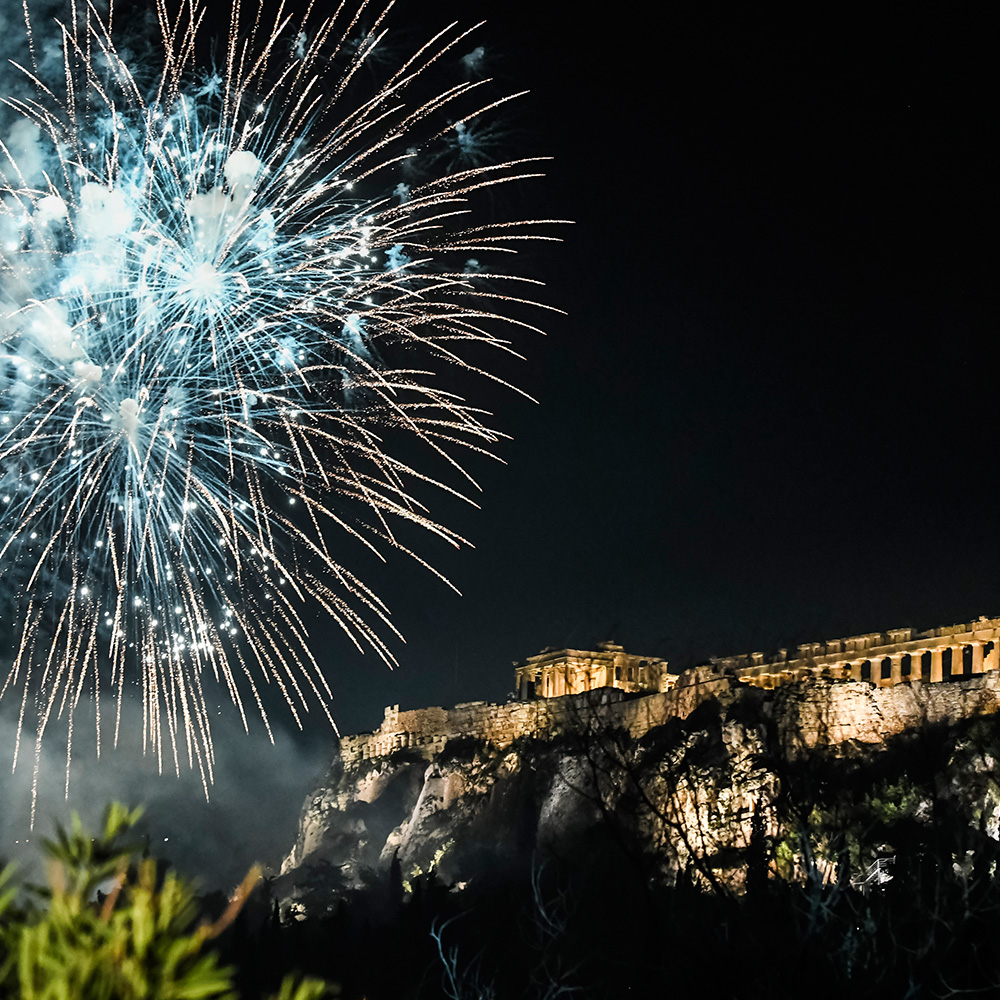 Greeks begin to celebrate the coming of the new year on December 31. The festivities are focused – as always – around food and family. New Year's Eve starts off in the morning with the "kalanta"– or New Year's carols wishing health, wealth and happiness, to be followed late in the evening at around 9.30-10pm with the family feast.
Most Greeks wait until midnight at home with family but some decide to gather in central Athens or in the main squares in towns and villages, where the mayor and popular Greek singers announce the dawn of the new year.
In the run-up to New Year's Day, Greeks also 'invest' in the special "Protochroniatiko Laheio" or lottery in hopes of starting the year on the right footing. Grandparents often buy lottery tickets for their children and grandchildren for fun.
The Final Countdown for New Year
At home, once the eating is done, the table is cleared and the Vassilopita (traditional New Year's cake) takes center stage.
The TV or radio is then turned on for the countdown. Together, family and friends count backwards out loud. At midnight, the lights are tuned off and a minute later into the new year, the lights are turned back on again, marking the change in time.
In that passing moment from old to new, we hug and kiss and wish each other health and happiness. "Hronia Polla, me Ygeia kai Hara".
To welcome the new year, younger generations usually have plans with friends to go out on the town. The country's popular venues stay open into the wee hours of the morning as revelling Greeks usher the New Year in the best possible way: partying.
Three of the most popular spots to welcome the new year in Athens are on Lycabettus Hill, where you can catch a bird's eye view of the fireworks across Attica; at the Stavros Niarchos Foundation Cultural Center in the seaside suburb of Faliro for its dancing fountain display; or in central Athens, at the foot of the Acropolis amid crowds, concerts and fireworks.
For those who choose to stay home, the Vassilopita is cut and served and everyone begins to play cards, traditionally endless rounds of 31 with some friendly betting action. This usually lasts into the early morning hours.
*Maria's tip: According to a belief in Greece, whatever you do at midnight on New Year you'll be doing for the rest of the year. So make sure you're doing something you love.
♫ I end today's post with a favorite song sung right after midnight on New Year's Eve… "Paei o Palios o Hronos", which roughly means: "out with the old (year) and in with the new", performed here in a vintage TV series by Loukianos Kilaidonis.
From The Greek Vibe, Kali Hronia and Hronia Polla, may the new year be filled with health, abundance, and love. 
Enjoy this Post? Share and Pin it!